Sep 27, 2017 Urban design
With a new stadium back on the agenda, an architectural debate is in order.
Architectural debates: sometimes Auckland does have them, even if the discussion is mostly not about design and inevitably devolves into a pissing contest. Nowhere is this more dispiriting than when the city talks stadium — a word that, once uttered (thanks, Phil Goff), provokes a slew of barking opinions and an array of schemes from the audacious (at Tank Farm with surfing, says architect Gregor Hoheisel) to the barmy (sink it in the Waitemata, says designer Phil O'Reilly).
I almost like the surfing one. But for sheer chutzpah you can't really go past the pulsating egg that Pete Bossley and Barry Copeland proposed to poach on a causeway-connected platform on the Manukau Harbour in 2006.
Then, in preparation for the 2011 Rugby World Cup, the government actually offered to build Auckland a stadium. It favoured a Warren and Mahoney design straddling a platform across Captain Cook and Marsden wharves, allegedly at a cost of $497 million.
The scheme never got off the water, shouted down by politicians and activists from the left and right — John Minto, Keith Locke and Rodney Hide — and by protests, petitions and apartment residents concerned about their view. Not to mention that the design and costing were half-baked. Some compared the proposed translucent bowl to a haemorrhoid cushion. Lost in the fracas were some potentially good ideas — a publicly accessible exterior concourse and a pedestrian tunnel under Quay St to the train station. Despite the architects calling it a floating cloud, it would have been a butt-ugly addition to Auckland's waterfront.
A number of alternatives were proposed, including a quite good Carlaw Park upgrade and the Bossley-Copeland scheme in the Manukau mud opposite Portage Rd, beside the railway track — in truth, a brilliant location. The barmy prize went to children's book author Jonathan Gunson, who came up with the "waka stadium" — yes, a monster waka with an enormous 290-metre carved prow and oars which made it look like a tubby Noah's ark.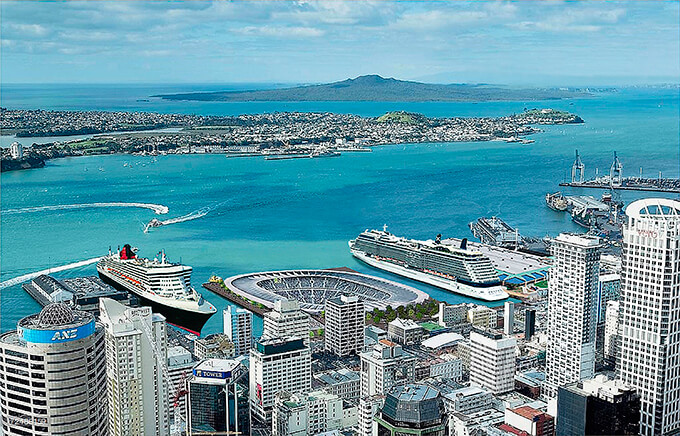 What we got, in the end, was a half-assed plastic-clad makeover of Eden Park and some temporary seating. If Auckland couldn't manage to get a new stadium for the Rugby World Cup, is it ever going to get one? Mayor Goff has put the idea back on the agenda, apparently concerned about the long-term viability of Eden Park, which faces ongoing maintenance/upgrade costs plus growing opposition from an Eden Park neighbours' lobby. Goff favours a site beside the Spark (formerly Vector) Arena. Meanwhile, Regional Facilities Auckland has commissioned a PwC pre-feasibility study looking at the viability of Goff's locale and other sites in the CBD. In other words, don't hold your breath. Have we learned nothing from last time?
One of the main reasons we get such poor architectural and urban design outcomes in Auckland is that we don't talk about the issues enough. We hardly ever talk about the architecture. So far, just as before, debate has been about location — an important discussion to have, but not the full story. One of the problems with O'Reilly's "crater" is that it assumes the Warren and Mahoney scheme was well located and well designed. Clearly, as seen by the backlash, it wasn't. O'Reilly seeks to mitigate the shortcomings by sinking the thing, as though this might represent something uniquely New Zealand. Yes, uniquely daft.
O'Reilly does, however, highlight a common theme in the schemes that have been, sometimes literally, floated: a craving for the iconic, for our equivalent of Jørn Utzon's Sydney Opera House or Frank Gehry's Guggenheim Museum in Bilbao. A shining emblem to complement the city's beautiful setting. Something a bit more inspirational than the city's de facto icon, the spark-plug Sky Tower.
Iconic architecture also has an economic argument. It can bring public benefits in all sorts of surprising ways, the so-called Bilbao effect. Perhaps a beaut stadium might just do the trick.
If that's what the city wants, then it needs to start having more lyrical dreams of what iconic might be — something along the lines of Beijing's Bird's Nest by Herzog and de Meuron. Or Beijing's Water Cube, with its structure devised from soap bubbles. It possibly needs a starchitect to design it, but it would be nice to see a Kiwi step up.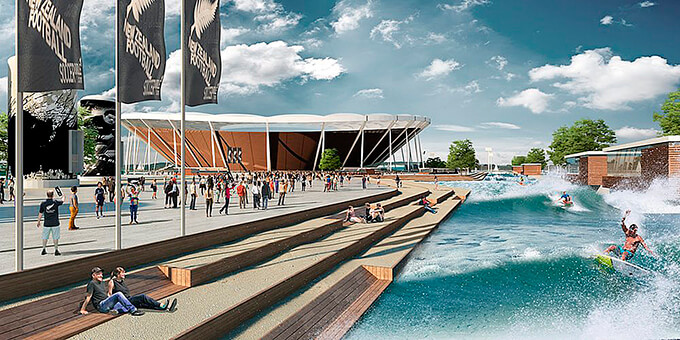 Considering the cost of at least a billion dollars, it wouldn't hurt to think about what else a city stadium might be — a design that envisaged viable usage 365 days a year. This is where Hoheisel's artificial wave pool alongside Wynyard Point — bringing other public recreational engagement around the stadium  — has some merit. These days, people don't just want to be spectators, they want to feel like participants, so there'd have to be some high-tech and immersive aspect. It could be useful to think of a stadium not just as one building, but as a mixed-use conglomerate so that surrounding office blocks might be designed to participate, converting, for example, to corporate boxes on weekends. The issue of getting vast crowds to and from in an efficient way is always going to be a challenge given how crap the city is at providing public transport. Then there's rugby, which is about as iconic as it gets in Aotearoa, so we'd have to represent something of the spirit of the haka in the design. And perhaps a little nostalgia for Eden Park which, ironically, is an iconic sports ground.
Doable? Of course, as long as the city talks about it, argues, disagrees — has an architectural debate. Usually with such buildings there's big controversy, cost overruns, budget blowouts and sometimes an architect run out of town. At first, half the city will need to hate the proposal — until they eventually come to love it, embrace it and call it iconic.
This is published in the July- August 2017 issue of Metro.