Jan 19, 2017 Travel
If you're planning to visit Sydney while the sun's shining, here's the lowdown on the restaurants at the top of their game, the season's must-see art exhibitions and the city's newest shopping and eating precincts.
Sydney for arts lovers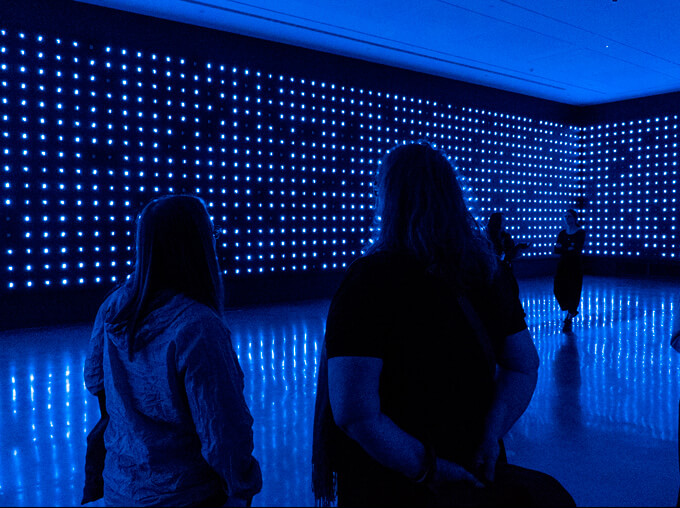 TATSUO MIYAJIMA: CONNECT WITH EVERYTHING
One of Japan's leading contemporary artists, Tatsuo Miyajima employs technology to explore deeply humanist concepts of change, perception and eternity. His sculptural works use LED lights and digital counters to convey the passage of time, with flickering repetition of the numbers one to nine representing the cycle of human life. At the heart of Connect With Everything lie four large-scale immersive installations. Mega Death (1999) reflects on death on an industrial scale in the 20th century, bathing viewers in the eerily beautiful blue light of numbers that twinkle like stars before the room suddenly plunges into darkness. Another installation is formed by two works from 2008. Time Train to the Holocaust, a model train hauling tiny blue counter gadgets in its wagons, circles Counter Coal, a tomb-like mound of coal, its surface carelessly scattered with red LED lights. The effect is chilling. Video works, sketchbooks, works on paper and paintings round out this substantial retrospective exhibition.
Museum of Contemporary Art, to March 5,
mca.com.au
NUDE: ART FROM THE TATE COLLECTION
More than 100 major artworks spanning two centuries tell the story of the evolution of the nude in Western art in this significant exhibition. Unfolding chronologically across 10 rooms, the human body is by turns idealised, scandalous, sensual, provocative and vulnerable. "You'll feel totally at home in one space and feel unease in another," says Justin Paton, a head curator at the Art Gallery of NSW. "There is toughness, seduction, desire, but also honesty. It's really the story of art." Works by Picasso, Matisse, Lucian Freud and Francis Bacon culminate in The Kiss, Rodin's exquisite sculptural depiction of erotic love. But it's Pierre Bonnard's paintings of his wife bathing which particularly resonate with Paton, Nude's co-curator. "As much as I love the controversial nudes, these works have an utterly lyrical sense of light. They come from a moment the artist was with someone he loved in a room and that makes it sacred. The brush touching the canvas is like the artist touching the observer. They are radiant." After Sydney, the exhibition opens at Auckland Art Gallery on March 18.
Art Gallery of NSW, to February 5,
artgallery.nsw.gov.au
EGYPTIAN MUMMIES: EXPLORING ANCIENT LIVES
Mummies from the British Museum collection are displayed alongside 3D CT scans of what lies beneath their wrappings. This engrossing exhibition centres on six mummies who lived and died in Egypt between 1800 and 3000 years ago. There are insights into the everyday lives of the ancient Egyptians, the significance of the paintings that adorn their coffins, and mummification as a means to eternal life.
The Powerhouse Museum, to April 25,
maas.museum
Sydney's hottest dinners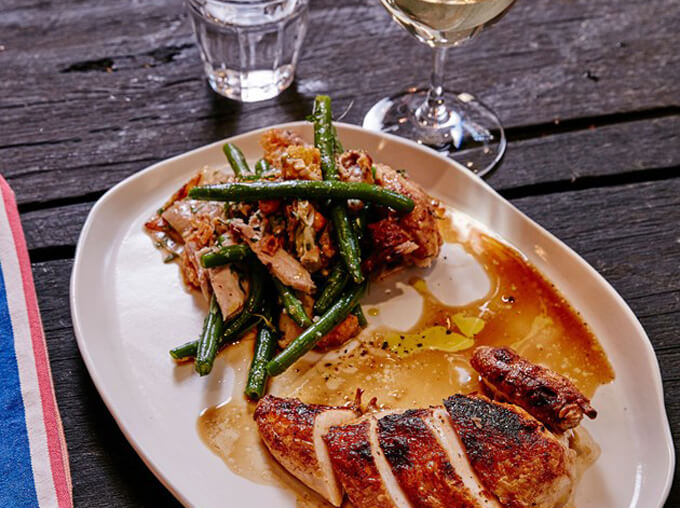 NO 1 BENT STREET
Do yourself a favour and order Bent Street's roast chicken. Mike "Kitchen by Mike" McEnearney uses his splendid ironwood-fired oven to roast his birds golden and juicy. He slices the breasts, dresses them with the roasting juices, then tosses the wing and leg with green beans, toasty hazelnuts, sweetly tender leek and chives in a bracing vinaigrette. A win. But, then, so too is the chicken liver pâté, spooned tableside from a large bowl and served with four-spiced salt. And the grilled squid with beans and coarse, spicy chorizo. Just as the space is unpretentious (and loud) but far from rustic, the menu is composed with an unfussy finesse that McEnearney executes with rare confidence.
1 Bent St, Sydney.
onebentstreet.com.au
AUTOMATA
If the name conjures images of something chilly, the reality is anything but robotic. The warmth and buzz of the place (projected in no small part by the impressive floor team) make it more engine room than assembly line. All the pistons are firing in the open kitchen, certainly. The lumpen plates are duff, but chef Clayton Wells' compositions are perfectly tuned. He presents onions both pickled and cooked to softness as a foil for grilled bonito on kombu butter, throws a toasty scatter of za'atar over duck hearts and roasted lettuce for texture, and slips the surprise of capers into an inspired, texturally daring dessert of yoghurt sorbet, plum and bee pollen. The set five courses fly fast and fun, but the bar menu is perfect for even shorter attention spans.
5 Kensington St,
Chippendale.
automata.com.au
THE DOLPHIN HOTEL
It's a pub. It's a wine bar. It's an art installation. It's Italian. It's Australian. Restaurant impresario Maurice Terzini worked his magic in a pub in Melbourne and here he comes full circle.The Dolphin is a pub for all seasons. A pie and a beer? That'll be the public bar and its surprisingly sharp menu. Dinner for six? The dining room does smart-casual Italian with an emphasis on smart, using Sicilian olives in its cacciatore-style wood-fired chook and topping puffy pizzas with spicy sausage, artichoke and sorrel. Best of all is The Wine Room, offering edgy juice and salumi sourced from far (superb jamón with broad beans and parmesan) and near, alongside smoked mussels with 'nduja and other gutsy snacks. A rollicking roller-coaster ride.
412 Crown St, Surry Hills.
dolphinhotel.com.au
RESTAURANT HUBERT
Dripping candles. Bow-tied waiters. Piaf and au poivre, tartare and Tatin. Hubert could so easily have been yet another cookie-cutter bistro, one of those Madame Tussauds eateries where the waiters' patter is as waxy as the food. Instead, it crackles with life, not bound by the old-school details but glorying in them. In this sprawling basement space, the couple tapping their feet to Sinatra in the next booth are as likely to be decked out in neck tatts and Ramblin' Rascal tees as diamond necklaces and couture, the tarte Tatin will be the complement to a toasty slice of boudin noir, and it'll be a confit field mushroom with the au poivre, not a steak. The really likeable thing is that, from the food to the service to the wine list, Hubert might be fun but it also really delivers.
15 Bligh St, Sydney,
restauranthubert.com
What's new in Sydney
BARANGAROO
On the western edge of the CBD, Barangaroo is a new $6b harbourside development whose interest for visitors is in the numerous and varied dining options, including bustling Italian hotspot Bel & Brio and southern-style fried chicken star, Belles. In March, Matt Moran (Aria, North Bondi Fish) is opening a three-level complex with a rooftop bar and fine-dining restaurant, and a family-friendly eatery on the ground floor. 
CHIPPENDALE
At the southern tip of the CBD, the face of this "gritty" inner-city suburb is changing (they might have to change its name — to Hippendale — soon, too). Explore by foot, starting at Kensington St, a car-free lane whose 18th-century workers' cottages are now home to dealer galleries and shoebox shops selling the likes of high-end footwear, contemporary art and, er, fudge. Follow the trail of red lanterns into the maze-like Kopi-Tiam, an alley of hawker-style food stalls and a series of small courtyards with stands of bamboo and mismatched school chairs. It's all a bit contrived, but inviting all the same. Nearby is the well-regarded White Rabbit Gallery (30 Balfour St), which displays contemporary Chinese art from the 1400-strong private collection of Sydney philanthropist Judith Neilson. The ground-floor Tea House serves handmade dumplings and traditional teas. Smart boutique hotel The Old Clare (1 Kensington St) serves food from UK chef Jason Atherton (Pollen Street Social) and notable locals Sam Miller (Noma) and Clayton Wells (Momofuku Seiobo). Around the corner is French architect Jean Nouvel's One Central Park, an apartment building whose mirrored crown directs sunlight onto the neighbouring 1000sqm vertical garden at Central Park Mall (28 Broadway), also known as the "Living Mall".
ROSEBERY
Six kilometres south of the CBD, Rosebery's old storehouses and small factories are being revived as food destinations and artisan stores. At Three Blue Ducks (1/85 Dunning Ave), a cafe in a light-infused heritage-listed warehouse, the focus is on dishes made with smoke and fire: whole lambs and pigs are cooked on an Argentinian grill in the garden, and their two charcoal pits and woodfired oven also turn out consistently good food. Walk through to Koskela, in the same building, for tasteful homewares designed in collaboration with Australian artisans. Stop for a slice of strawberry watermelon cake — a social media star in its own right — at Black Star Pastry (85-113 Dunning Ave), where everything is handmade using market produce and no flavours or dyes. Expect to queue at Messina (58 Mentmore Ave) for their made-on-the-premises gelato and sorbet, which comes in 35 flavours such as pannacotta with fig jam and Amaretti biscuit, or fresh pear with poached spiced rhubarb. Housed in a former cannery, Saporium (61 Mentmore Ave) is a fine produce hub, home to greengrocers, butchers, bakers and coffee roasters.
For more on Sydney this summer, pick up a copy of Metro's Jan-Feb issue, on sale now.
 Follow Metro on Twitter, Facebook, Instagram and sign up to the weekly e-mail