May 5, 2016 Travel
It's 4am and I am forking over $11 for one banana. I've had to call room service because you can't reset an 18-month-old's body clock in one transtasman flight and although I'm in Sydney for the Vivid Festival of Lights, Music and Ideas, somehow I didn't have the bright idea to stock up on toddler breakfast supplies before bedtime. So she's wide awake, hungry and bouncing around our ridiculously luxurious hotel suite, while I'm curled up on the couch with a winter cough that feels like my lungs are being attacked with a potato peeler.
I've been looking forward to this weekend for weeks. I was in Sydney for the second Vivid festival in 2010, shuffling around Circular Quay with thousands of other people enraptured by the light sculptures dotted on the streets like avant-garde campfires. Now in its seventh year, the festival has expanded to include a programme of music and talks packed with illuminating topics that make you want to be a better, more alert, person. I'm signed up for a panel discussion by astronomers and a recycling workshop to solve the world's waste problem, and I've got tickets to the brightest star of the music line-up, Sufjan Stevens, at the Sydney Opera House.
I'm an overworked newish mum in desperate need of a break and this is my first chance of a getaway in months, which is why I convince the kindly team at Destination New South Wales to let me bring my daughter and husband with me. In retrospect, taking a toddler to a night-time festival when you're stressed out and sick isn't the best move. But then, travel is never quite what you expect it to be. There's always a moment when you wonder if you should have just stayed on the couch.
Vivid Sydney 2016 highlights
New Precincts
Each year, Vivid gets bigger and brighter. This year, they've added two new precincts that are such perfect locations you wonder why they weren't part of it before: The Royal Botanic Garden and Taronga Zoo.
New Order
The UK band's seminal synth stylings even sound like you imagine light would. They play the Sydney Opera House on June 1 and 2.
Game-Changers
Talk Series
Screenwriters and creators Spike Jonze, Jenji Kohan (Orange is the New Black) and Beau Willimon (House of Cards) talk about "shaping the creative landscape right now".
Sydney certainly wouldn't have planned the downpour for the opening night of the festival. Visiting media are invited to Cruise Bar, one of those big, bold Sydney spots that pumps out chirpy house music. Its huge deck looking across the water towards the Opera House is the ideal spot for the "Lights On" moment at 6pm. At 5.57pm, sheets of water slice over the quay towards us. Most of the other journalists make a sly retreat to the free drinks table. I stubbornly stay, balancing an umbrella and my phone, recording the darkness while making awkward commentary as the seconds tick past six o'clock. "Waiting, waiting… for some reason the lights aren't coming… here we go… oh… no sign of lights…" My phone rings. It is my husband calling from the hotel to ask where his toothbrush is. The bloody lights come on and I miss my video moment of glory. The Opera House is awash with spinning colours and animations. The skyscrapers on the waterfront glow rainbow. The moisture in the air only makes them shimmer more vibrantly.
Freezing, damp and sounding like I've swallowed a seal, I excuse myself from the scheduled guided walk around The Rocks and make for my bed. The Darling hotel is in Pyrmont so I head towards a taxi stand. No luck. Sydney goes all out for Lights On night and the roads are closed. I trudge off and am immediately sucked into a cylinder of bulbs that glow in sequence with the flights taking off and landing in Sydney's airspace in that moment. It's pretty, and smart. I walk on and soon realise all the installations in this citywide exhibition are a fascinating blend of visual impact and technical wow.
I pick up a drumstick and pound out a beat that somehow triggers fireworks projected into the trees. The harder I whack the drum, the brighter the explosions.
Crossing the bridge across Darling Harbour, I see an audacious spinning water fountain painted by coloured lasers on one side and a calm, eerie shifting of light mimicking Antarctica's cool hues creeping over the Maritime Museum roof on the other. The rain has damped down crowds at the Pyrmont quarter, and I have free rein to enjoy a couple of interactive installations I'm sure would be swamped on a clearer evening. I pick up a drumstick and pound out a beat that somehow triggers fireworks projected into the trees. The harder I whack the drum, the brighter the explosions. It gives me a feeling of satisfaction and might, which gets even stronger when I step up to a control desk nearby. I punch the buttons. I am the dictator of dozens of spotlights beaming from the roof of The Star casino that can be seen all over the city. The exhilaration obliterates my exhaustion. By the time I get back to the hotel, I'm buzzing too much to fall asleep.
During Vivid, Sydney days have just as much stimulation as the nights. At the upcycling workshop at the Museum of Contemporary Art, I listen to a panel of enthusiastic, optimistic folk running businesses designed to make our battered old world better, like OzHarvest, which rescues unused perishable food and turns it into healthy meals for charities. I make a mental resolution to convert my empty toothpaste tubes into handbags.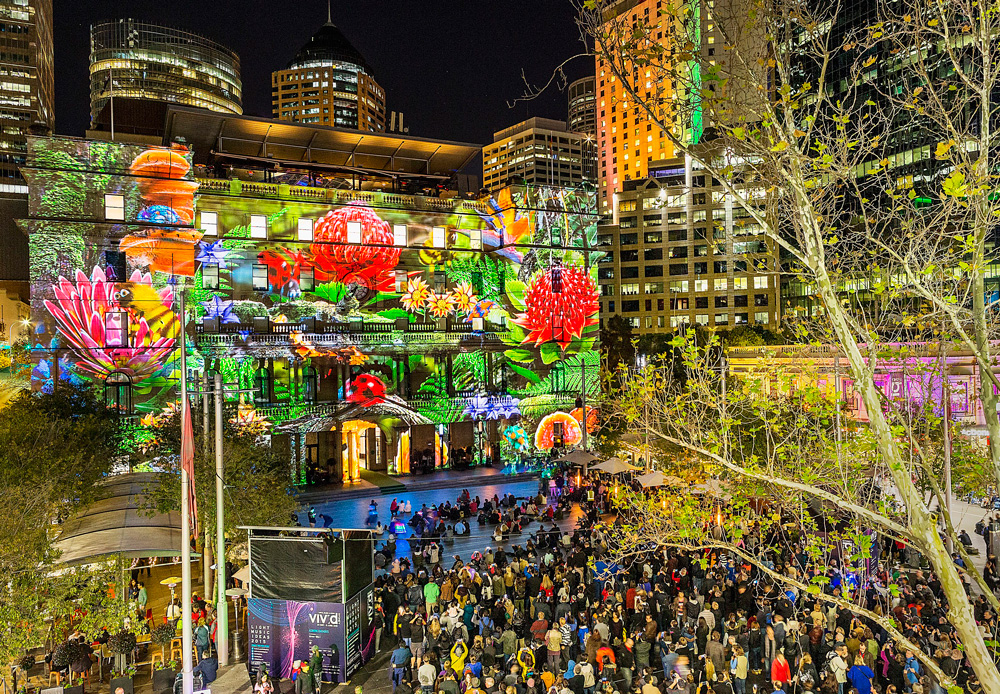 I get a different perspective on Earth at The Story of Light, a talk featuring some very learned and fun astronomers at the Powerhouse Museum. "Galaxies are not sultanas in fruitcake, they're a bubble structure laid down at the Big Bang," I jot down, simultaneously sending my brain awhirl and triggering the urge for a nice cup of tea.
I'm so busy trying to keep up with all Vivid has to offer that I almost forget to relax. That is, until my husband and I escape to the wharfside restaurant Flying Fish for dinner. We spend too long settling our daughter for the babysitter and have only half an hour to eat, but the excellent waitstaff deliver our dishes swiftly. "It's the best cooked fish I've ever tasted," I rave over my barramundi. I'm so smitten I do something I've never done before and ask to compliment the chef on our way out. I should have guessed; he's a New Zealander. He graciously waves us off as we race to our waiting water taxi.
I've been to Sydney many times but the next 10 minutes are the most magical I've ever spent in the city. From Pyrmont, we zip under a harbour bridge that is all dressed up in its Vivid lights and dock beneath the still-dazzling sails of the Opera House. I feel like a cross between a princess and James Bond as I step out of the boat and run up the steps while the warning bells ring for the sublime Sufjan Stevens. Always, always get off the couch.
Vivid 2016 is on May 27 to June 18. vividsydney.com
Frances Morton traveled to Sydney courtesy of Destination New South Wales. (Her husband paid for himself and their daughter.)