Nov 25, 2019 Travel
Where can you get your summer hikes in now that most of the tracks in the Waitakeres are out of bounds?
The Waitakere Ranges were closed last year in an effort to stop the spread of Kauri die-back disease. Luckily, one of the perks of living in Auckland is that nature is never very far away. To help you make the most of summer, Metro has put together a handy list of some alternative places to get your fix of fresh air.
Manukau Heads Lighthouse
Easy
About an hour-and-a-half's drive out of Auckland, stands one of the only lighthouses open to the public in New Zealand. Manukau Heads Lighthouse is located at the tip of Awhitu Peninsula overlooking the shifting sands of the harbour below. A steep set of stairs guide walkers to the main attraction from the carpark. From the top, walkers can enjoy views of the Waitakeres and Titirangi and on particularly clear days it's even possible to catch a glimpse of the Skytower.
Allow 30 minutes return to visit the Lighthouse and surrounding sites.
Awhitu Regional Park
Easy
Starting on the grassy slopes below the car park, follow the signs towards the shore to the tranquil Kauritutahi Bay. Enjoy a swim in the sheltered waters (watch out for crabs!) or take a stroll on the beach or track to the historic Brook homestead. This homestead was built around 1907 and is surrounded by leafy trees which provide respite from the beach and a shady picnic spot. An alternative route back to the carpark through the wetlands adds an extra level of interest for those in the mood for exploring.
Ten minutes from the carpark. Allow at least 1 hour to visit the historical sites.
Rangitoto Summit
Easy
Lava fields and pohutukawa trees are the highlight of this walk which begins with a 25 minute ferry ride from Queens Wharf to Rangitoto Wharf. Starting from the Rangitoto Wharf, follow signs for the Wilson Park track until you reach the Summit Track turn off. A side trip to the lava caves will add 30 minutes onto your journey but it's worth the effort. Rangitoto island is one of the youngest volcanoes in Auckland, emerging 600 years ago and is proudly pest free since 2011. This day trip is a rite of passage for Auckland residents and visitors alike.
Allow plenty of time to travel here on the ferry and give yourself 2 hours return for the walk.
Te Henga Walkway – Lake Wainamu and falls
Easy/Intermediate
There are several variations of walkways in this area depending on how energetic you are feeling on the day. Bethells Road to O'Neills Beach and Raetahinga Point is easy but the stretch to Constable Road requires a medium level of fitness. All of these walks reveal Auckland's wild west coast.
From Bethells Road to O'Neill's Bay: 2.1 km / 40 minutes one way – easy. Bethells Road to Raetahinga Point: 4.1 km / 1 hour 20 minutes one way – easy. Bethells Road to Constable Road: 10.3 km / 3 hours 20 minutes one way.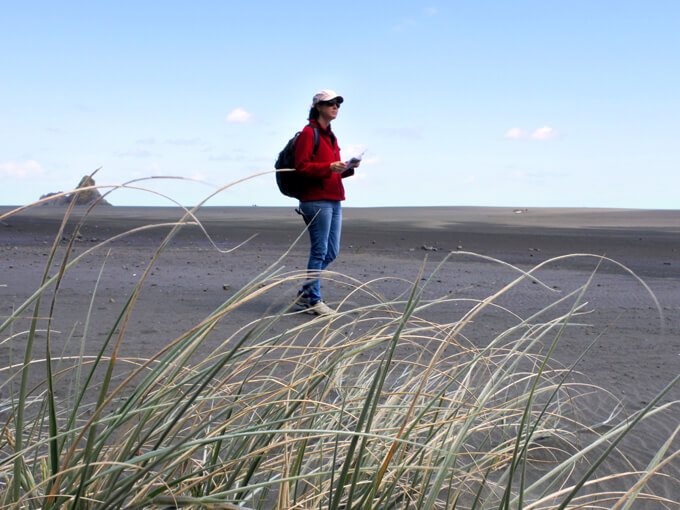 Coast to Coast
Easy/Intermediate
This walk combines natural history with human history and you'll be able to impress your friends by telling them you've walked the width of New Zealand. Cross land occupied for 600 years by Maori, pass through totara and rimu forest and marvel at no less than five volcanic sites along the way. This walk turns inland offering views out across the harbour from the top of Maunga-whau (Mount Eden).
4-5 hours
Point to Point
Easy
This is book ended by two stunning beaches – St Heliers and St Johns – making it an ideal walk in the summer. Combining pastures with sports fields and views of Auckland's volcanic features the Point to Point walk takes you through Churchill Park, past the historic Achilles Point and through the crater of an ancient volcano at Glover Park. This volcano was once a small lake but was replaced with a sports field in the 1950s. Meander through Churchill Park and if you're feeling extra adventurous make the side trip to Karaka Bay. From Point England make your way to St Johns Road and walk back along the road to where you started at St Heliers in around 30 minutes.
3-4 hours
Waikowhai Walkway
Easy
Discover hidden coves, urban green spaces and views of the Manukau Harbour. You'll also pass through one of Auckland's oldest cemeteries – Hillsborough Cemetery and if you want to take the pooch they'll have to be on a leash unless signs state otherwise. This whole walk can be completed in five hours or split into four smaller walks: Wattle Bay Loop Cape Horn Lookout Loop, Captains Bush Reserve Loop or Hillsborough Cemetery Loop.
5 hours – Check tides.
Lake Panorama Walk
Easy
This one is good for the walkers who can't be bothered with maps. Simply follow the edge of the lake and let the kids play on the playground across the road at Xena Park whilst you take in views of the lake.
1-1.5 hours.
Milford to Takapuna
Easy
Do this one at low tide to avoid having to scramble over the slippery rocks. Allow some time to stop and investigate the many tidal rock pools and see how many creatures you can spot. This trail offers views of Rangitoto and the Hauraki Gulf and is suitable for all fitness levels although some parts are a bit rough. Not suitable for wheelchairs or prams.
1.5 hours.
Awaroa Walkway
Easy/Intermediate
You can choose to do this walk at either high tide across reserves and roads or explore the rocks along the shore and pass by the lesser frequented Cockle Bay and Eastern Beach. As an added bonus you can rest your tired legs on the way home by catching a bus from the end back to your car so remember your HOP card or some cash.
4-6 hours.