Apr 1, 2020 Travel
In the final instalment of Pretend Cities, Sue Lees goes to Paris from the inside of her Auckland home. We've really enjoyed running this mini-series on Metro, and we hope you've enjoyed it too. Au revoir!
You only have to spend five minutes on Social Media to discover what the French refer to as 'ennui' is creating some questionable new pastimes. Your Significant Other has taken to wearing a beret and googling things like Flirting in French. When he whispers to you, 'Je veux être à tes côtés pour toujours' (I want to be right beside you forever), somehow in it just doesn't create quite the same sizzle as it would have before lockdown. Even the artificial intelligence set is getting testy. After multiple queries for translation of naughty words into French, Siri finally fumes, '— I hope you don't kiss your mother with that mouth'.
You've been binging on so many light Parisian screen romances from the 1950s like Love in the Afternoon that it doesn't seem particularly odd that your revere is interrupted by a voice-over. Maurice Chevalier's creamy, heavy rich French accent is verbalizing your innermost thoughts. 'Mon Cheri, you are getting so much time together but you two are not getting any, ah, je ne sais pas, "time together". May I suggest a little Parisian rendezvous?'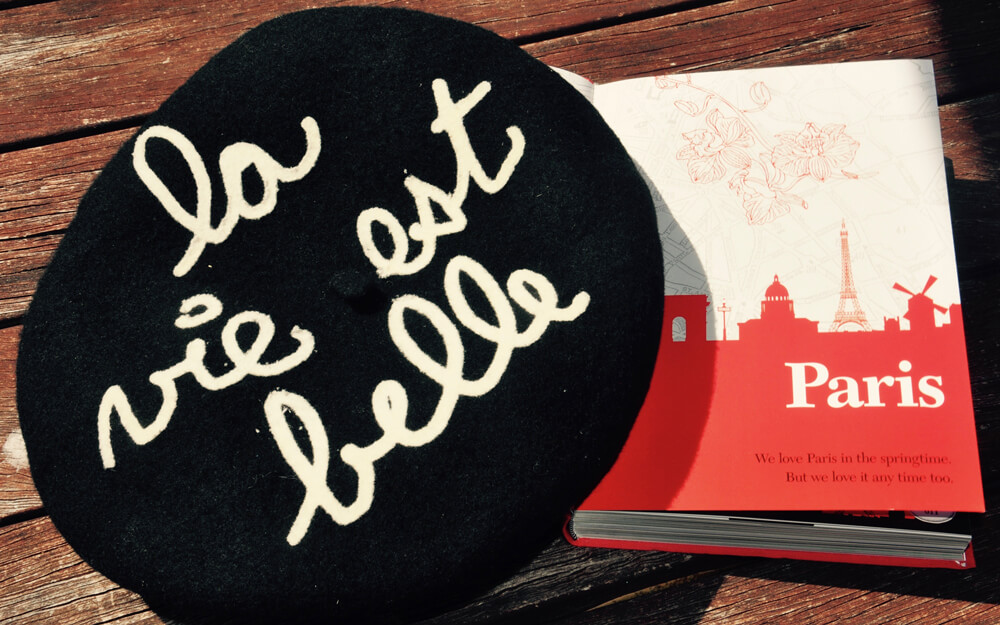 Maurice is absolutely right. A little bit of 'Parents Only' in Paris time is what is called for. You have both been stressed, exhaustively creating activities for the kids. Your family's daily schedule now is heavy on the Three R's plus yoga, te reo, and painting. A few hours with Nanny Nettie Flix is OK, especially if their parents return from their mini-break re-energized.
You put your babies to bed reading Madeline. In readiness for your escapade, you use a very little of your very little flour to prepare croissants. Be prepared they are not as simple as they look. While you bake, you watch the late Clive James in his now very retro (but possibly sweeter because of it), tribute to his soul home, Postcard from Paris. As a successful, middle-aged broadcaster, he finally gets to hang with the hip, arty folk and fulfill the dreams of his nerdy 20-year-old, OE Aussie self. Interviewing supermodel Ines De La Fressange, Clive learns what a fashion victim is. You notice your husband slip his beret off.
You awake the next morning in Paris, the city of love. You decide, why not, to take your petit déjeuner in the boudoir. Croissant, apricot jam and café, perfection! The birds are singing and almost cover the murderous shrieking from downstairs. You turn up the music. Billie Holiday is singing to you of April in Paris and it is magnifique.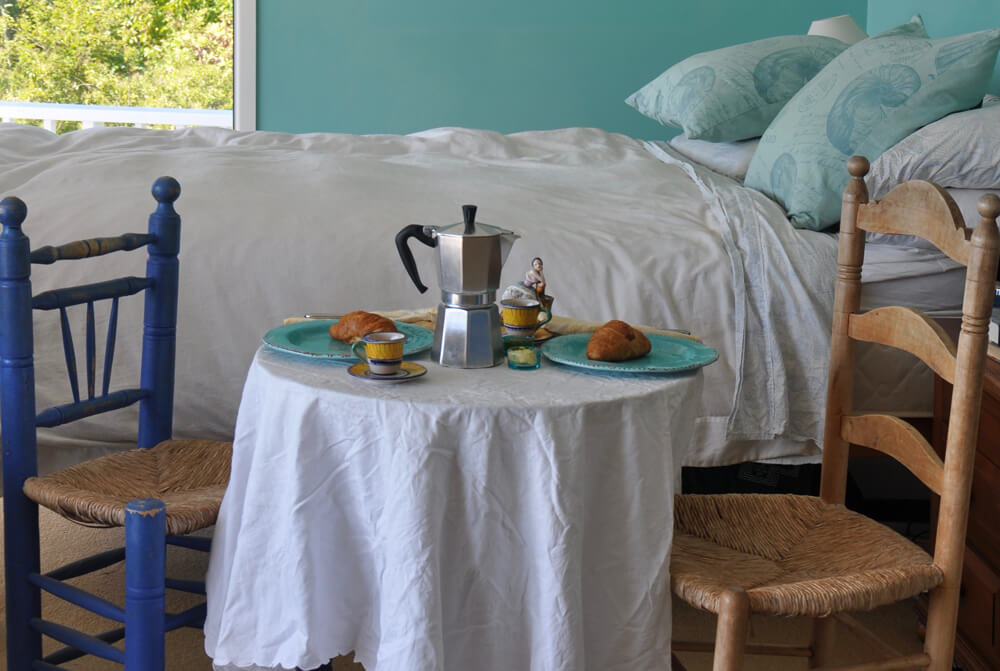 Après a delicious morning together, you decide your regular attire (trackies and a hoodie) won't do. You are now in the southern arrondissements of Paris, the Left Bank, famous for creativity and bohemian style. Time for a different interpretation. What could be more fun than playing Catwalk and outfitting each other from le wardrobe. Your partner obviously was listening to Ines and has a new skill set. You look almost avant-garde in his creation, scarf, long silk nightie, and boots. And, without the beret, your man is no longer a 90-year-old waiting his Boules turn. Oh, la la, that sisal Panama and purple linen shirt is working.
Time to explore what the Left Bank is famous for, Les Arts. Shakespeare and co, the second edition of the most famous bookstore in the world is even closer than you imagined. You fossick in a dark corner (the dusty, left bank of books stacked beside your bed). Some real treasures are lying abandoned since the introduction of social media.
Taking your books, you stroll arm in arm. There is no problem keeping a distance from your neighbours after they take one look at your outfits. On the Boulevard St- Germain (by your letterbox) you stop to take in the historical buildings on the street designed by the masters. Look there; a Keith Hay, Le Lockwood and my God, le Classique, a 1980s Dempsey Morton.
You take a café on a terrace above Boulevard St-Germain and each read your books. Madame Bovary (1857) cheers you up. See, all that freedom was risky, so much shopping and don't even mention the potential for dangerous liaisons.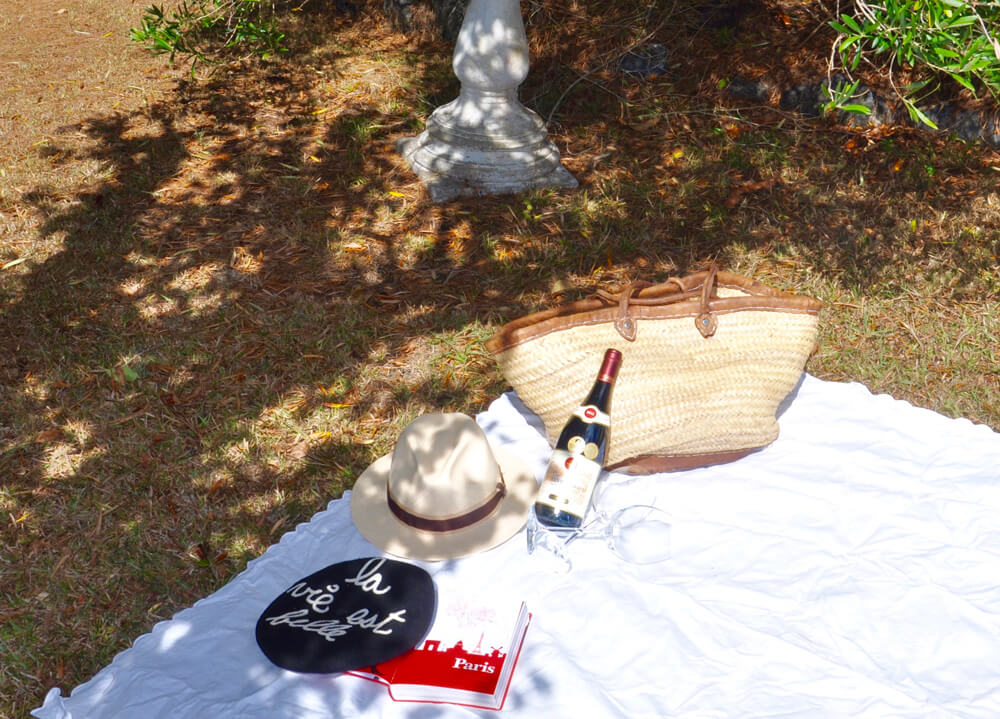 You visit (the free virtual tour) the Musee Dorsay and study in magnified detail Monet's Blue Water Lilies (enriching this experience with real footage of Monet working in Giverney). All the most famous Van Gogh's are also there and you realize you now have plenty of time to watch his lauded animated bio, Loving Vincent (iTunes).
You start a list for a French Film Festival for Two. A couple of anticipated new films; La Belle Époque and Juliette Binoche in How to Be a Good Wife top it. For now, they are so new, that the only platform you can see them on is less than legit. But hey, it's only time, and that is something you have.
Near the Sorbonne is Au Pere Louis, an excellent wine bar. You pull up a stool and convince the barman (who looks a bit like your 12-year-old) to conduct a blind taste test. Wrapping two different bottles in foil and using your unemployed airline sleep mask, you discover that your palate is crap. You cannot tell your Syrah from your Cabernet let alone differentiating that long guarded Châteauneuf-du–Pape from the more modest kiwi Villa (Maria). After several actual glasses, it is time for some fresh air.
Lying on the grass in Jardin du Luxembourg (your garden), you watch the model boats on the Grand Bassin pond (birdbath). Children frolic nearby so you throw some bonbons in the opposite direction. You are both plugged into your Spotify French and Slow Playlist; Françoise Hardy and Iggy Pop sing I'll be seeing you. It is then that you kiss, it is a kiss of freedom, of passion. And you both smile. As you doze off, content in each other's arms, you see Maurice Chevalier smiling above and blow him a little kiss. He winks back.
A child gently taps you awake and presents you with a lawn daisy. It is your youngest. You open your eyes to see that on the deck your children have set a table for two. Mac Cheese is piled high on plates and mugs of (??) something unusually yellow awaits.
Your love helps you to your feet and you both beam at your kids. They proudly escort you to your seats. You clink your mugs, toasting them, each other and the world with the pogniant, French cheers, SANTE (good health)! Paris might be the city of love but Auckland isn't doing too badly either.