Apr 26, 2016 Travel
Above: Takou River Lodge, provider of home comforts and hot tub heaven.
Metro hits the road for a weekend away in Northland.
By Michael Hooper.
For full itinerary and booking links, see below.
The glow of tail lights to the west confirms the wisdom of aborting Escape Plan A. It's Friday night and we are passed by a truck with the licence plate Y RU5H. It's an omen; we turn out of the traffic and towards dinner.
From a table on the 53rd floor of the Sky Tower, the Harbour Bridge is also festooned in enough red lights for a lantern festival. The Sugar Club's chef Neil Brazier left Northland to helm the restaurant and has never looked back, only down. Our amuse-bouche, a riddle of melon, cucumber, ginger and basil balsamic, signals the sophisticated fare to follow. Our waiter paces the flow, matching our wines, gliding over after a mere blink in his direction. A memorable start to our road trip before we even leave town.
Barely beyond dawn on Saturday morning, we finally leave the city behind. Heading north, we stop to face The Hangover Pie at Wellsford Bakery. It has nine ingredients, including baked beans, and fuels us further along State Highway 1.
Headhunters and Veterans bikies swarm like wasps, wanting to pass, but I've been stung before — this route is peppered with traffic cops.
World-famous in NZ for welfare, Winston, Hundertwasser toilets, Hone and Titewhai, Waitangi and Key Mud Pie, what Northland should actually be famous for is its artisan food and wine. And for being three degrees warmer than Auckland, which counts after March.
By 11am we are at Mahoe Cheese, the Rosevear family's creamery. Their Very Old Edam has won New Zealand's top cheese award four years running, and cheesemaker Tony van Stokkum is behind the counter with samples.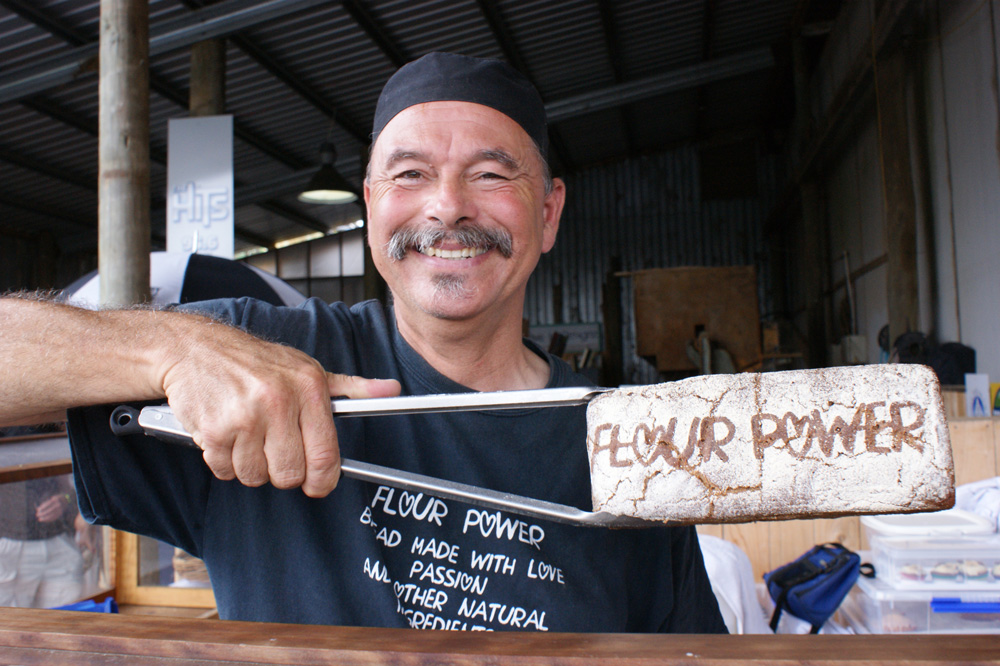 In Kerikeri just 30 minutes later, the Old Packhouse Market is so busy that a hippie parking warden has been hired. On offer is local Flour Power bread, Hihi olive oil, Evergreen organic olives, avocados (with and without apostrophe) and batons of daikon — I buy one for dinner prep later. Local institution Ludbrook House is selling preserves and there are Waikare Inlet oysters. But across the road lurks the ultimate temptation, Makana Confections. Brian Devlin and Carole Flowers bought the business a decade ago and they're about to expand, with a cafe next door offering Champagne, gelati, fine pastries and their hand-dipped chocolates. Five minutes away at organic vineyard Ake Ake, gumbooted winemaker John Clarke matches a lunch dish of tender venison with Ake Ake's just-released (and sulphur-free) 2015 Syrah.
The Waitangi Treaty Grounds, the birthplace of our nation, have been reborn with the opening of the new Museum of Waitangi. The gallery and museum tell the impartial story of multicultural New Zealand which Waitangi has always championed. With flag choices topical, the permanent exhibition explains the United Tribes flag, and illustrates the events leading up to the Treaty of Waitangi with polished multi-media displays. Allow half a day — longer if you stay for the hangi and concert (Tuesdays and Thursdays; December to March only).
Hidden down a winding, unsealed road a 40-minute drive north of Waitangi is our home for the weekend. Takou River Lodge has a two-bedroom, self-contained guest lodge as well as four secluded cottages and a glamping option. The accommodation, amid 60 hectares of pasture, bush and gardens, is geared to couples wanting a quiet eco-retreat. We've booked the lodge, something of a homage to the 70s. It's a bit like your favourite aunty died and left you a large and comfortable bach, including her favourite old Breville espresso machine.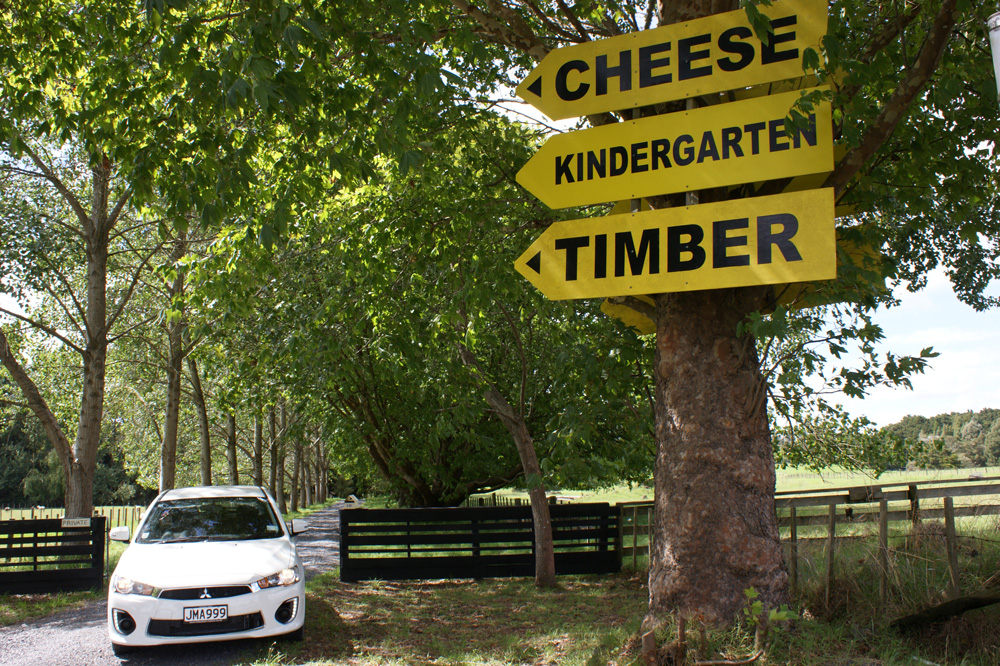 Dinner at the best restaurant for miles awaits. Food At Wharepuke is an understated, barnlike room with ceiling fans and pale-green timber walls, set among tropical gardens in Kerikeri. Chef Colin Ashton is all about Thai flavours — we share entrées of tender paua and the best spring rolls this side of Siam. A whole snapper with spicy som tam salad almost proves too much, but we soldier on with a lemongrass and kaffir lime panna cotta.
On Sunday morning we wake late to the silence of the bush that surrounds the lodge. We drive to Kerikeri's original market, opposite Cathay Cinemas, for caffeine courtesy of Ikarus (the best locally grown, hand-harvested and roasted coffee), then pop into nearby Marsden Estate. Winemaker Rod MacIvor's reds impress most — a rich, royal purple, farmy chambourcin (the locals call it "chambo"), and a floral, spicy tempranillo. With tonight's menu in mind, a Marsden Black Rocks Chardonnay is stowed in the Mitsi.
Mangonui is a sleepy, lavender-soap-souvenir town on Doubtless Bay, half an hour from Kerikeri. Buses bring tourists here for fish and chips over the water at the famous cafe, causing queues and inflated prices. We follow the locals and trot over the road to Fresh & Tasty, a family-operated courtyard attached to the local pub. Jovial chef-proprietor Spencer Morrissey mixes parsley into his batter and cooks fresh fish in dripping. Served with hand-cut chips and salt on the side, it's a crisp and tasty lunch. Further up the coast, we stop at Apatu Aqua (apatuaqua.co.nz) and buy kingfish, smoked fish pâté
and smoked eel for dinner.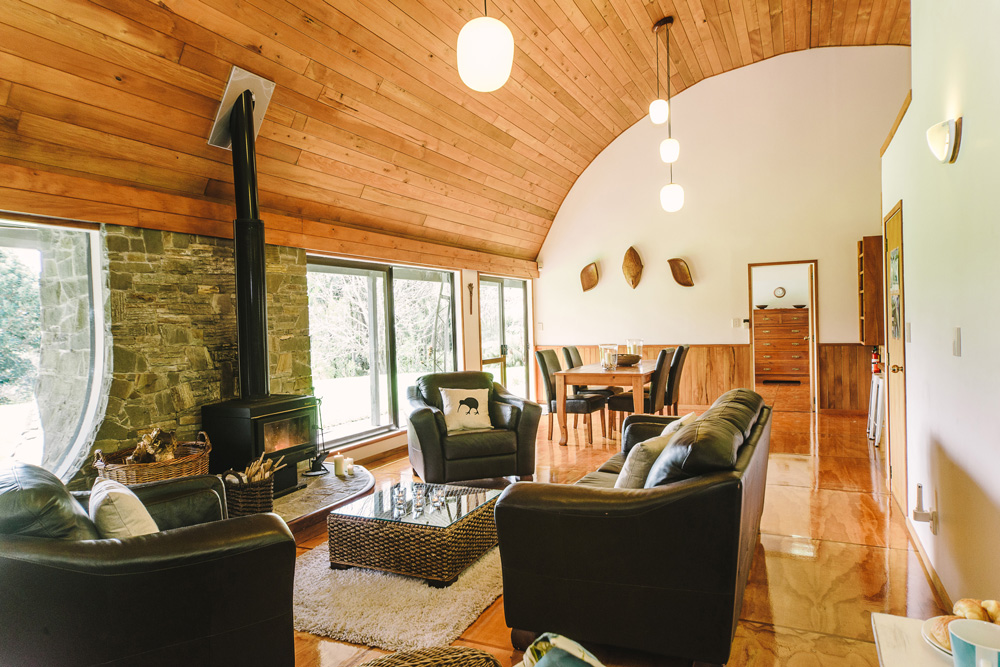 Returning to Takou River Lodge, a treat awaits — our hosts have set up a hot tub for us by the river, with candles, robes, towels and chilled wine. The tub is filled with river water and heated by a burner. We slip in and relish the solitude as a nearby waterfall splashes and, as dusk becomes dark, glow worms glimmer and a possum scampers up a tree. Our path back to the lodge is lit by torches, handily highlighting the cowpats along the way. Done with driving, we stay and cook dinner, using what we've gathered over the weekend: the seafood from Apatu Aqua, Mahoe yoghurt and cheeses, figs roasted with Villa Italia lemon flower honey, Makana macadamia chocolate butter crunch. Now I know why so many towns up this way begin with "Kai".
What we did
? SATURDAY
7.30am Depart Auckland
8.30am The Hangover Pie at Wellsford Bakery (SH1)
11am Tasting at Mahoe Cheese near Kerikeri (SH10, Oromahoe, mahoecheese.co.nz)
11.30am The Old Packhouse Market and Makana Confections, Kerikeri (505 Kerikeri Rd, theoldpackhousemarket.co.nz)
12.30pm Lunch at Ake Ake Vineyard (165 Waimate North Rd, Kerikeri, akeakevineyard.co.nz)
2.30pm Museum of Waitangi (Tau Henare Drive, Paihia, waitangi.org.nz)
7.30pm Dinner at Food At Wharepuke, Kerikeri (190 Kerikeri Rd, foodatwharepuke.co.nz)
Overnight Takou River Lodge (660 Takou Bay Rd, from $280 per night for two, takouriver.com)
? SUNDAY
10am Coffee at Bay of Islands Farmers Market, Kerikeri (Hobson Ave, bayofislandsfarmersmarket.co.nz)
11am Wine tasting at Marsden Estate
(Wiroa Rd, Kerikeri, marsdenestate.co.nz)
12.30pm Fish and chips at Fresh & Tasty (Waterfront Drive, Mangonui)
6pm Riverside hot tub, Takou River Lodge
? MONDAY
Morning Return to Auckland via galleries, craft shops and t   he wonders of the Hundertwasser toilets (Gillies St, Kawakawa)
HOW WE TRAVELLED
We drove a Mitsubishi Lancer LS Hatch, which made an easy transition from city stops and starts to the requirements of a weekend road trip. Practical, comfortable and economical, and averaging 7.5L per 100km, the Lancer handled well on wet gravel roads and kept us safe from bikie swarms.