Apr 16, 2019 Transport
Car transporters parking illegally on Great North Rd is a dangerous practice, and it's happening nearly every day. Locals, Auckland Transport, car yards and even the trucking companies themselves say it's a problem – but a long term solution is trickier to come up with than it first appears.
A local woman fed up with trucks parking illegally along a stretch of Great North Rd in central Auckland says it's only a matter of time until one causes an accident – but operators insist there's nowhere else for them to go.
The central city end of Great North Rd boasts ten car yards within half a kilometer of one another, each of which has stock delivered regularly by a car transporter. On any given morning a passerby is likely to see one or more transporters, some of which are 23 meters long and often stack two rows of cars on top of each other, parked on yellow lines, in the median strip and in bus stops.
A meeting between AT, Auckland council, car yards and car transporters is being held this Thursday to hash out possible solutions, but there is no immediately obvious answer to the problem.
Trucks are spotted parked illegally during peak traffic and at times which overlap with the school run for the nearby Newton Central School. Tina Plunkett's daughter goes to Newton Central and has done for the last five years, during which time Plunkett has been documenting illegally parked trucks, something she says is an almost daily occurrence. She has collected most of her finds on Twitter using the hashtag #cartruckparty. She's worried that sooner or later an unlawful park is going to cause a serious accident.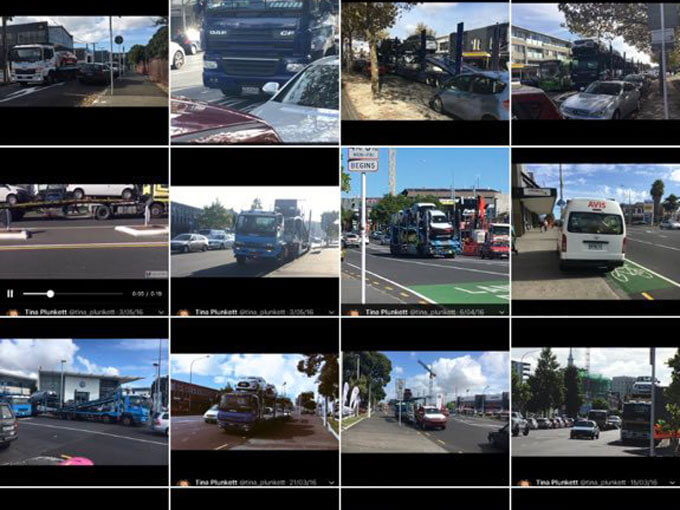 "They block traffic intersections, they make it practically impossible to see on the intersection which is about the only pedestrian crossing my daughter has by her school. It really does run the risk of doing some serious damage."
Plunkett has complained to both Auckland council and Auckland Transport (AT), but felt the issue wasn't being taken seriously. "I want it stopped. I want council to take it seriously."
AT parking services and compliance manager John Strawbridge said the agency was well aware of the problem, but limited to handing out infringement notices for parking violations. This year it has handed out eight tickets at $60 a pop to transporters parking on broken yellow lines in the area, and six for parking on the flush median ($40). Last year 48 tickets for the same two offences were handed out, up from 27 in 2017. However the companies simply absorbed the cost of the fines as part of doing business. "Enforcement is not a deterrent due to the low value fines," he says. The Ministry of Transport sets the level of the fines, not AT. A police spokesman said parking infringements were a matter for AT, not police.
AT conducted a safety audit on February this year which found that the chance of a crash caused by illegal parking was low, the chance of serious injury or death in the event of a crash was likely. Further investigations were recommended, and Strawbridge says AT is working with the freight industry and the Waitemata Local Board to try to resolve this situation. Two more loading zones along great North Rd have been proposed as a possible short term solution.
Ideally, car yards would have areas for transporters to deliver and unload cars to on site, but Strawbridge said most of the car yards along this particular stretch of Great North were built before consent conditions around the loading and unloading of transporters were required. As the city has grown, so has competition for land use and the amount of traffic on the roads. Because transporters are so long, it's tricky to find spots in busy inner city areas where they can enter and exit easily – and safely. One existing loading zone in the area isn't used by large transporters because they can't get in and out of the side street, and another proposed area isn't suitable for the same reasons.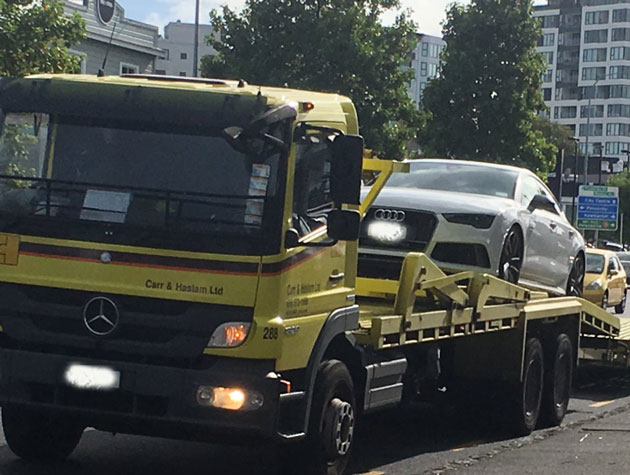 Waitemata Local Board chair Pippa Coom says illegal parking is unacceptable, particularly around schools. "We've been receiving complaints about the unloading practices of transporter operators for some time. The industry, working with Auckland Transport, need to find a safe way for them to operate without parking illegally."
Chris Carr, who owns Carr and Haslam, a car transporter company, has been in conversation with AT for about four years trying to come up with a solution – but says the issue is more complicated than it may initially seem. He understands concerns about illegally parked transporters and acknowledges it poses a danger, but says it's the best of a bad bunch of options.
"It'd be way more dangerous maneuvering them in and out of a car yard than parking on the side of the road." Due to the length of the transporters it would be extremely difficult if not impossible to get them in and out of car yards due to the angles needed for turning Carr says, adding that parking on a median strip or bus stop keep the unwieldy trucks within the flow of traffic. "The longest of our trucks is 23m long. That would block a whole road while you were either driving in or backing out, and backing out is fraught with difficulty.
"It's just one of those really difficult things, because there's nowhere else to go and we have to do our job."
You could ban the trucks, he said, but then there'd be ten times the number of vehicles driven in and out of the city, playing havoc with traffic congestion. Auckland's continued growth has led to the current situation, he says. "There's more and more competition for less space to do things."
Carr is committed to finding a pragmatic solution to the problem, and says he understands parents' concerns. Carr and Haslam trucks already try to deliver cars outside of peak times, but Auckland's busy roads can play havoc with a schedule and a couple of hours sitting in traffic can mean a 1pm drop off ends up overlapping with the afternoon school run.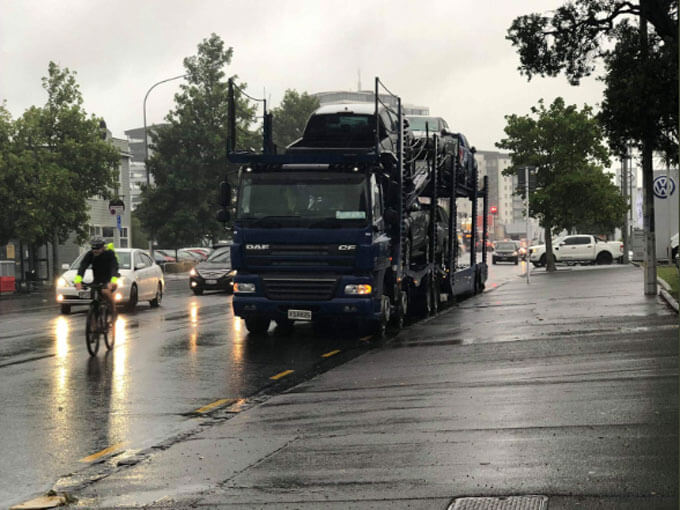 Shaun Summerfield of the Giltrap Group, which owns a handful of car yards along the affected stretch of great North Rd, says the company is aware of the issue and working toward a solution, though he adds that New Zealand's biggest Toyota, Ford and Mazda dealerships are also in the neighbourhood and Giltrap is only part of the problem. Metro contacted other dealerships for comment but did not hear back by deadline.
Giltrap Group had been part of the Grey Lynn neighbourhood for nearly half a century, and intends "to continue to be a good neighbour", he says.
"For our part, we have reduced the volume of deliveries to our Great North Road dealerships significantly by building a new facility in Botany to handle the pre-delivery inspection of a large number of our new vehicles. Other measures to limit daytime traffic are also being assessed."
Giltrap representatives plan to attend Thursday's' meeting, but Summerfield declined to comment on possible solutions. AT spokesman Mark Hannan said the meeting was to air various views. Meanwhile, Plunkett is happy the meeting is happening, but cynical about what the outcome might be. "I don't want one of the solutions to be parking on the main road."
Photos: Twitter
Follow Metro on Twitter, Facebook, Instagram and sign up to the weekly email