Apr 13, 2015 Sport
Eden Park may be great for the All Blacks and the NRL Nines, but it's wrong for just about everything else. Will the council's bold plan for the city's sports stadiums fix that problem? Nope. Do we need another stadium? Some say yes.
First published in the March 2015 issue of Metro.
Peter Leitch is pissed off. This is not your excitable old mate the Mad Butcher from the radio. This is the angry mad guy. He bangs his gold-ringed fist on the table in the Warriors' boardroom at Mt Smart Stadium.
"Len Brown and you councillors, put your boxing gloves on," he barks. "Because it's round one!"
The mayor and council want the Warriors out of Mt Smart, their home for the whole of their 20 years in the Australian National Rugby League (NRL). When the licence expires in 2018, the Warriors have been told, they'll have to go.
Leitch, league fanatic and Warriors ambassador, isn't having it. On the aerial photo of the stadium hanging from the boardroom wall, "the Butch" points to his seat at the Warriors' very first game — against the Brisbane Broncos in 1995. In front of 30,000 fans, the Auckland side nearly upset the defending champions, losing 25-22 after leading for much of the game.
The longer we discuss the future of the Warriors, the more inflamed the Mad Butcher gets.
"We fucking care, mate. We come here every week. We put our body and soul into the game. We are passionate about this. It is a very big part of my life. I am ready to go to war. It is time we made a stand." And so on.
The council, for its part, is trying to solve problems caused by 20 years of failed strategic planning: Eden Park is too big, North Harbour's QBE Stadium is a bridge too far and Mt Smart is too old. None of them can fulfil the most desperate need: a mid-sized stadium serving several codes, on the edge of the central city.
The council has a $30 million plan to address the issue, included in the city's draft 10-year budget and Long-term Plan (LTP). But it doesn't provide for that downtown stadium and, as Leitch so volubly argues, the Warriors board thinks it sucks.
Meanwhile, sports fans are staying home, and that means live sport is in crisis. Auckland rugby averaged a mere 4000 spectators during the ITM Cup, the Warriors around 16,000 and the Blues just over 17,000.
When the Wellington Phoenix last played here, they drew about 11,000 spectators. The last test cricket match in Auckland — don't even ask.
In 2006, in the days before the super city, the government decided Auckland should have a waterfront stadium for the Rugby World Cup. Fletcher Construction was even told to buy a piling barge to build out from Marsden Wharf. But the government bungled the launch of the plan — the first most Aucklanders knew of it was when a Herald feature ridiculed the proposal. Then-mayor Dick Hubbard vacillated. The Auckland Regional Council (ARC), led by Mike Lee, who was then a staunch advocate for Ports of Auckland retaining all its waterfront land for its own use, came out strongly opposed.
It still makes Trevor Mallard, then Minister for the Rugby World Cup, grumpy. "In my opinion [Ports of Auckland] badly overvalued their usage of the relatively small amount of the port that the stadium would have required and scared the regional council that their dividend flows would be wiped out. And that is what put the shits into Mike Lee.
"That meant two quite conservative forces — one the old boys of Eden Park and, secondly and more importantly, the people involved in Ports of Auckland — put the kibosh on it." It was, he adds, "a massive lost opportunity".
Auckland doesn't need Mallard's 60,000-capacity Stadium New Zealand. Having empty seats at Eden Park shows the city's codes can't fill 50,000 seats. And the development of the waterfront since 2010 has revealed enormous ongoing potential for the harbour edge.
Many Aucklanders — including many of its architects — would be distraught to see the access, view and relationship the city has with its harbour interrupted by an introspective concrete elephant like a stadium.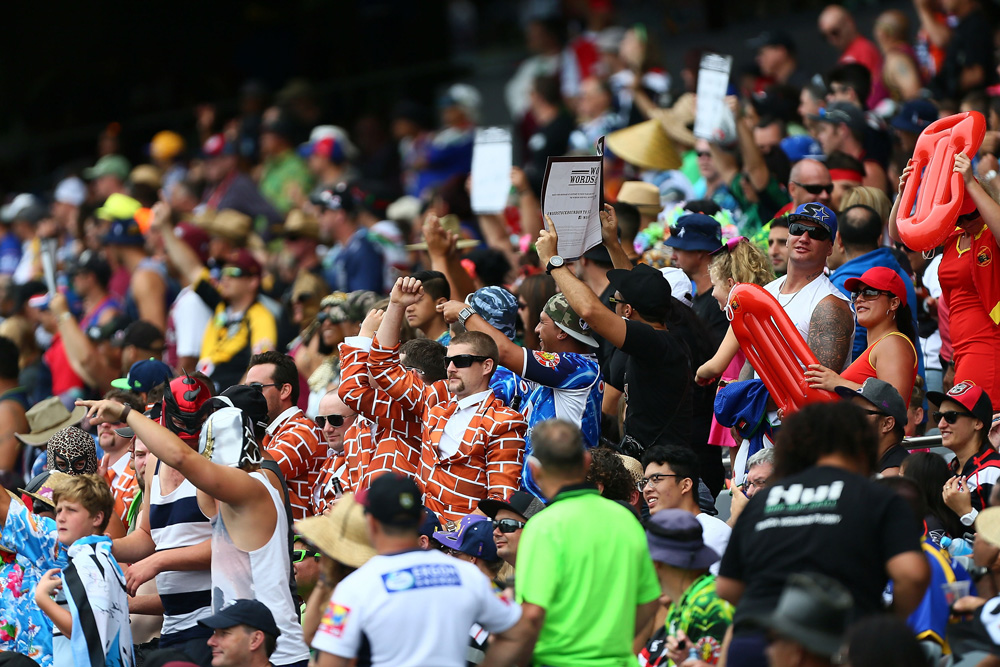 What Auckland does need, however, is a 20,000-30,000-seat, multi-purpose, covered stadium close to the central city. A home for the Blues, Auckland Rugby and the Warriors; a major destination for the Phoenix. A venue for the really big concerts. And if the likes of Serena Williams come to play in Auckland, as she keeps telling us she wants to, the annual Festival of Tennis would have the perfect place to stage the tournament.
The Warriors see a downtown stadium as important to their long-term future. Sports fans want the stadium. Designers say it is still possible.
The model is Suncorp Stadium, right on the edge of downtown Brisbane, where three sports codes very successfully share a venue widely regarded as one of the best for watching live sport.
The Warriors don't want to stay at Mt Smart forever. They see a downtown stadium as important to their long-term future and to live sport in Auckland. Even Leitch would support a move there. The Phoenix say a central-city stadium would be perfect. Sports fans want the stadium. And stadium designers say it is still possible.
"That is the perfect outcome for Auckland for all sport, whether it be rugby union, the Warriors, soccer," says Warriors CEO Jim Doyle. "You build a stadium at the waterfront, you will take people back to wanting to go to the game because it is a good fan experience."
Auckland Rugby remains diplomatically committed to Eden Park and its place in the union's history. Union CEO Andy Dalton acknowledges a downtown stadium "would have been nice" but he "can't see it happening". According to Michael Redman, CEO of the Blues, they "are not promoting any particular outcome right now. Eden Park is an important venue for us."
The latest addition to Melbourne's formidable sports and entertainment precinct was AAMI Stadium. Its 30,050 capacity is designed to provide the best experience for fans of Victoria's second-tier sports — rugby union, rugby league and football — and to host concerts.
AAMI has become a vital piece in Melbourne's live event set-up. While tribal Aussie rules crowds fill the 100,000-seat Melbourne Cricket Ground and the 53,000-seat Etihad Stadium, AAMI's domed roofs have hosted close-to-capacity crowds for Australia v Kiwis league tests, the Foo Fighters and the Football A-League.
Richard Breslin, senior principal at global architectural firm Populous, says a downtown stadium in Auckland could be done from a planning perspective. You need land and a budget. Breslin worked on the Wembley Stadium redesign, was project leader for the London Olympic Park and led the design on Eden Park's redevelopment and Dunedin's Forsyth Barr Stadium. For a 25,000-30,000-seat downtown stadium, he predicts a starting point of $200 million.
However, he questions whether there is enough sport for a fourth football stadium when the current venues are struggling. "Right now, there is only so much content that Auckland has. And the grounds are struggling to get the numbers in there. Whether it is prudent to then go and add another venue, which would effectively cannibalise the content from the other venues…"
Sports broadcaster Tony Veitch has a solution to the "crisis" that he thinks should be implemented right now: bulldoze QBE Stadium in Albany.
"We need to find a way to build a stadium that is going to keep this city fundamentally going for the next 40 or 50 years. We cannot ignore that any more," he says.
And as the city grows, expect the number of Auckland teams in Australian competitions to increase too. An A-League football team, a squad in the Australian Baseball League, a franchise in cricket's T20 Big Bash and another Auckland NRL side should all be part of the city's long-term planning.
The council's draft strategy proposes a kind of musical chairs for sports. The natural amphitheatre and grassy banks of Western Springs will be turned into an much-needed international test-cricket ground, while the Springs outer fields will continue to host events such as Pasifika and Taste of Auckland. That reflects the gentrification of the area.
Speedway will move from Western Springs to Mt Smart, in the middle of a light-industrial area. And the Warriors have the choice of Eden Park or QBE, with the latter earmarked for $27 million worth of redevelopment, including a roof. Cricket, speedway and rugby are all supportive of the plan. The Warriors aren't having a bar of it.
How would the Butch feel about leaving Mt Smart? "I wouldn't be fucking happy."
Eden Park was once a bog called Cabbage Tree Swamp. It has been a sports ground since 1900. The ground was drained and turned into two ovals, becoming the home of Auckland Cricket in 1910 and the Auckland Rugby Union in 1925.
I grew up in the South Stand, a season ticket holder seated between my grandparents in the glory days of the Blues. We'd arrive in time for the schoolboy 1st XV curtain-raisers and then, in front of full stadiums, we'd thrill to the Brooke brothers clearing fast ball for the magician Carlos Spencer.
My grandmother would take me from school to domestic cricket games on the number-two ground. I collected a piece of turf after Waikato stole the Ranfurly Shield from Auckland in 1993 after eight years. The crowds were big every weekend and I would get lost trying to buy hot chips in the stadium's internal labyrinth. You had to search for individual section entries. When I moved to the terraces as a young man, I'd quickly grow numb on the hard blue benches.
The 2011 Rugby World Cup redevelopment of the park created a modern stadium and New Zealand's premier ground. During the NRL Nines this year, the newly developed members' lounge hummed. The 360-degree concourse lets the stadium inhale and exhale spectators easily. The corporate facilities are flash and feel close to the on-field action. Public transport use was up to 55 per cent. Behind the scenes, around 2000 staff fed the crowds, directed traffic, managed the fun and kept 45,000 people safe.
When the ground gets close to capacity, it is a special venue full of history and atmosphere. But during test cricket, provincial rugby or visits by the Wellington Phoenix, it's a lonely place to be.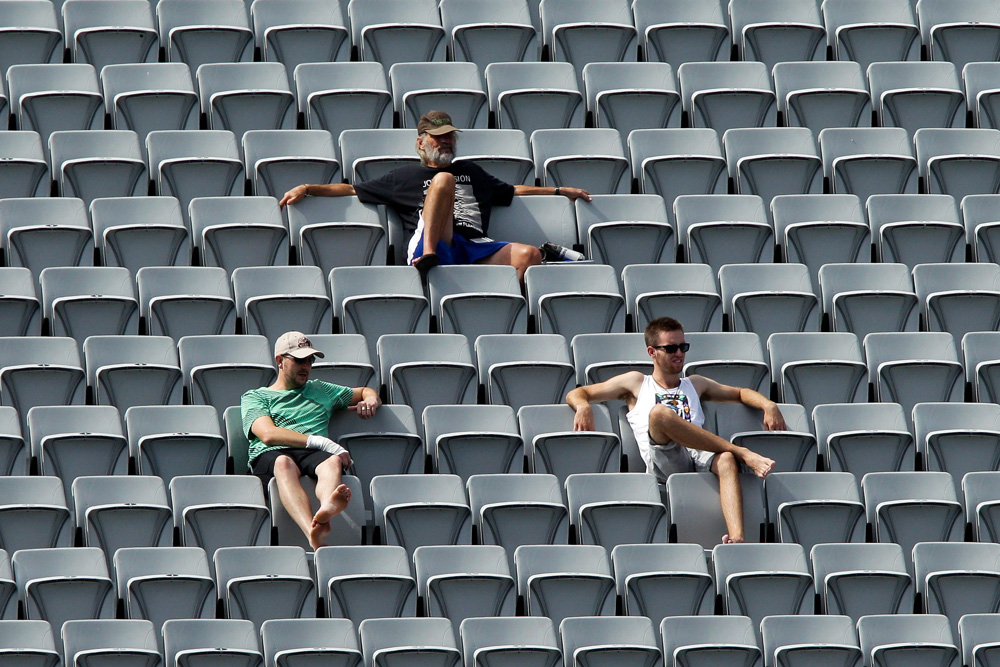 On boxing day at Christchurch's Hagley Oval, despite a savagely awesome Brendon McCullum innings, the event was about more than just cricket. There were only 8000 people, but the ground was full and the crowd were eager to celebrate their city and share bacon-and-egg pie with neighbouring families on the grassy bank.
A season earlier, in contrast, at Eden Park during the final innings of a tense 40-run Black Caps' victory over India, apart from the travelling Indian supporters the stadium was lifeless. New Zealand Cricket is desperate for Auckland to have a specialist test-cricket ground.
"From our point of view, to maintain Eden Park for the big T20s and ODIs is great and if we could have a test ground to complement that it would be great," says New Zealand Cricket CEO David White. Western Springs will be pretty much perfect.
If there was a smaller downtown stadium, Eden Park would be left with major one-off sports events including All Blacks tests, big games on the international short-form cricket calendar, the NRL Nines and NRL and Super Rugby playoffs.
Already, they're desperate to host more. That's difficult, though, because the ground is sited in a medium-density residential suburb and the resource consent imposes prohibitive conditions on its use.
It's also expensive to use, partly because every hirer must pay for mandatory traffic plans and crowd management around the ground. Club sport can't afford that.
As well, there are limits on the number of night fixtures using the lights, on noise and on time — no fun after 10pm, sorry. Eden Park may be New Zealand's premier stadium but it is not available for large concerts.
The Warriors are no longer a South Auckland club. An analysis of the club's demographic found that more than 40 per cent of its members were from central Auckland. Because of this, the club has just finished a four-year trial with some of the home games at Eden Park.
It didn't work. Crowds dropped off and the cost of renting the stadium began to hurt. Eden Park was too expensive to hire and too immense for 16,000 fans, who complained about the atmosphere and the oval stadium. This season, the Warriors have ditched the ground and scheduled all 11 of their Auckland games at Mt Smart.
The Wellington Phoenix had the same experience and appear unlikely to return to Eden Park. The football club was hurt financially when just 11,000 fans showed up to its last Auckland game.
Phoenix general manager David Dome questions whether the Eden Park board really wanted to make the ground a feasible option for the club: "Because of its status as the country's pre-eminent stadium, it comes with a certain level of arrogance that they can dictate the terms that you play there on. It feels like Eden Park is not interested in a relationship with the Wellington Phoenix. They make money every time we play there."
Under the council's proposed Unitary Plan, Eden Park wants to alter its resource consent conditions to allow for greater and more affordable use of the stadium. Its submission to the council requested a doubling in the number of events it can hold at night, to 50, including two that run until midnight, and six concerts. It also wants increased noise levels and changes to the traffic management plan.
According to the Eden Park Neigh­bours Association, this means "no more peaceful weekends, more mid-week night events, more traffic with fewer controls, impossible parking for visitors or family gatherings, more outsiders wandering around the neighbourhood creating a less-safe environment for you and your kids, and a negative impact on your property value".
The association's website has an automatic submission form opposing the modified use of Eden Park. The dispute seems destined for the Environment Court.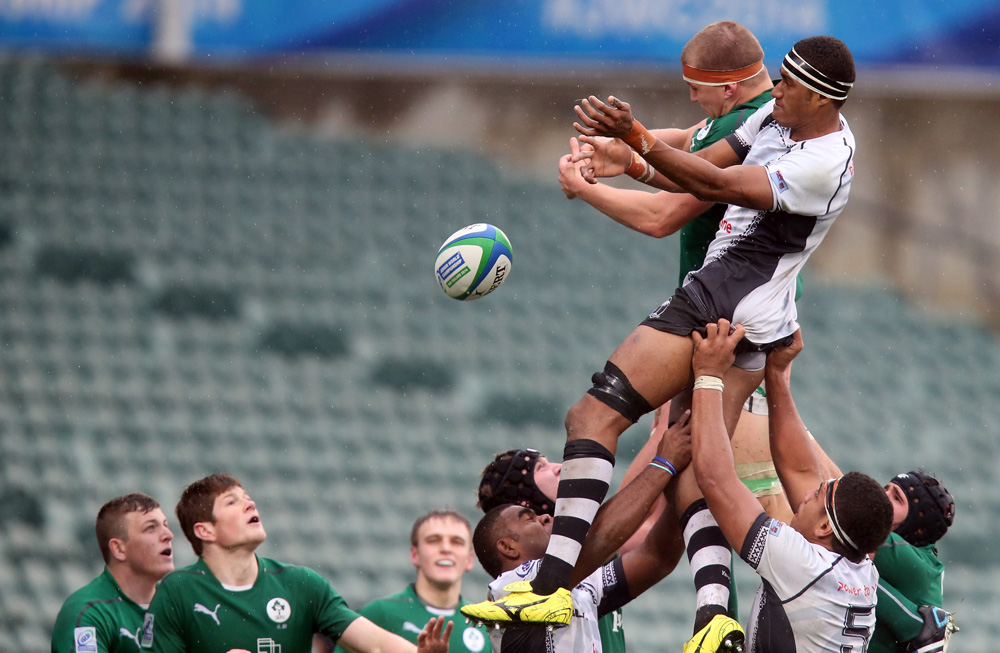 The opportunity for a downtown stadium has been lost on numerous occasions in Auckland's recent history. Instead, huge stretches of former industrial greyfields sites around the CBD and Parnell have been dedicated to private development for commercial and residential use.
The former site of Carlaw Park could have housed a 30,000-seat covered stadium with great transport and city access. There are many sites along the railway near Vector Arena and into Grafton Gully that could have been developed for a stadium, in the process giving Auckland a version of Melbourne's sports and entertainment precinct.
"Everyone wants a downtown stadium, and people who are advocating for a waterfront stadium are really advocating for downtown," says Rupert Hodson, a planner with consultants Beca and part of a team that considered the feasibility of the 2006 waterfront proposal.
"If my old friend Dougy Myers wants to build a stadium privately, there is nothing stopping that," says RFA chairman Don McKinnon.
With large, expensive projects like the City Rail Link already causing political tension, RFA is fighting for funding and unprepared to demand more from the council. It believes ratepayers want more out of their investment in Eden Park and says the door is closed on a government-funded downtown stadium.
"If my old friend [multimillionaire liquor baron] Dougy Myers or someone wants to build a stadium privately, there is nothing stopping that," says RFA chairman Don McKinnon.
That would be a logical first step in the development of a downtown stadium. Warriors chairman Bill Wavish, who briefly reignited the waterfront stadium debate in 2012 by suggesting he could find $100 million of private and corporate equity, believes the political climate is increasingly fertile.
As the council takes a longer view of the city's future and Auckland seeks to attract more international events, the stadium situation has to be dealt with. Wavish stands by his claim: "I think $100 million worth of equity could be found by a range of people. You have to make it stack up," he says. But central and local government might still have to match that.
Sport is vital for economic reasons. The kind of city-building that Auckland is now engaged in needs tens of thousands of people at big events, spending money, enjoying the city and wanting to come back — and more often than not those people are sports fans.
They need venues to excite them, or they'll stay home and the games will move away to cities that really do want them.
Sport is also important for civic pride, and for deeper reasons. Tony Veitch puts it like this: "There is something intrinsic about sport and New Zealanders and what it means to them. Fundamentally, it just makes us happy. That is why we have got to have it, and that is why we have to have some decent stadiums."