Jul 11, 2014 Sport
WHAT BEVAN CHUANG AND THE EXPERTS THINK
BEVAN CHUANG
That German flag you have on your Twitter account – is that a football thing?
Yes.
Did you scream when they beat Brazil like that?
Yes!
What do you think of the way Leo Messi looks?
Good, but they won't beat Germany. 😀
BEN STANLEY, KIWI SPORTSWRITER, LIVE FROM SAO PAULO
I watched Brazil's now-infamous semi-final against Germany in a bar called Kia Ora in Sao Paulo's trendy Moema area.
The bar is owned by a Kiwi – a bloody top bloke called Mark from Christchurch – and I was meeting up with a friend there.
I arrived just as Thomas Muller slotted home the first for the Germans. The crowd – who were mostly pretty, well-to-do Brazilians – were stunned, but everyone knows, a goal is just a goal.
Eighteen minutes later, the Germans had five – and the bar took on the feeling of a morgue.
Men and women openly wept. No one spoke, merely starring up at the television screens with defeat in their eyes.
By the time Andres Schurrle notched the Germans' seventh, a bank had been broken into on Rio's Copacabana Beach, and fights broke out in the Fan Fest.
Five kilometres away from me, in Sao Paulo's party suburb of Vila Madelena, Brazilians were lighting their national flag on fire and hunting, in packs, for Germans to beat up.
The next night at the Argentina versus Holland semi in Sao Paulo, the Argie fans mocked their South American rivals, chanting "Siete! Siete! [Seven! Seven!]" throughout the game.
As the game's final minutes ticked over at Kia Ora, the band had measured the vibe of the crowd and jumped on stage early.
The lead singer said something in Portuguese, and some old familiar chords fired up.
I can't get no satisfaction. I can't get no satisfaction. 'Cause I try, and I try, and I try, and I try. I can't get no. I can't get no. No satisfaction.
The girls started dancing. The guys started trying to get the girls' attention.
Some would get lucky on Tuesday night, and plenty would have too much to drink.
All would have the worst hangover of their lives the next morning.
JEREMY WELLS, RADIO HAURAKI
Was there a player who frightened you?
David Luiz. Evil Sideshow Bob.
Did FIFA plant beautiful models in the crowd?
No need. There are plenty of genuinely pretty football fans.
What can cricket learn from football?
You're comparing colonic irrigation with Botox.
PAUL CASSERLY, LIGHT ENTERTAINMENT ANALYST, NZ HERALD
I want one of these.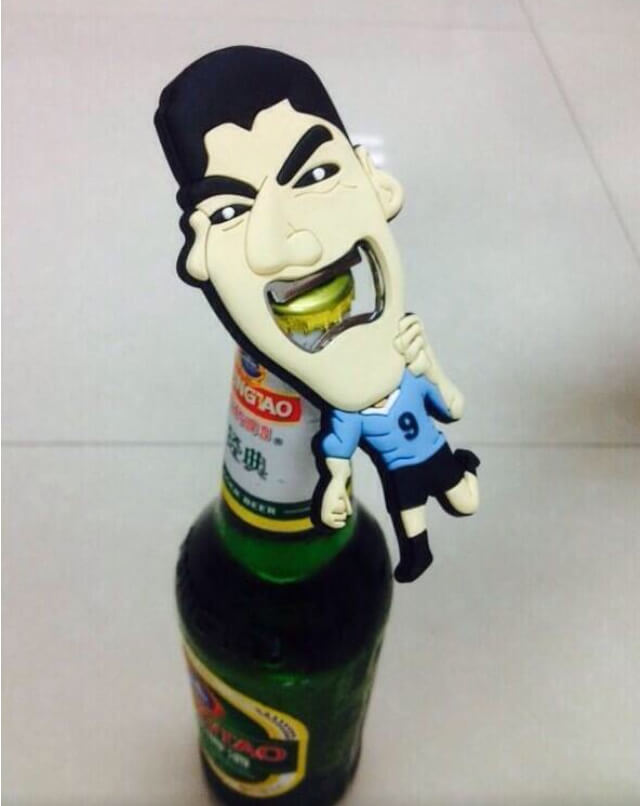 CAMPBELL SMITH, BIG DAY OUT SUPREMO, LIVE FROM LOS ANGELES
With its enormous and diverse immigrant population, there's no better place to consume the World Cup outside of Brazil than in LA. Every country is represented in scores of communities. Everyone shares that extra solidarity that comes from supporting your country away from your country. And the US has embraced this world cup like no other.
I've watched games in Mexican restaurants, a Greek taverna, American sports bars, a bodega, at a friend's house for a "soccer party", a Nike branded warehouse and, most memorably, in Plaza Mexico with a giant TV screen and 15,000 delirious Mexicans. As a football lover, being in that Plaza for the first 82 minutes of the Mexico v Netherlands game was pure joy. Being there as a tall white man with an unidentifiable accent for the last 11 minutes was pure fear.
I've talked passionately with an old Argentinian lady about my first world cup hero (Mario Kempes, 1978), embraced a weeping Italian woman upon the Azzurri's cup-ending defeat to Uruguay, argued with college kids about there being no "red zone" in football and sucked it up with shell-shocked Brazilians. I've even danced the goal scoring dance with Colombians.
Going into the final, my hope is that the $500 I put down on Germany six months ago pays out; my fear is that Lionel Messi really does seize the moment and scupper things. Well… that's not a fear. That would truly be worth no amount of winnings. Whatever happens, my life will be emptier come July 14.
Six months ago – were the TAB paying like $8 or thereabouts?
Exactly that.
SHAYNE CARTER
I guess the Argentina Holland semi-final – which looked headed for a scoreless draw the moment the teams lined up in the tunnel – was the inevitable comedown after the total trip the day before.
The capitulation of Brazil, entirely rudderless with serial God-pointer Luiz as captain, was a fascinating study in psychological collapse. What were the Brazilians waiting for? A big match? They could barely be bothered jogging back to harass the Germans who spent the whole night skipping about their penalty area like Lahms in a spring meadow.
Germany gave ample warning of how good they are when their club teams decimated the Spanish giants Real and Barca in last year's Champions League and it's doubtful Argentina, especially missing the liquid De Maria, will stand in their way.
Messi though is a champion who deserves the validation a world title would bring. I'm happy too that we again get to see Alejandro Sabellal, the Argentinian manager who looks remarkably like a small boy in old man's make up. I'm convinced he and Chaka from Land Of The Lost are actually one and the same.
FINLAY MACDONALD
As Michael Caine says in the Austin Powers sequel Goldmember, "There are two things I can't stand in this world. Racism. And the Dutch."
Anti-racism has been FIFA's sorry attempt at a noble sentiment at this World Cup, but Holland surely tested everyone's tolerance in the semi-final. The knock-out phase is different, yes, but where was the team that dismantled Spain in that insane opener?
There is often one semi-final in any big tournament that might actually be a better final – desperate, volatile, hair-raising to watch. Or it can be a dour, defensive exercise in cancelling each other out. Holland sank to the occasion, largely true to form.
I've had a terrible sentimental attachment to the orange shirt, ever since I fell under the spell of Johan Cruyff and total football in the early 70s. It's exactly 40 years since I despaired when his team played the greatest football and still lost to Germany in the '74 final, and I've been despairing ever since. I even put money on them this year, in the mad hope that it might break the curse.
I hadn't counted on van Persie having shot his bolt with that amazing header against Spain, and Sneijder deciding now was a good time to stop knowing how to take a penalty. Argentina was no better, really, and they deserve to be shown up by a German team that actually plays like the beautiful Dutch sides I recall from long ago.
All I can hope for now is that Holland at least prove Brazil's hysterical auto-immolation wasn't a one-off and give the hosts another deserved spanking for being such self-important wankers. My son said, "No wonder Neymar broke his vertebrae, hauling that sack of potatoes around all tournament."
Before the first semi-final he predicted a proper demolition, not just a win, for Deutschland. He was a bit surprised by how right he was, but he was still the most accurate of any pundit I heard or read.
His prediction for the final will not surprise anyone. Uber alles, just like 1974.
PHILIP MATTHEWS, CHRISTCHURCH PRESS
Goodbye Krul world. Dutch goalkeeper Jasper Cillesen looked like a scared little boy during the penalty shoot-out with Argentina, compared to the absurd comic-book stretching of the Netherlands' last-minute substitute, Tim Krul, who had been all arms during Costa Rica's penalty shoot-out. He had reached out and intimidated, he was this tournament's lucky octopus. But Cillesen had nothing and he knew it. It was already too late. A goalkeeper hadn't looked so doomed and hopeless since, well… since Julio Cesar only the day before, stabbed in the back by Brazil's lousy defence but sometimes motionless himself, as if he was not entirely sure where he was or if he was dreaming.
But didn't we all feel like that? The Germany-Brazil game went by like a hallucination. Was it the fastest 90 minutes in World Cup history? Not even the ancient statistics and bad puns of the broadcast's droning British narrator could slow it down.
There was an obscure sense of payback. The first World Cup I really watched was in 2002. Somehow I found myself attached to Germany. There was some fascination with the terrifying goalkeeper Oliver Kahn, who shouted at his team from deep in his cave. Germany went all the way only to be defeated in the final by Brazil (to be precise, by Ronaldo). I was living in Grey Lynn then. The noisy headquarters of Brazilian fandom seemed to be the Santos café on Ponsonby Rd. I lay in the dark after the German defeat and heard the Brazilian revelry go long into the night.
Twelve years later, revenge was a German dish served cold. Brazil fell apart like wet paper. No one knew where to look and everyone wanted the embarrassment to end – watching the second half was like stumbling on the remaining episodes of Hope and Wire. Only one more thing had to happen. The Dutch had to go too. If Germany-Brazil was rushed humiliation, Netherlands-Argentina was slow and patient torture. No more of van Persie's endless offsides and Robben's clownish routines. So it doesn't really matter what happens next.
JAMES McONIE, THE CROWD GOES WILD
Best in show: James Rodriguez.
Highly commended: Mats Hummels, Philipp Lahm, Javier Mascherano, Lionel Messi, Arjen Robben, Thomas Muller.
Most underrated: Juan Cuadrado (Colombia), Dirk Kuyt (Holland), Islam Slimani (Algeria).
Outstanding but for one stray foot: Rafael Marquez (Mexico).
Best sub: Andre Schurrle (Germany).
Team highs: Holland thrashing Spain 5-1, Costa Rica making the quarters, Algeria forcing Germany to extra time, Germany's five in 29 minutes vs Brazil.
Team lows: Those same 29 minutes, Mexico and Ivory Coast knocked out by last-minute penalties, Bosnia getting shafted by Kiwi linesman Mark Rule.
Individual highs: Lionel Messi in the group matches, US keeper Tim Howard vs Belgium, Mascherano thwarts Robben in the semifinal, Mexican keeper Ochoa vs Brazil, Costa Rican keeper Navas vs Greece.
Individual lows: US striker Chris Wondolowski missing a sitter in the 90th minute vs Belgium. Neymar's broken back. Every player who dived a bit too much or bit a bit too much.
Unluckiest teams: Ghana, Bosnia, Ivory Coast, Mexico.
Future stars: Mexican striker Raul Jimenez (only played seven mins as a sub), Belgian teenager Divock Origi, Russian striker Aleksandr Kokorin, Paul Pogba and Antoine Griezmann (France).
Best goals: Tim Cahill (vs Holland), James Rodriguez (vs Uruguay), Robin Van Persie (vs Spain).
Best cross: Kwadwo Asamoah (Ghana) vs Portugal. Wayne Rooney vs Italy.
Best save: Ochoa against Thiago Silva.
Best call: Van Gaal subbing on keeper Tim Krul vs Costa Rica. Every substitution by Belgian manager Marc Wilmots.
Worst call: Van Gaal not subbing on Krul vs Argentina and sending defender Ron Vlaar to take the first penalty. Brazil manager Luiz Filipe Scolari not selecting Kaka and Atletico Madrid's two outstanding defenders Filipe Luis and Joao Miranda.
MILES DAVIS, RADIO SPORT
Reflecting over the last magnificent month of football, I have pinpointed what will remain in my memory banks until my rapidly advancing dementia has its final say.
Passion. I have been deeply in love with the game all my life and fully realise the Svengali-like power it possesses. Imagine the fervour of a religious fanatic combined with the desperate need of a crack addict and you will be half way there. Witnessing the fluctuating emotions of the fans at the tournament confirms to me yet again that I am not alone in my obsession. (I do however think that anyone who sees themselves on the big screen and starts playing up to the camera even, when there team is losing, should be banned for life. Watch the bloody game or give your seat to someone who really cares.)
Penalties. Many people feel that this is an unfair way to decide a game but even as a Pom being on the wrong end of them many times, I love them. There is no greater drama in sport than the penalty shoot-out. The tension has been built up over 120 minutes like a pressure cooker on a full flame and then the lid is taken off from 12 yards. The result is either the most succulent fare you have ever tasted or you are traumatised as it blows up in your face. Anyone who complains about the methodology should urge their team to sort matters out in the two preceding hours.
Pretenders. Brazil may be the darlings of world football but the hype that surrounded them blinded many to their obvious limitations as a team. From minute one they looked frail defensively and were it not for home-town-type refereeing may not have made it past the early stages. Their humiliation at the hands of the Germans was extreme in its brutality but please spare me the tears for the losing side. If you are happy to take the adoration of your fans when you win you must handle the opprobrium when you lose. I am sure they will be fine once they get home to their European mansions. And if they aren't then they need to harden up.
Engagement. The way the Americans bought into the tournament was good to see but what pleased me the most was the almost universal engagement of the New Zealand public. Everyone seems to be captured and enthralled by it. It's as if suddenly it is okay to come out of the closet and show affection for the beautiful game. Kiwis have realised they can have more than one love when it comes to sport and that as long as you don't ignore it, rugby will not get jealous. It couldn't have happened at a better time with the mouth-watering prospect of the FIFA U-20 World Cup coming to New Zealand next year. Messi, Aguero, Zabaleta, Luis Suarez, Edinson Cavani, David Luiz, Oscar, James Rodriquez and Paul Pogba, to name a few, have all appeared at this tournament in previous years and I for one can't wait to see the next superstar live in good old Aotearoa. Today Brazil, tomorrow New Zealand.
Victor? Hard call for an Englishman to decide who to support between Germany and Argentina but I am putting my support behind my European cousins. They have without doubt been the best side at the tournament and have built on the potential they showed in South Africa last time out. They fully deserve to win and I will sink a few steins in honour of their current footballing supremacy. If Argentina win I will just get drunk and sulk for a month.
SCOTTY STEVENSON, SKY SPORT, ABOUT TO GET ON A PLANE TO GLASGOW
The problem is this: for all the dancing and the cheering and the scoring and the shooting and the diving and the kicking and the waving and the bouncing and the slipping and the sliding and the yelling and the screaming and the running and the saving and the fouling and the flailing and the grabbing and the groping and the passion and the glory and the crying and the sobbing and the anger and the laughter and the beauty and the nonsense and the drama and the tension and the singing and the swaying and the jumping and the leaping and the sweating and the dreaming and the hoping and the praying and the reason and the rhyme and the rhythm and the music and the pain and the elation and the misses and the hits and the crooks and the capers and the heroes and the villains and the bitter pills to swallow and the fear of no tomorrow and the hope and the despair and the dribbles and the headers and the praise and adulation and the saline purity of fat tears filled with heartache trickling through face paint on a rainy day in Sao Paulo,
well,
the problem is this:
They're still fucked off in Zaltbommel.
MARK TIERNEY, FILM MAKER, LIVE FROM LOS ANGELES
Every morning for the last four weeks sports radio has been alive with soccer chatter, even after the US team's glorious exit. The TV/web ratings have been spectacular. Tim Howard was mobbed upon arrival back in LA – TMZ et al now covers him out clubbing on a Saturday night in West Hollywood. Left-back Gonzalez is pridefully nude in the new ESPN body issue, and that's daytime talk-show news for Ellen and Wendy Williams.
The miserable shite Landon Donovan has instantly disappeared from Subway ads.
Although still years away from actually being watchable, there are at least five MLS teams whose fan bases are local, real and passionate, rather than being a family day out for Hispanics and Euro ex-pats (which they pretty much were till Beckham). Those fans are primarily under-well-educated and under 35, making the sport a bonanza for marketers.
People constantly ask me if football will take off in the States. Let's see: it already has more claimed fans here than in the UK, more fans travel to international tournaments than any other, and exactly how many Kiwis or Australians were watching that penalty shootout today exactly? I venture far fewer than in just LA County.
The sport is already HUGE here. How big exactly do you want it to be? If you're a fan of another nation, or you want your favourite European team to be able to afford the best talent, you may prefer that it stay rather smaller than it's becoming. 🙂
ALEX DE JONG, FORMER TV3 LEGEND, LIVE FROM BOSTON OR SOMEWHERE LIKE THAT
In a rooftop bar in Manhattan I saw swathes of men in belted chinos yahoo, whoop and nervously sip Bud Light as the US took on Germany.
One thing you can be certain of: the American viewing experience is utterly devoid of the rabid vitriol, pent up rage and foam-flecked abuse that makes watching football in a British pub so delightful.
Instead, during the team's following match against Belgium, the Boston fan zone I was in repeatedly rang out with the ubiquitous "I believe that we will win!" chant. That confidence proved misplaced but no one looked particularly distraught when the match ended.
But even as the sport's popularity inches ever higher, it remains difficult not to be a patronising git about football here. "Zero-zero ties" are still met with a degree of bemusement from fans. During the World Cup there's been much consternation about having the referee as sole timekeeper. Much worse is that offensive terms like "overtime", "give and go", and "PK" show no signs of dying out.
If football itself dies on its ass in the US no one will be happier than conservative commentator Ann Coulter, who recently wrote that the sport is intrinsically un-American. Her reasons include: It's foreign. You can't use your hands. It's too team oriented, and it's hard to pick up a proper injury (tell that to Neymar).
While obviously an A-grade harpy, Coulter did at least come up with a genuinely amusing line: "The only risk of death in a soccer game is when some Third World peasant goes on a murderous rampage after a bad call."
Maybe, just maybe, Ms Coulter has stumbled across the perfect yardstick for the game's popularity in the US. Because if someone here does go on a football fuelled killing spree… we'll know that at last, Americans really do care about soccer.
STEVE BRAUNIAS
Many thanks to the various assorted experts who shared their thoughts on the Metro World Cup blog these past four weeks.
I asked most of them who they thought would win the tournament; here's who they picked.
Germany – John Key, David Farrar, The Ruminator, Cactus Kate, karate champion Sophie Savill, Wellington Phoenix general manager David Dome.
Argentina – Metiria Turei, heavyweight boxing champion Joseph Parker, Scotty Stevenson, James McOnie, Me.
Netherlands – Len Brown, David Cunliffe, Dick Quax, Alex de Jong.
Brazil – Jamie Whyte, Martyn Bradbury, Konrad Hurrell, Bill Ralston, Mark Sainsbury, Joe Karam, Dave Dobbyn, Guyon Espiner.
France – Winston Peters.
Italy – Daniel Vettori.
Colombia – Duncan Garner, Jacinda Ardern, Guy Williams.
Spain – John Campbell, Simon Wilson.
Belgium – Paula Bennett.
England – Rutherford Primary School (Te Atatu peninsula) room two teacher Paul O'Leary-Ryan.
The final blog: check it out Monday.