Jan 31, 2020 Sport
The Breakers' early season was marred by off-court controversy and misbehaviour — and on-court failures. But the arrival of a young American star has helped generate record crowds, and the team's new owners back themselves to compete hard for your entertainment dollar. Jamie Wall went to a game in November last year.
Spark Arena, 9.30am. I was told not to be late for my third attempt at writing a story about the New Zealand Breakers and their tumultuous season in the Australian National Basketball League. I soon find out why. The place is a hive of activity already. In the backstage area, people are hard at work preparing the thousands of noisemakers that will be left on every seat in the steeply banked arena. Despite the team currently having a 2-8 record, they are expecting almost all of those seats to be filled.
But, if you know anything about the Breakers, you'll know the win-loss record isn't what's been making the headlines. That's why it's the third time I'm trying to write this story, because the events of the past few months rendered the first two versions obsolete within days of being written.
August seems like a lifetime ago. Then, I walked into the Breakers' office on the North Shore, feeling like I was armed with a bit of controversy to throw at Matt Walsh, the team's CEO and co-owner, who took over last year. But Walsh turned out to be friendly and charming, and when I almost apologetically brought up the fact that the team still have a relationship with the controversial media outlet Barstool Sports, the 36-year-old Pennsylvanian laughed off the criticism of Barstool's sexist and homophobic content as all a bit of fun and a misunderstanding. I didn't agree, but I left without anything juicy to report.
But the season was looming and the potential positives seemed to outweigh the present negatives. The Breakers had pulled off one of the biggest coups in the league when they signed prospective NBA-draft top pick RJ Hampton. The whole narrative surrounding the NBL was on the rise because Hampton wasn't the only big American name making a move to the league — LaMelo Ball, son of human headline generator and former-NFL tight end LaVar Ball, and brother of NBA player Lonzo Ball, had also forgone a college scholarship to play with the Illawarra Hawks.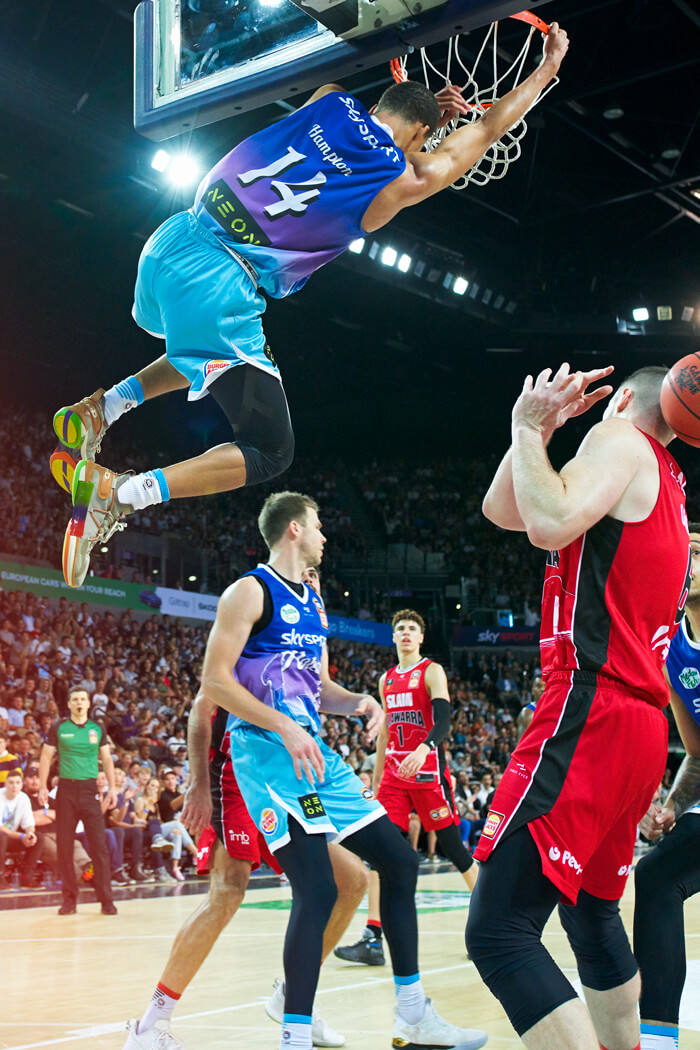 I started writing a story about how the Breakers exist in a strange place — a small player in an immensely powerful global sport dominated by the all-powerful NBA, yet so popular its over-enrolled school holiday programme had kids showing up at its gymnasium at 6am; how Walsh and his ownership group may seem like some fast-talking Americans, but maybe the quaint ways of the old Breakers (who nonetheless won four NBL titles) did need a serious modification, and this was the right way to do it; how then-general manager and former Breakers playing stalwart Dillon Boucher provided a decent personal bridge between the way it used to be and a new professionalism.
That story now seems laughable. The controversy around Barstool was a walk in the park compared to what's gone on since. Boucher is long gone, having resigned from his role in September. Walsh has been fined $5000 and suspended for two games for a verbal altercation with the league's commissioner when Hampton was ejected against the South East Melbourne Phoenix. Recent Breakers signing Glen Rice Jr, a former NBA player with a history of violence and legal troubles, is suspended indefinitely while awaiting trial for injuring with intent. (Rice has pleaded not guilty.)
There's more, but you get the idea. Someone should really have been filming all this for a reality-TV show, but the bit that actually does get broadcast on a weekly basis is probably the bit that's concerning Walsh the most. At the end of November, the Breakers are sitting dead last on the NBL table. The only slight comfort is that a victory over Ball's Hawks will move them off that spot and set them up for a potentially fruitful run against some other down-table teams.
And the jury is still out on the Hampton experiment, including for Hampton himself, the 18-year-old telling American website The Athletic: "I wish I could wake up and know what I did these last 28 games and I'd be home. If someone gave me a wish and said, 'RJ, you gotta live with whatever outcome, but you could go to sleep and wake up tomorrow and those 28 games are played.' I'm taking that risk." That came off as hardly a vote of confidence.
Walsh, for his part, is at least consistent with his messaging. He endured scrutiny over the Rice signing and took his share of the blame when it went south, accompanying the troubled player to court. Walsh then ruefully announced that Rice's time with the team was effectively over. On the way back from the Breakers' game against Perth (another loss), Tom Vodanovich almost became the second player in a week to get arrested after he mixed sleeping pills and alcohol and caused a ruckus on the flight.
Walsh appeared on Sky Sport, who are the team's naming-rights sponsors, saying, "If [fans] need an apology from me, I'm sorry it didn't work out with Glen. I'm sorry that we've had these issues but I fully believe in what we're doing and we're going to get there."
Walsh and I sit courtside, on one of the cushioned seats that he and his fellow executive staff have just helped set up. Walsh has somewhat inadvertently become the face of the franchise, fronting up personally to issue after issue. He tells me it's something that comes with the territory. "If I'm going to be the one that announces signing RJ Hampton, you've got to take it when it's the not-so-positive stuff. I think part of it is that there's this narrative that I'm this American owner who's come in and taken over from [Paul and Liz Blackwell, former sole owners for 13 years], and [the fans] want an explanation for everything. That's fine with me. I've been in the media since I was 16 [as a highly regarded basketball player himself]. When you have the hard stuff, people want me to answer for it. I feel like it'd be cowardly for me to put [someone else] out when it's the not-so-good stuff."
The narrative he's referring to has been ingrained in the media since he's taken over. Quickly scan any social media comments about the Breakers and it doesn't take long before talk of "clowns" or "destroying a family club" appears. Just above us, next to the team's four championship banners, hangs one honouring the Blackwells, who cultivated a family-friendly environment and successful on-court run that made the team a positive story compared with other Kiwi teams trying to cut it in Australian sports competitions.
Walsh reiterates what he's been saying ever since he took over: the model wasn't financially viable, and the Blackwells had been looking for a buyer for almost a year. The former Florida University and two-game Miami Heat player offered what's been seen as a rapid and chaotic departure from a "mum and dad" operation. But does that stand up to scrutiny? Star player Corey Webster's unprecedented 12-month ban for drug use in 2012 shows that off-court issues aren't actually anything new for the Breakers.
Besides, it's highly unlikely that the team would now find themselves in possession of Hampton and with the ability to play pre-season games against NBA sides if it were not for Walsh's connections.
"I sat here for the first time watching in the first game of my ownership. I look back at those pictures and you can see the bottom tier of the stands are scattered with fans and the whole top section is curtained off. That was a playoff game, Kirk Penney's last game. I look at what we're doing here with the team and the work that goes in. On game days, we're here 12 to 14 hours, but it's a lot of fun. Shawn Marion [Breakers co-owner and another former NBA player] came in and was like, 'What are you doing setting up chairs?' and I'm like, 'That's what we do!'"
Walsh is interrupted by chief operating officer Lisa Edser, formerly of Emirates Team New Zealand. She's just been stacking a row of chairs of her own.
"It's all very much all hands on deck and this is the fun part," Walsh picks back up, talking about his pre-game duties. With an ironic smile, the supposedly brash American, accused of stripping the club of its family values, tells me about the traditional American Thanksgiving dinner he had for more than 30 players and staff the previous Thursday.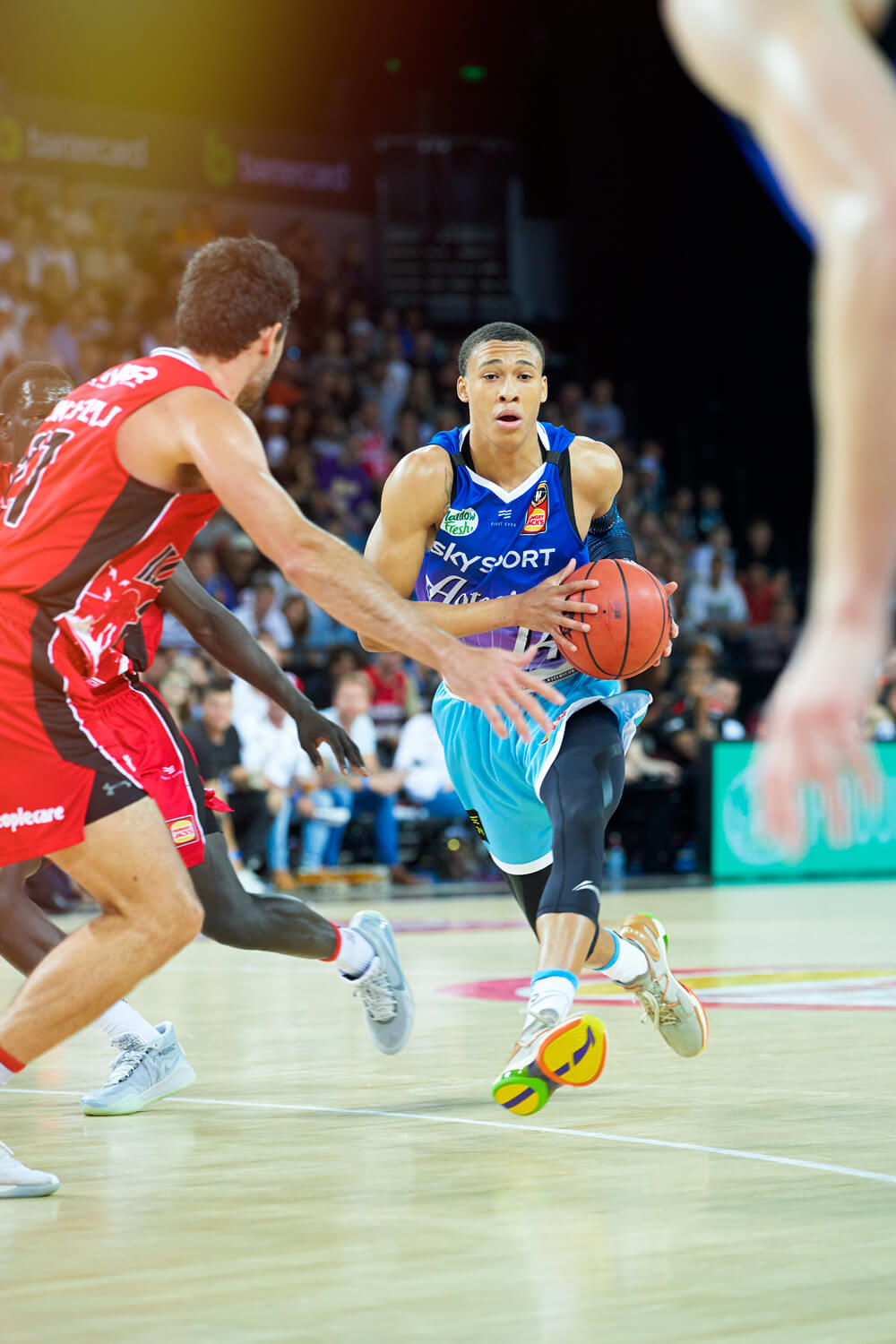 I make my way down the court, where I get another show of how the club is dealing with the seemingly endless adversity this season. Media manager Craig Stanaway is keen to emphasise that it's been treated as an opportunity. The former TVNZ sports reporter shows me a surprising video that he says the team look to for inspiration. He hits "play" on a YouTube clip of Richard Nixon's resignation speech, in which the disgraced about-to-be former US president says, "Only if you have been in the deepest valley can you ever know how magnificent it is to be on the highest mountain."
As the scoreboard is hoisted into place, I sit behind the hoop while the Breakers come on to do their morning shoot-around. Krysten Peek, a draft recruitment specialist from Rivals.com, has travelled from the US to watch the Hampton vs Ball match-up. She leads me to believe that while the perception in New Zealand right now is that Breakers are a bit of a car crash, that's not necessarily the case overseas. "This is… way nicer than I thought it would be. This stadium is amazing," she says, as Walsh carefully drives past us in a branded Nissan ute that will park up behind courtside seats. Peek is especially interested in Ball, who stole the show the previous weekend. "This is the second time RJ and LaMelo have played against each other. LaMelo's coming off a ridiculous game with a triple double, so I want to see him continue that momentum. There's talk of him being number-one pick in the draft."
She's full of praise for the Breakers' star, too. "People forget that RJ is only 18," she says. "To come over and be a pro and learn every day is incredible. He's been one of the first stars to come over here and be a trailblazer. There's been success and I know there's already been whispers of other top high-school stars considering this as an option."
Peek is adamant when I ask her whether what Hampton is doing at the Breakers can be classified as a success. "Oh yeah. You'll see it tonight. We were talking to Matt Walsh and he told me attendance has doubled with him over here. This time last year, he was a high-school junior, now he's playing against LaMelo in front of NBA scouts and a sold-out crowd. Next year, he'll be in the NBA."
That's what Walsh and the Breakers are counting on, because then they'll become part of the story. Hampton and the others have finished their shoot-around and make their way off court as the Illawarra Hawks come on to take their place. Peek and a couple of other American experts who have come to watch keep their eyes glued on Ball's languid movements as he hits swish after swish.
I arrive back at Spark at 5.45pm. There's still 15 minutes till the doors open but already a queue to get in. Kids shoot hoops outside, parents buy hotdogs from the nearby food trucks. This is what Stanaway had been telling me about earlier, about how the Breakers aren't in a sports business, but an entertainment business; how they've made the fans care again. It's been admittedly pretty relentless — every time we've talked, both of those soundbites are raised within a couple of minutes. But after going to Eden Park and watching the state of Super Rugby and the Mitre 10 Cup, I can see he has a strong case. The Blues would kill for this sort of devotion if they'd lost eight games in a season. They'd probably kill for it in game one, given their horrific record in the past decade.
The arena fills up and the show starts with the players making their entrance. Walsh's six-foot-six frame is noticeable from up in the media box, as he paces behind the scorers' desk. He's ditched the cap for the evening and donned a suit jacket, but has decided to wear something that could be construed as a message about the team's identity. It's a t-shirt emblazoned with Will Smith and Martin Lawrence from the movie Bad Boys. Given that Rice's case is still before the courts and the Vodanovich sleeping-pill incident is still fresh in everyone's minds, it seems a little on the nose. So, too, does the extremely brief and obviously downplayed announcement for when the Hawks run on the court. It comes off as a little petulant given that LaMelo Ball is one of the main reasons there are hardly any empty seats.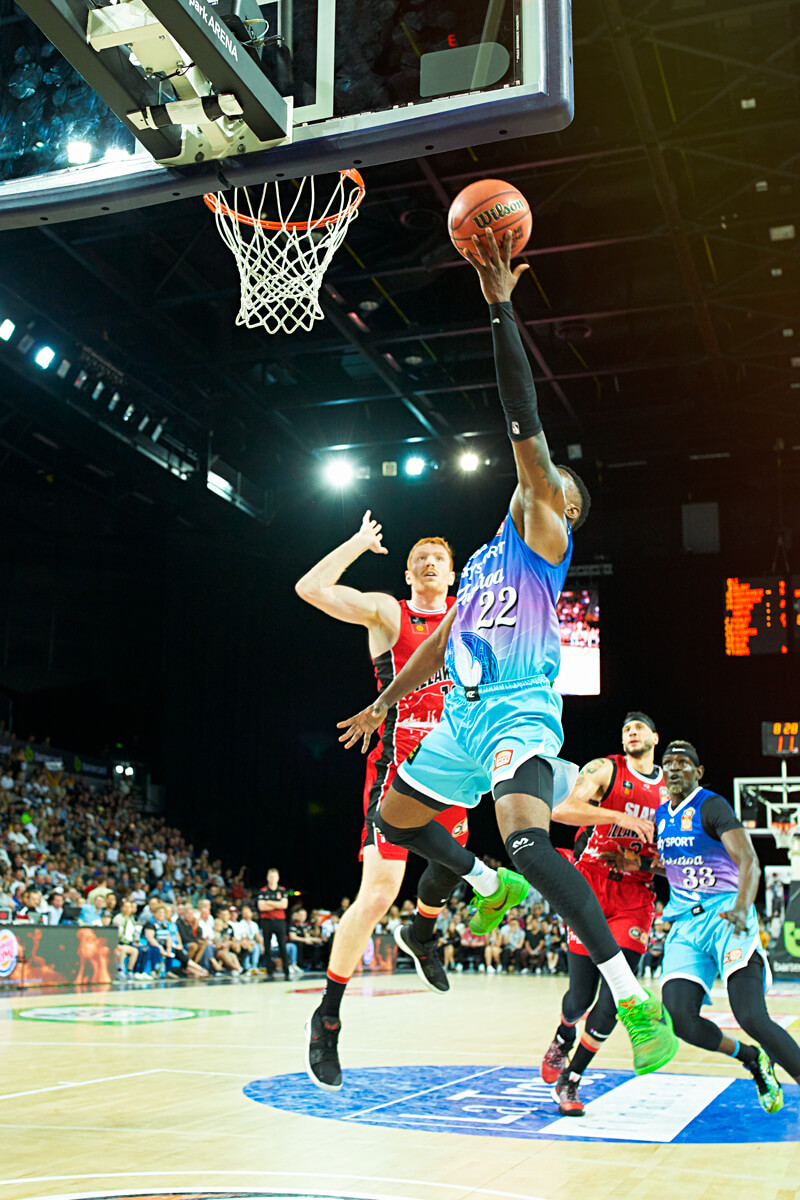 Tonight, the Breakers are missing Webster and Scotty Hopson, which has brought an extra edge to Hampton's role. His game tonight can be described as solid rather than spectacular, but the fans are getting their money's worth. You don't have to wait long for something to cheer about at a basketball game, and the 8474 in attendance do plenty of that as the Breakers shoot out to a 28-19 lead by the end of the first quarter.
Breakers mascot Cheeky the Kea has a sidekick tonight: an overly buff Spider-Man wearing a costume so tight I can almost tell his religion from up in the first level. The courtside seats that the management staff put out earlier are filled with a decent mix of kids, families and adults on a night out. The VIP tables of the old regime have been replaced for what Walsh tells me is a commitment to the casual fan and making the game more accessible.
Sek Henry, a 32-year-old veteran guard who is in the eighth country of his professional career, steps up to have his best game of the season.
White smoke shoots out of the top of the backboard every time a big play is made, and the music thumps along through the PA while the ball is in play. Chants go up, noisemakers rumble when the Hawks go to the free-throw line, the two mascots hyperactively dance together and high-five kids. Walsh paces. He knows that the Breakers' 20-point lead in the third quarter can be quickly overturned, and that if Ball can start ballin', they're in trouble.
That's exactly what happens in the fourth quarter. Ball racks up his second consecutive triple double, despite the attentions of a kid next to us who has been stoically holding up a sign saying "Melo yo brother is better" for the entire game.
But Henry and the Breakers aren't going to let this one slip. With the score at 74-72, the veteran strips possession and takes the ball back up court for a dunk, setting off the smoke and whipping the crowd into a frenzy. The Breakers win and, behind the courtside seats, Walsh is ecstatic.
About half an hour later, the Breakers co-owner has discarded his jacket and donned a black cap for the night's debrief. The management team assemble. On the positive side, there was a record crowd contributing to what's shaping up to be a record-breaking season. But there's plenty of honesty about what could be better. It's the little things — seat numbering, ticket allocation, at what point "Sweet Caroline" should start playing to maximise the singalong. The game itself is almost an afterthought — well, to everyone except Walsh.
He had told me earlier about the state of the team and how injuries were more of a concern than any of the other dramas. But now I'm realising that what he said was actually a pretty good general summation of the team's season so far. "Even if you're banged up, it's no excuse. It doesn't make it any easier, but you gotta hang in there and find a way to win."
Postscript: A week later, Glen Rice Jr is cleared to play by Basketball Australia and immediately reinserted into the starting line-up against the Cairns Taipans. The Breakers lose. The following week, on the day of the next home game, against the Brisbane Bullets, it's revealed that Rice has been arrested for breaching his bail conditions. He is fired with immediate effect. The Breakers win. Matt Walsh does not wear a Bad Boys t-shirt to the game.
This piece originally appeared in the January-February 2020 issue of Metro magazine, with the headline 'Smoke, noise & basketball'.

Follow Metro on Twitter, Facebook, Instagram and sign up to our weekly email