Apr 3, 2020 Sport
UFC has smashed its way to prominence in New Zealand, with a cluster of star fighters — including middleweight champion Israel Adesanya — winning global recognition. To the team behind the elite's success, however, star power counts for nothing.
Towards the end, exhaustion seemed to almost win: the bodies dragged themselves up from the floor as if gravity had tripled in strength. But, in an instant, a new opponent appeared, and the fighters collapsed into tackles, the weight of their shoulders falling into their fresh antagonists' hips, forcing them to the floor. For 25 minutes — the length of the five-round Ultimate Fighting Championship (UFC) bouts middleweight champion Israel Adesanya and lightweight contender Dan Hooker would soon fight — coach Eugene Bareman marshalled the forces of his gym against his top fighters. Against the black padded wall — darker where his hot sweat was daubed across it — Adesanya wrestled, the grace of his long, liquid limbs searing into the mind like a catchy song. Hooker, slim-hipped, his angular but boyish face framed by the red strapping of the ear guards he trains in, appeared almost skinny, until he picked up an opponent to toss him backwards over his head, his biceps inflated with the effort.
Brad Riddell and Kai Kara-France, training for shorter three-round fights, had finished as subjects of the drill, but, after a quick break, joined their two-dozen or so teammates against Adesanya and Hooker. Riddell, also a lightweight, carries the stocky frame of a wrestler, and so perfectly embodies the Hellenic ideal, Roman nose included, he looks like an ancient vase brought to life. Kara-France is a coiled spring of a flyweight — power and strength compressed into a 1.65m frame — whose size soon made him hard to spot among the swarm of bigger bodies. "We're pushed passed that wall," he'd told me earlier about this drill, the "Spyda", "and we can dip into reserves that are [usually] only emulated in the fight." A week later, for Kara-France, Riddell, and Hooker, those fights were to arrive at UFC Fight Night 168, across town at Spark Arena; two weeks after that, Adesanya was to defend his middleweight title, in Las Vegas.
Bareman — barefoot, dreadlocks bunched behind a black baseball cap, stopwatch open on his phone — barked orders: "Change!" he yelled, and one man peeled away from the subject of his aggression for another to appear in his place, a fresh body against which to test the ever-weakening muscles of the men under the microscope. First sparring upright, then wrestling, then on their backs, punches rained upon them, as they endeavoured to twist their bodies in a way that would lessen the force of their opponents' blows. "Change!" A new pair of fists arrived to seek for weakness. "Change!" "Change!" "Change!"
The fighter, alone in the ring against a sole opponent is a symbol of individualism. But, as this ritualised event neared its crescendo, City Kickboxing resembled a beehive's interior, humming with collective effort in the cause of serving the queen, or, in this case, three of its princes and one of its kings. To learn how to most effectively hurt the human body, you need bodies to practise on. A visiting American wrestling coach told me, as much as anything, his job was to teach his students by fighting against them, signing over his own body as a tool to help them learn how better to force others into submission.
Bareman called time. Hooker raised his right arm in celebration as he sauntered aimlessly through the gym, his feet leaving fast-fading sweat prints on the mat before he crumpled against the wall. The ordeal he goes through to get to the fight, he had told me a couple of days earlier, adds a kind of ballast of suffering to his life that means he's able to push himself further in a fight. He regards his preparatory suffering merely as a necessary part of the process, and is ambivalent to its pain. "What I've been through to get here is too much to waste and look for a way out in the fight," he said. "I've sacrificed months of my life, been through hell to get to here."
Adesanya leaned in a corner, head resting on the bicep of an outstretched arm, and then retired through the open back door, stepping shirtless into the dappled sunlight of the street. The aroma of frying sausages — striking coach Tristam Apikotoa had slipped out to get the barbecue underway — cut through the dull bouquet of sweat, a syrupy reminder of the effort just expended.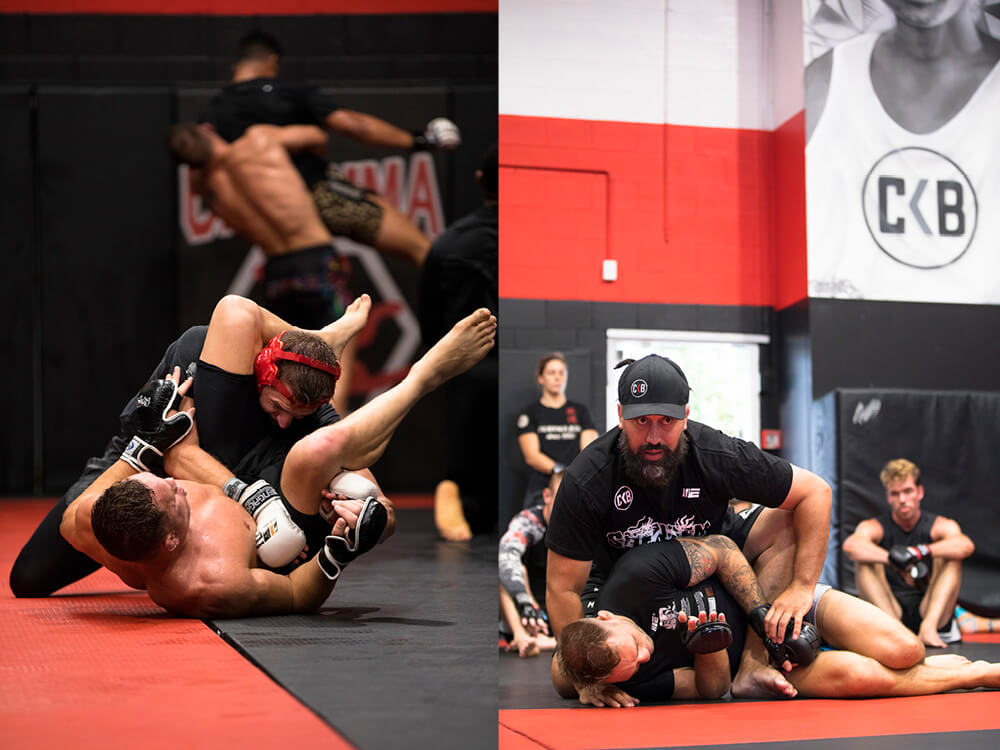 Sport helps humanity comes to terms with the potentials and deficits of these vessels that carry us through life. The beauty of high-level sport is in watching humanity's finest physical specimens publicly reconcile us to the fact that we are (and don't just have) bodies. I spent a week sitting at the edge of the mat, as these four fighters prepared themselves for the ordeal of the ring, where an austerity of limitations — this is sport pared back to the fewest rules possible, separated by four-ounce gloves — means its participants appear, to the uninitiated, to explore that theme with all the subtlety of an elbow bursting through drawn-together forearms to bloodily break a nose.
But you don't "play" mixed martial arts (MMA), as you play rugby and cricket. It's more elemental. While not all of us know what it's like to score a try, or hit a six — all of us know having a body means to also know pain. "Everyone gets fighting," Adesanya said one morning, sitting shirtless in the parallelogram of sunlight shining into City Kickboxing through the open roller door, across the road from the railway line in light-industrial Mt Eden. "Cricket, not everyone gets. Gridiron, football, not everyone gets." And that, perhaps, is why mixed martial arts, driven by the UFC, is the fastest-growing combat sport in the world. "Fighting," writes Joyce Carrol Oates, "belongs to something predating civilisation, the instinct not merely to defend oneself … but to attack another and force him into absolute submission." We love to watch — or, at least, we can't look away. "It's just in our DNA," Adesanya continued. "Everyone loves fighting."
Then, Adesanya was two days away from being crowned Sportsman of the Year at the Halberg Awards. (Bareman was nominated for Coach of the Year.) I asked Adesanya a few days after the event what his victory meant for the sport in New Zealand. "For this country, for our sport here, it's big, it's huge," he said. "We get to be recognised." Bareman also thought it a watershed moment. "If we go overseas, [UFC] is a global phenomenon, and sports like rugby and netball … take up a very miniscule part of the real estate, and then we come here and it's the complete opposite. But that's New Zealand, right? That's how it is. It was a big step putting us alongside some of those big sports."
Some quarters of talkback radio chattered with derision at the thought of MMA sitting alongside our treasured stalwarts: cricket, netball and rugby. Halberg judge Mark Richardson, a former cricketer, in his role as a host on The Project, said, "I believe UFC to be prison violence. I don't like it at all." The objection I think has to do with what the sport says about us: it cannot, because of its potential for brutality, be integrated into what we wish were true about ourselves. It tugs at an instinct many wish wasn't there. "People like violence," Riddell told me one morning. "It comes down to the base root that people do like violence, watching people fight." Conflict, Hooker said, "is human nature … As long as we've existed, we've been at war with each other."
Even Richardson, despite his distaste, was moved to score Adesanya and Bareman highly; the incredible success of 2019 — Adesanya and teammate Alexander Volkanovski both winning titles; nine wins from the gym's 10 UFC fights, declared MMA Junkie's Gym of the Year — meant he had to. "It's had amazing growth, they're amazing athletes and I've got to take it seriously."
The UFC has arrived in New Zealand as a cultural force: the Halberg Awards confirmed it; Fight Night 168, which drew the biggest sports crowd in Spark Arena's history, was more proof. City Kickboxing is the engine room of that New Zealand uptake, Bareman and his coaches the men shovelling coal into its flames.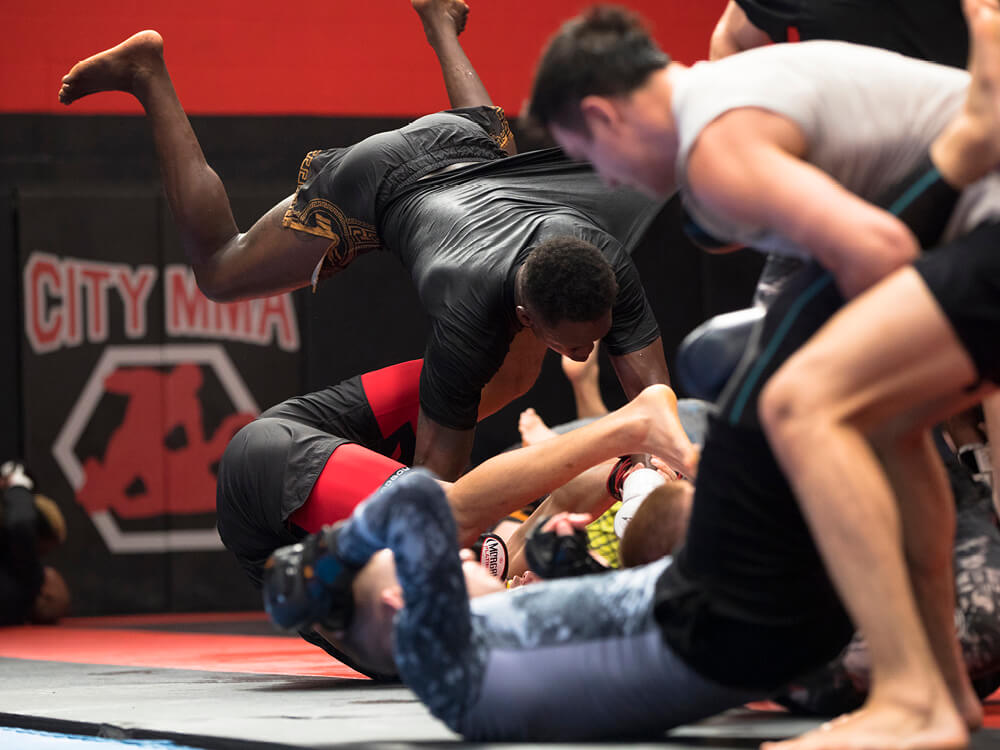 One morning, Bareman sidled up to tell me an interview with Adesanya would have to be rescheduled: six minutes late, he'd been sent home. "He was late and you can't participate in training if you are late," he told me later. Bareman, a quiet man with intent eyes, told me that Adesanya missing a training session weeks out from a title defence, when every element of his life — food, sleep, training — was calibrated to the finest detail, was "a big thing". Instead of Bareman's expert tutelage, Adesanya had to figure it out on his own that morning. At City Kickboxing, there are always consequences when its standards are transgressed: "It doesn't matter who you are," Bareman said. You have to abide by the rules."
It could — and perhaps at another gym, would — have been forgiven, the coach's self-interest in his fighter's immediate success might've overridden concern about the example being set. But Bareman is playing a longer game. City Kickboxing was established in 2007 and the culture he and his fellow coaches built during that gestation is, in his view, the reason for its success and far too important to surrender for the sake of convenience.
Too often, Bareman said, we hear of a gym's "family atmosphere" — but in his experience, few gyms live up to their own rhetoric: ego invades and stars get special treatment. His great achievement, with help from his coaches — Apikotoa, Doug Viney, Mike Angove and Andrei Paulet among them — has been been to inculcate in City Kickboxing fighters, from amateurs to UFC champions, a sense of common purpose. The biggest part of that is a "selflessness", he said. When your own fight is over, "What matters is that there are other people that helped you get to that point, to give you those privileges, that need it paid back."
Every fighter is connected by this account of common sacrifice, to which each deposits and from which each withdraws. "It hasn't just been your journey to get there. It's been every single person that you've ever trained with, from whenever you got to this gym. You are completing a part of their journey because you've been a part their journey. And that's what you are drawing on; you're drawing on all the people that had input to get you to that point. Some of them have been training and pushing Israel for the whole decade he has been here … Sometimes, for a lot of us, that is more motivating than doing it for ourselves."
It was, he said, much larger than the pinnacle represented by Adesanya, Volkanovski, Hooker, Kara-France and Riddell. (Another City Kickboxing UFC fighter, Shane Young, is injured.) When Bareman first opened the gym, he had to vet potential members — people he thought were coming for the wrong reasons: a desire to inflict violence or prop up an ego. But those people seemed to stop coming. He wondered why. Until, one day, he looked around his gym — likely to see Adesanya chatting with a fitness class, Hooker playfully tossing kids about, Kara-France talking with the parents of a kids' class — and an epiphany came to him. Those people were still coming, but they were soon changed. As they learned that martial arts was not about violence, but about discipline, strategy and skill, and that everybody, in the right hands, was powerless, they began to shed those concerning traits. It was a profound realisation, and an achievement that no number of world champions would top. "The environment was vetting them, the environment was changing them … I was like, 'Fuck, this is brilliant.'"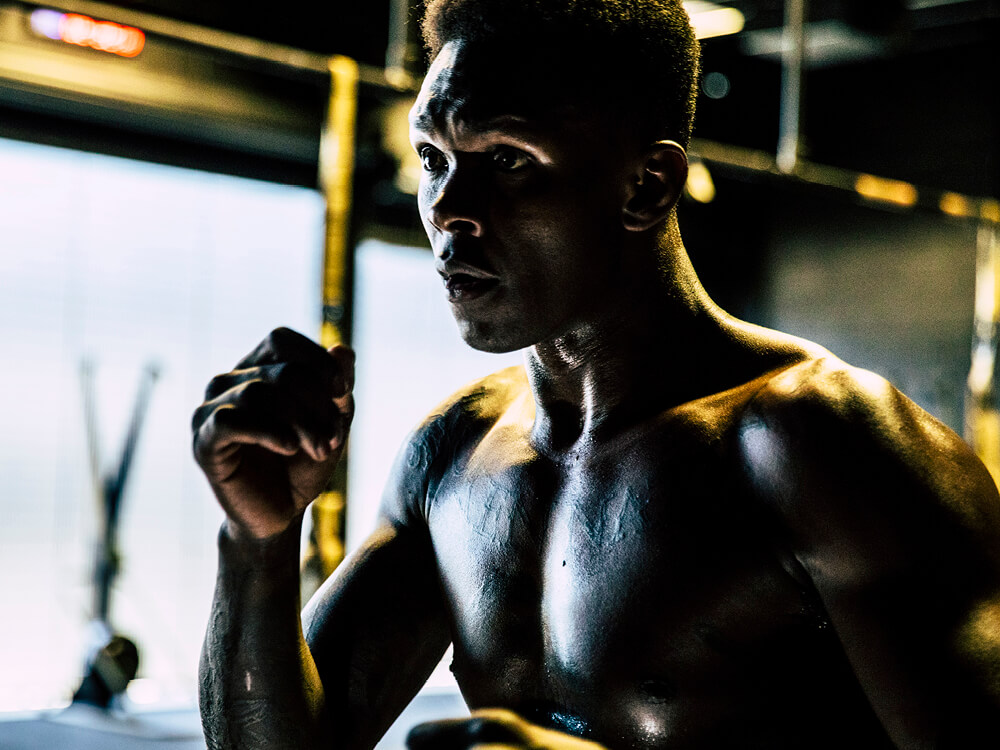 At the age of 17, in his last year at Mount Albert Grammar, Kai Kara-France won his first professional fight, a head-kick knocking out his opponent at the Pitt Street YMCA. He went home to study for an exam the next day, but he was hooked: "I wanted to keep chasing that feeling." There was then no local blueprint for UFC success: Kara-France took off, basing himself in Phuket, and fighting in 13 Asian countries over four years, with a bout — in boxing, MMA or Muay Thai — almost every second week. He appeared in the 2016 edition of The Ultimate Fighter, the US reality TV show that acts as a UFC feeder, but wasn't picked up. He came home and joined City Kickboxing.
Bareman told him that if he put the hours in at the gym, the rest would follow. In 2018, he made his UFC debut, beating Elias Garcia in a bout declared Fight of the Night. He is now the eighth-ranked flyweight contender. "I wouldn't be here today if I didn't walk into this gym," he said. "[Bareman] just makes you realise what's important. You could go on holiday or you could just train — you know, what's more important to you? Do you want to make the UFC or do you want to enjoy your New Years or Christmas?" There was no festive break for him, nor Riddell, making his second UFC appearance, nor Hooker, the seventh-ranked lightweight contender. The Spyda I saw was the final major workout in a months-long training camp, during which the three of them had trained alongside each other and other fighters — amateur and professional — preparing for their own fights.
During the gym-wide sparring sessions, in which the swirling maelstrom of fighting pairs intermingle, swapping after each round, it becomes impossible to tell the amateur from the elite: a distillation of the Bareman method. "You'll get beaten up by the amateurs, and you won't even know," Kara-France told me one morning between training sessions. "You'd think this guy is a pro fighter, but nah, he's just a regular guy — he's got a desk job and he just comes in to get some rounds in."
It was a rare thing, Hooker told me, for a gym to be animated so electrically by that spirit of communality. He had a similarly peripatetic journey to draw on. "I've been through all Asia, trained in the US, trained in a lot of gyms, and you're not going to get that. You just don't get guys coming in on a Saturday night to help you out; you're not going to get guys coming in on a Sunday — that's their family time, that's their day off. Or after a big fight. In most of those other gyms, you won't see that fighter for another couple of months, until he gets a fight. But here, in this camp, the culture that the coaches have created, everyone is accountable to everyone else, so if I win my fight, I'll be back here next week helping Israel for his fight. And that's a culture that's been created. It's been mindfully created. It's not something that has happened by chance."
Nor was it created out of a sense of altruism. For Bareman, it's just the way he was taught a gym should function, and the best way to ensure success. "It's a culture solely conducive to producing high-level combat sports athletes, and it's all aimed towards that." For amateurs, proximity to the superstars — and the chance to spar with them, linking your story to theirs and becoming a link of chain in their battle-hardness — is thrilling. Everyone is treated the same, and it cuts both ways. At that same sparring session, I watched one pair of combatants careen across the floor, the mouthguard-muffled complaints of the aggressor — "Stop running away!" — following the other man as he tumbled among other fighting pairs. I lost them in the commotion. But when time was called, Bareman called out the fighter who fled to stand beside him, as a circle — there were 87 participants that night — formed around him. "Yoga classes are on Sunday, maybe that's more your style," he said, his student squirming with embarrassment, before condemning him to hundreds of burpees. He had, Bareman later told me, skipped out on the latter half of sparring. "You can't do that. If you take, you have to give back equally. He won't do it again, but also it'll be a warning for other people. It's all part of building this kind of culture."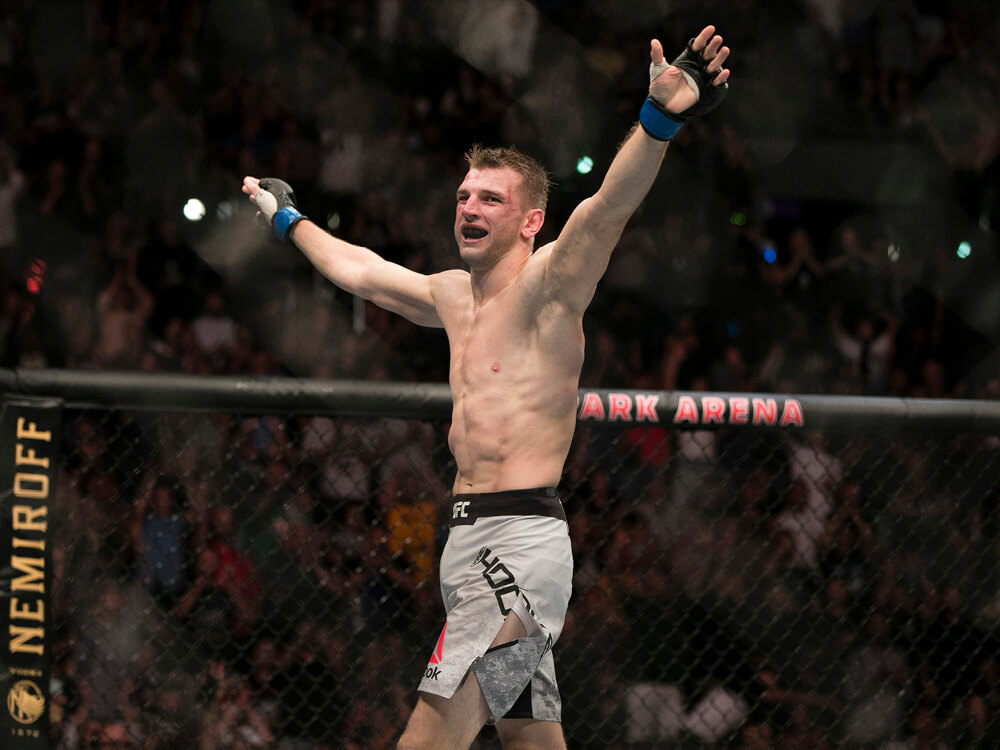 The fighter must master the human instincts — to recoil from pain, to flee from danger — that help keep us alive. "You can hear that voice in your head," Adesanya told me in our rescheduled interview, "'You've done enough, you've rocked him, you've shown you are capable, you've shown you are hard, you're tough, it's okay, you can relax now.' It's self preservation; it's the strongest instinct the human animal has."
That voice, evolution's echo, came to him in the fourth round of his fight against Kelvin Gastelum in the US in April last year. Before the fifth round, leaning against the cage, he sought the counsel of his comrades. First Bareman: "This is what we came for. This is what we do." Pumped up, another echo pulsed in his brain. During camp, pushed beyond his limits and attempting to push further, Riddell had urged Adesanya to "Go numb, go numb!" In that moment in an Atlanta stadium, the words of his City Kickboxing teammate returned to reverberate in his mind — go numb, go numb. "I turn around and look at Kelvin … I said, 'You're not going to beat me, I am prepared to die.' And for me that was me signing my life away, and I meant that. If I died right there, that was a glorious death."
It was a pact he made with the sport, with his opponent: "I'm not an evil person, I'm not a bad person, I'm not a psychopath … but for me I was trying to take him out. It was me or him, and he could've done the same thing to me." Adesanya, of course, won by unanimous decision to become interim champion. Later in the year, in Melbourne, he beat Robert Whittaker to make his dominance of the division undisputed.
A flashback to a teammates' advice, received in a moment of pain, was the catalyst for overriding the escape route his subconscious had planted. I asked Bareman, who has previously witnessed the death of a fighter to injuries sustained in the ring, about that moment. He said he knew it sounded stupid — that Adesanya was prepared to die — but that really it was just a coded expression of the iron-clad will to win that his training had implanted, and, circuitously, a form of self-preservation. "If Israel didn't respond in the same way he did — that I'm willing to die, I'm willing to make that sacrifice — if he didn't respond like that I believe he wouldn't have been successful in that fight. And he might've been hurt."
On the walk to the octagon, the fighter — equipped by his months of training, his priestly asceticism — becomes, like a moth released from its chrysalis, his public persona. In the instant that Hooker became Dan "The Hangman" Hooker, draped in a New Zealand flag, his prefight bluster about "defending the land" suddenly seemed terrifyingly literal. His two City Kickboxing colleagues had already done their part — Kai "Don't Blink" Kara-France by unanimous decision over Tyson Nam, a bloodied Brad "Quake" Riddell by split decision over Magomed Mustafaev. "This event is everything," Bareman had told EMG Access in the lead-up. "Not just Dan, we have Kai and Brad, Kiwi born-and-bred fighters. It's amazing. We're the focal point of this event. The team is what this event's all about." It was up to Hooker to complete a clean sweep for that team.
"Respect is the appreciation of fear," Hooker had told me a few days earlier. He'd come the closest of the fighters I spoke with to admitting that what he did for a living did, on some level, scare him: "If you go in without fear, you'd probably get knocked out very quickly … You need to have a certain amount of fear, or a certain amount of respect for your opponent and his abilities going into the fight." Instead of feeling pressure, he told me, he was thinking about the fight — his first UFC fight as the main bout — as an opportunity to showcase his skills to the friends, family, and fans who would usually only get to see them on TV.
The bell sounded. Metres from Hooker bouncing into battle, I realised how much I had come to like him and his teammates over the previous couple of weeks. Objectivity deserted me as his persistent jab found its target — the increasingly red nose and fast-swelling right eye of Paul "The Irish Dragon" Felder — until, reactively, I suddenly considered what I was cheering for: a stranger's pain. "Knock him out!" the crowd chanted, during the second round, and then, during the third: "Fuck him up!"
Hooker's right cheek swelled alarmingly, the blood under his right eye reminiscent of a Virgin Mary statue crying mysterious red. Both fighters by now wore the obvious tattoos of their battle.
By the fifth and final round, both fighters were forced into imprecision by exhaustion, Hooker was stumbling at times, a cascade of sweat bouncing off his forehead when he was caught by a shot to the head. The final act — possibly a decisive one — was for Hooker to wrap his opponent in his arms, forcing his back hard onto the floor in an enveloping tackle like those countlessly repeated in training. Exhaustion, during that final round, looked likely to beat both fighters; but it was Hooker, the judges decided, in a split decision, who was victorious. His fight-stained face relaxed in relief when his name was called, and he crumpled onto the floor as if his skeleton had dissolved. "I enjoyed myself," he told the presenter when he had gingerly reanimated — but enjoyment, of course, had never seemed more subjective. He limped off to hug his family, and then to hospital; both he and his opponent, after five rounds of battle, needed to be checked out. Hooker later tweeted a photo of them side by side in stretchers: "Just a couple of dads putting bread on the table."
And this is what City Kickboxing is about. The goal is to most efficiently liberate its members' capacity for the martial arts, but Bareman and his coaches wrap that in higher human aspirations: respect, solidarity, camaraderie. It's pleasing to know those noble things work, even if they are unleashed in the pursuit of something that fills many of us with unease.
"Look at what we've done," Adesanya told me, "look at what we've created over the last two years. Even before that. A lot of people think, 'They just blew up', but nah, we've been cultivating this for years."
This piece originally appeared in the March-April 2020 issue of Metro magazine, with the headline "Iron sharpens iron".