Aug 23, 2018 Property
Are you ready to make the move from renter to homeowner? The dream of buying a first home can be daunting. With the right advice, it needn't be.
You and your first home
With guidance, homeownership can be within your reach. "We see people buy homes in the cities and regions who not so long ago thought it wasn't possible," says Justin Bree, Mobile Mortgage Manager at TSB.
"The sooner potential first home buyers chat to us, the quicker they can find out the reality of their individual situation," says Bree. "We can look at your current situation and guide you on what you need to do to achieve your goal."
Consultants can help talk through:
The type of property you want to buy
The location
How to raise the deposit
What you can afford, and
How you can improve your financial situation.
"We know a lot about budgeting and can give practical tips that work," says Bree. "That might be cutting back on your spending or smart ways to increase your income and/or cash flow. We also see many recent migrants who need advice on how buying a home works in New Zealand."
Your deposit — how much do you need?
The deposit for your first home could be less than you think. The standard deposit for a home is 20 per cent, which allows buyers to borrow up to 80 per cent of the home's value. "What many first home buyers don't realise is that the rules have eased for 'low deposit lending' and we can lend up to 90 per cent to some borrowers, meaning you may only need a 10 per cent deposit," says Bree.
"We're also able to offer the Welcome Home Loan supported by Housing New Zealand, which allows first home buyers to purchase with a 10 per cent deposit. This is a real point of difference for TSB as not all banks offer Welcome Home Loans. We can let you know if this is an option when you have that initial chat with us" says Bree.
KiwiSaver – what you need to know
Each year the number of people using their KiwiSaver savings to buy a first home grows. After three years of saving you can withdraw your own KiwiSaver contributions. You may be able to get an even bigger boost from KiwiSaver with the HomeStart grant or First-Home withdrawal.
There are some rules that your consultant can talk you through such as income caps and how much you may be eligible for depending on whether you're buying as a single or a couple.
Other ways to build your deposit
If you're not eligible for the government assistance options, there are other ways you can build a deposit.
You may be able to ask family to help out with your first home deposit. Perhaps you have the income to service the loan, but don't have enough deposit without a family member's help. Your deposit may be gifted, or you might come to an agreement to pay it back later.
Another option instead of having the deposit gifted is for family to act as your guarantor.
"This means we use the equity from your family's property as security for your loan," says Bree. If they're choosing to act as your guarantor, they'll be responsible for some or your entire loan if you're not able to pay it.
"There are conditions that both you and the family member would need to meet, and we recommend you both seek legal advice so you're clear on the expectations surrounding the deposit.
"If you're unsure if your deposit is enough, give us a call or pop into your local branch. We can help with budgeting, setting up savings plans and talk you through ways of building up your deposit."
Buying brand new
Another option for buyers who don't have a 20 per cent deposit is to choose a brand new home, which will usually be exempt from borrowing restrictions. What's more, a new build comes with a 10 year guarantee, meaning you won't need to budget so much for regular maintenance.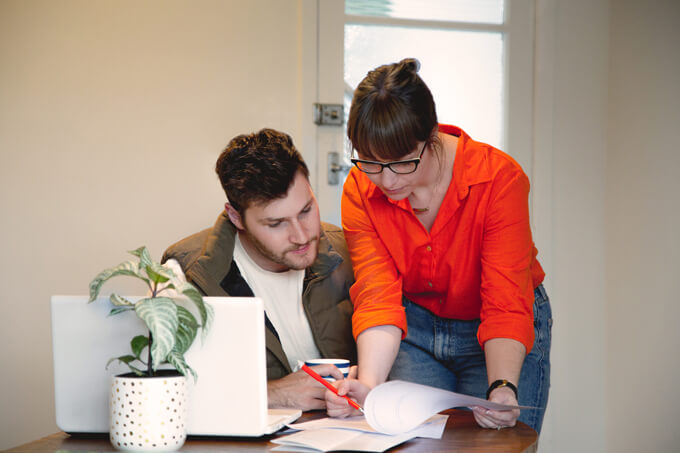 Pre-approval to buy your first property
You'll hear a lot about pre-approval when you start on your journey towards home ownership. When you apply for a loan the bank crunches your budget, salary and deposit to work out how much it can "pre-approve" you to borrow.
Pre-approval tells you the bank is happy to lend you a certain sum of money to buy a home subject to some specific conditions.
"People think it will be complex, but it's a very quick and simple process." says Bree. "One of our Mobile Mortgage Managers can come to you whether it be on the weekend, at a café or wherever suits you."
When you're ready to talk with one of the team at TSB, you'll need to provide a few things so your loan application can be assessed. These include evidence of income, statements for any credit cards or personal loans, and if you're self-employed, your financial statements for the last two years.
Understanding your pre-approval
Pre-approval doesn't mean you can buy any house up to the price agreed. There are some conditions. "We don't want you buying a leaky home, for example, and there may be restrictions on certain types of properties.
"As a bank we have to ensure that our lending is responsible and that includes taking all steps to reduce the possibility of you buying a home that you can't afford or could have hidden problems."
Tip: It's important to have the conversation about where your life is now and how that might change. What happens if, for example, you go down to one income for a period of time?
Be prepared for the future
It's essential to look at some "what if" scenarios should home loan rates rise or your personal situation changes.
"Your consultant can run the figures for you and go through the scenarios with you to make sure you can budget for changes to your home loan."
Will the loan be affordable?
There's more to getting a home loan than just the deposit. You'll need to consider not just home loan payments but things like rates, insurance and other expenses.
Banks need to know that you can afford the loan payments and a consultant will talk with you about income, expenses, other debts and how they affect the affordability of the loan for you. "We can help come up with clever ways to spend less, streamline your budget and clear your debt sooner," says Bree. You can use the home loan calculator at tsb.co.nz/home-loan-calculator to see what your repayments would be and try out some different scenarios.
You can also look into ways to pay off your home loan sooner. "We encourage customers to use features that enable you to pay your loan off faster, such as Additional Payments or StepUp, which allow you to take control of your home loan."
The right home loan for you
There are a range of repayment options. You could choose fixed, floating or even revolving credit. Sometimes a mix works.
A fixed home loan gives you certainty. Your interest rate is fixed for a period of time and you know exactly how much you'll pay each loan payment.
A floating home loan rate goes up and down with interest rates but provides more flexibility when you're wanting to pay off your loan faster.
Revolving credit suits some buyers and works like an overdraft. You can withdraw money up to your credit limit when you need to for a fixed monthly fee.
House hunting
Talk to your consultant when you've found a house you're keen on to see if the property meets the conditions of pre-approval.
"This is about us doing common sense checks," says Bree. Some properties may need additional reports before the bank can approve lending.
Buying your first house is an exciting step, there's a lot to think about and we can help take the pressure off by keeping things simple. We'll provide guidance on each step of the process and chat through your options, so you feel informed along the way.
Talk to TSB and you could be taking the first step into your own home. Call 0800 872 226 or visit tsb.co.nz