Sep 5, 2019 Property
First home buyers share their various journeys to home ownership and encourage those still hunting and gathering their deposits.
Word on the street is that it's hard to get on the property ladder. Nobody's denying that – especially in Auckland. But what if it isn't the mirage you've been imagining, or the ladder as lofty as you first thought? We talked to a diverse range of first home buyers who discovered – thanks to the help of tight saving schemes, supportive lending consultants, family assistance, grants, and cost-effective new builds – that the first rung wasn't as slippery as they'd anticipated.
A turn-key entry to the market with a HomeStart Grant
Rebecca* and James were flatting with a minimum of eight people in an energy-efficient, three-storey house on Cornwall Park before they purchased, and knew they wouldn't be able to find a house in that area in their price bracket. They spent a lot of time weighing up priorities and had basically given up on finding anything north of Papakura when they found an advertised new build in central Manukau. Their plan had been to buy in about a year, but the turn-key home really ticked the boxes.
What encouragement do you have for other first home buyers?
Rebecca: Know what you're entitled to and make sure you're clear on your goals. Most young couples have had it drilled into them that if they have avocados on toast they will never afford a house in Auckland. That simply isn't true. Make your goals bite-sized. Say to yourself 'by doing this I'll reach my deposit goal in two years'. It makes sacrifices like not going out so much easier. We were coming up short with our deposit, but TSB told us about the HomeStart Grant which we took advantage of. We recommend any first home buyers to look into this, as it could close the gap – it certainly did for us.
What do you wish you knew at the start of the process?
I should have been pre-approved before looking at a single home. But my main advice is that buying a newly built house is a business agreement – make your requests and concerns known and hold the developer/builders accountable. I tried too hard to be a reasonable customer and ended up footing lots of bills to fix things that were not done right in the first instance.
What are you enjoying about owning your own home?
It's so good having pets and freedom in what we do with the house. We spent three years investing into someone else's house, planting trees and improving their home's value. It's so good to be able to do it for ourselves now.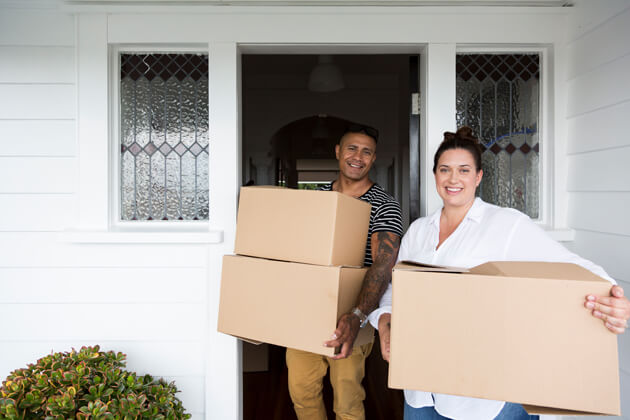 Super savers
Michelle and Jonathan moved to New Zealand from South Africa in 2015 with their two children who are now four and seven. They'd owned several properties in their home country, but when they arrived the market was high and they were told, 'Give up, you won't own a home'. The family settled into a rental in Gulf Harbour, Whangaparaoa Peninsula (Hibiscus Coast), where they particularly liked the beaches and the outstanding childcare. They decided they wouldn't accept "impossible" and didn't want to move their children again after immigrating. It was a new build in nearby Stanmore Bay that provided them the opportunity they'd been looking for, offering them great value for money and allowing them to stay in the area they loved. After a number of delays, Michelle and Jonathan expect their house to be completed in January.
How did you come up with the deposit?
Michelle: We have lived as if we're on a super tight budget for several years to achieve our dream. We saved and saved (and saved some more) by literally placing money into an account we refused to touch. Everything was weighed against, "Is this a need, or a want?"
What encouragement do you have for Kiwis trying to buy their first homes?
We got the best deal on insurance, drove an old car and used public transport – it's the small, multiple saving victories that lead to increased savings, adding up to a deposit in time. The savings we made through budget cooking inspired me to start a Facebook page to help others to save on their groceries: facebook.com/affordablecooking.
What do you wish you knew at the start of the process?
I wish I knew how long building takes. That said, I may have given up, and that's not going to happen. We are underway. We own our land and we will own a home in New Zealand.
How did your bank help?
From the minute we called TSB, our lending consultant was exceptional. He treated us as friends and still does – long after the ink dried. He gave patient, diligent advice and helped us structure our loan in an interest-friendly manner. He also got us approval within 24 hours and acted as our advocate.
What benefits have you gained from building?
Our package was good value and we loved being able to choose our own colours throughout the home. We've never built and it was exciting to think about a customised home. We've built lots of character while waiting, and we have learnt as a family that we can wait, together, focussing on a dream as a unit.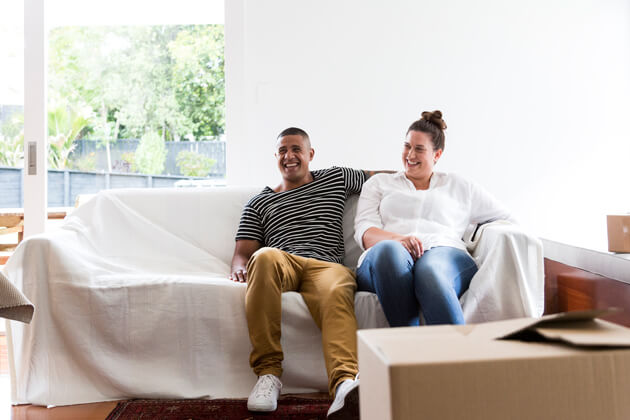 Humble recipients of a helping hand
Levi and Anna purchased their two-bedroom unit in Mangere in South Auckland, with the help of family, at the end of 2017. The couple, who are in their early thirties and work in social services, were renting in Mt Roskill and weren't even looking to buy, as they didn't think they'd ever own a house in Auckland. Friends who had already purchased the neighbouring Mangere unit connected them with the owners at the time, who gave them a good deal through a private sale.
What factors enabled you to buy?
Levi: We definitely could not have purchased the house without monetary gifts from both sets of our parents, and we're uncomfortably aware that many
of the people we work with don't have the same privilege.
What was a highlight of the purchase process?
The highlight was the way our lending consultant did whatever she could to help make it happen. She managed to hold a good interest rate for us while we organised our finances. We were only just able to get the money together and wouldn't have been able to do it if she hadn't. She was positive and encouraging and provided a friendly and personal approach throughout a stressful process. At first we thought our house was a bit far out of the city but we are now really happy living here. It's great to be able to set it up, change it and make it our own place. We're truly grateful to TSB for helping us along the way. We definitely would have given up without them.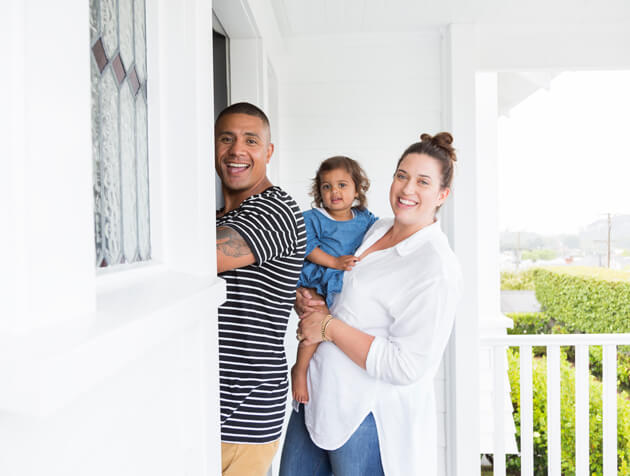 Over 80 per cent loan for the Kiwi dream
Ethan and Laura were looking to buy for three years before they bought their first home, and the skyrocketing prices in the North Shore where they lived meant they had to look further afield. They were rejected by multiple banks because of their low deposit but stuck to a tight savings scheme and managed to meet all of TSB's conditions. They now live in the heart of Parakai, Helensville, in a three bedroom weatherboard bungalow with a quarter-acre section.
What encouragement do you have for other first time buyers?
Ethan: Don't give up easily, keep going. Don't wait. Manage your finances wisely. It was the availability and warm welcome of TSB that rekindled our hopes and dreams. Our lending consultant guided us through most of the process, and looking back we marvel how far we've come and how much we've learned from it.
How are you enjoying your new area?
Parakai is where everything seems to be happening…horses, boats and even skydivers, not to mention sheep, alpacas and cows in trailers which stop in front of our house for their drivers to get something from the shops. Going to and from work feels like you're on your way to a holiday. It's become a haven for city folks who can't get enough of the good, fun-loving country folks typical
to this locale.
*All names have been changed for privacy.
Struggling with a small deposit?
The standard deposit for a home is 20 per cent, but what many first home buyers don't realise is that the rules have eased for low deposit lending, and TSB can now lend up to 90 per cent to some borrowers. TSB also offer the Welcome Home Loan supported by Housing New Zealand, which allows first home buyers to purchase with a 10 per cent deposit.
Speak to your lending consultant about KiwiSaver as it could help you get into your first home sooner. You might also be eligible for an even bigger boost from KiwiSaver with the HomeStart grant or First-Home withdrawal.
You may have the income to service a loan, but need a family member's help with the deposit. It may be gifted – with or without an agreement to pay it back – or family can act as your guarantor.
Another option for buyers who don't have a 20 per cent deposit is to choose a brand new home, which will usually be exempt from borrowing restrictions. A new build comes with a 10 year guarantee, saving you on future maintenance costs.
TSB's lending consultants can help talk through:
– The type of property you want to buy
– The location
– How to raise the deposit
– What you can afford, and
– How you can improve your financial situation.
The first step on the property ladder looks different to everyone, but no matter the obstacles you're facing, some sound advice from the professionals could offer you the insight, incentive or boost you've been looking for to get you over the line. Keep your eyes wide open for timely opportunities, engage that Kiwi ingenuity and propensity to persevere, and that dream of home ownership could be a reality sooner than you think.
Talk to TSB about how we can help you get into your first home today. Visit tsb.co.nz or call 0800 872 226