Sep 23, 2014 Property
Virtually untouched in 100 years, the character villa was a do-up to die for. The bidders assembled…
The house is a target; unassuming, wan, anaemic — yet, it's a coveted target. Seen through the leafy plane trees of Baildon Rd, it stands out from the rest. It's incandescent. The house is for sale, and all of Grey Lynn knows it. On a late summer afternoon, the neighbours will gather on the small grass verge outside the house; James and Maria will be among the bidders.
Matt and Ryan, the agents, and Marian, the auctioneer, will be there too. There'll be throngs of rubberneckers. So many will come and watch yet another Grey Lynn house exceed expectations; thrilling for some, frightening for others. And this property will set a record.
Miss Joyce Weniger never married. She was a woman of means. She owned her house in Remuera and also this villa at 32 Baildon Rd. Each house, each office of her personal wealth, mattered to Miss Weniger, and the people who lived in them, even more.
Every second Monday, she would climb carefully into her immaculate early 70s cream Ford Laser and do the rounds. 32 Baildon Rd was her 10am stop-off. Stepping out onto the small verge, she'd make her way up the cracked concrete path to the villa. She'd knock and, in moments, as he'd done for years, Gabriel Wilmshurst-Green would answer the door.
"Miss Weniger was a lady. She did things the old way. She didn't like banks, she liked cash. So, after I'd given her the rent, we'd have a cuppa and a chitchat."
Gabriel is just 31, but he's lived in this house since he was 3. His mum, Christine, is an expat "Rhodesian" who, on arriving in New Zealand at age 8, declared it smelled of "worms and wetness". At 21, she met Gabriel's dad, Johnny, a New Yorker. It was love at first sight. They were hippies who raised their four children at 32 Baildon Rd, then moved out when Gabriel was 18.
"I decided to stay on in the house and get flatmates. Mum and dad were cool about it, but we had to talk Miss Weniger around. She thought I might get a bunch of students in and we'd… I don't know… wreck the house."
An almost outrageous proposition, given the state of the place. Original — in real-estate speak it's "characterful, colourful, a blank slate". In reality, it's jumbled and ragged, tired and resigned. There's no insulation: "It's freezing in winter." Four big bedrooms stand sentinel along the archetypal hallway, age stains and scars easing through the wallpaper. There's a small white bathroom at the end on the right, a kitchen to the left and straight ahead is the lounge.
The carpet is striped and worn in there, the tread undulating. Oyster curtains hang listlessly at one window. French doors lead to a laundry with a toilet shoe-horned in the corner. The combo overlooks a sunny patch of concrete and bare backyard grass, all rimmed by a tangled garden.
The kitchen is strangely large. It has what might once have been a scullery with a small dusty window. Through the haze is a million-dollar sun-drenched north-facing view — although it's clear that the war between the weatherboard paint and the sun is long lost.
A new owner will tear this oddity down, throw a box on the back with huge sliding doors and a deck into the garden. They'll paint all the walls white and rip up the rugs covering the dark-stained matai floorboards. The original features will be restored hastily and happily.
"This is my home, it always has been. When I leave here, I will be homeless. That's a strange prospect," muses Gabriel, his guileless face clouding with indecision.
But it's not just his home anymore… now, this is Gabriel's house.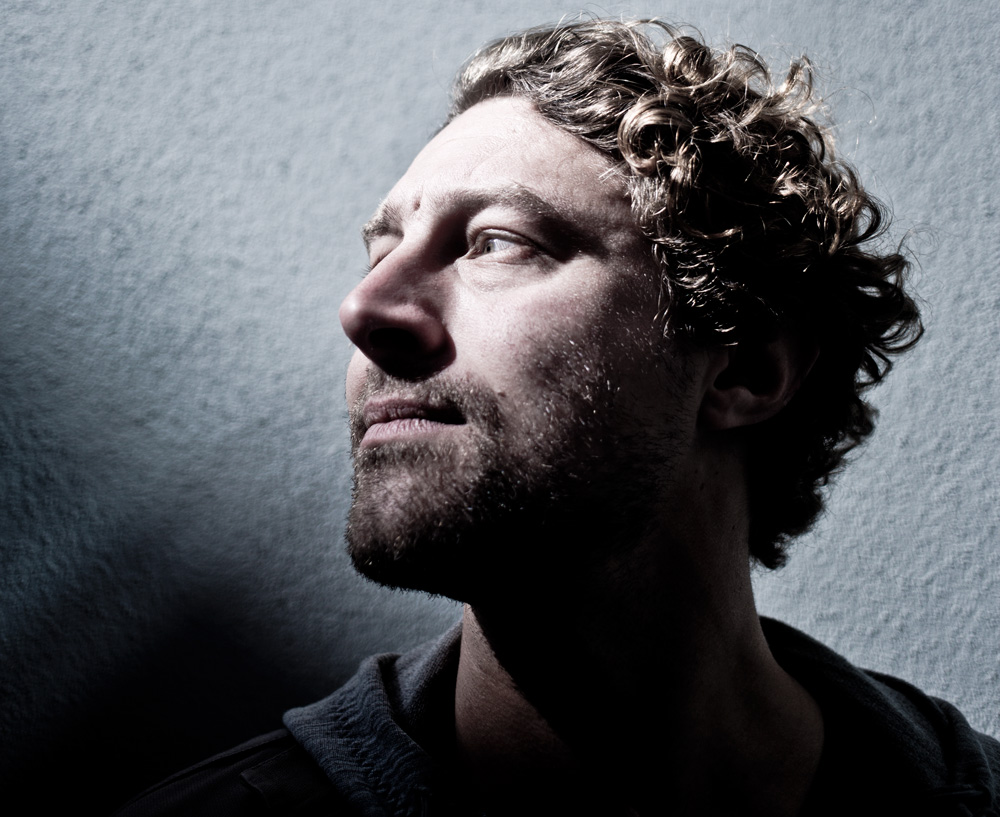 Matt and Ryan are real estate agents for Barfoot & Thompson.
"Gabriel's young; he owns this high-maintenance house in Grey Lynn. And it's become too much for him. So, he wants to sell it. Obviously, every agent wants to help him do that," says Ryan, taking a sip of orange juice.
He's sitting in his local cafe, just down the road from the office. Matt and Ryan are new to the game, but in just a year they've sold 13 properties in Grey Lynn alone. It's been a better business than they imagined.
"Grey Lynn is just where everyone wants to be," Matt says simply.
So when Gabriel walks into their office, the competition to win him from other agents is intense. Their strategy works. "We talked to him like we would a mate. We built a rapport and won his trust. But, you know, it has to be genuine, you do have to care about your clients," says Ryan.
It's a high-stakes game, real estate. These days, a chance meeting between acquaintances easily turns to property prices. In Auckland, it's an obsession. "Everyone says rugby is our national sport." Matt says. "It's not. It's real estate."
It's true, at least in Grey Lynn it's true. Today, the residents of Grey Lynn will open a glossy booklet from another agency entitled Grey Lynn Quarterly Update. This suburb is so hot it gets its own book. Some photos show CVs over the million-dollar mark. How did that happen? Aren't CVs meant to be some laughably tiny gauge over which the hammer could fall on any astronomical number? When did CVs push people out of the market?
Now Grey Lynn is the preserve of the rich, the wealthy; yet few Grey Lynn homeowners could actually afford their own houses anymore — not that they're complaining. Most villas around here go for at least a million dollars.
James Morrow is a steady, hardworking Ponsonby native. He remembers when things were different; "alternative, hippie, studenty. Eighty per cent of my schoolmates were Pacific Islanders." He bought his first house in Ponsonby in 1993 for $160,000. Now James lives in Grey Lynn with his wife, Catherine, and their two sons, 10 and 13. He's a builder who, like a chef who hates cooking at home, lives in a villa in need of renovation.
But first things first: "In the back of my mind, I'm thinking retirement. We can't rely on the government to look after us anymore." James wants 32 Baildon Rd. "It's a big but easy renovation. If I can buy it for 1.1 million, I'll be happy… It's ridiculous, eh? A million dollars is such a throwaway figure now."
"Miss Weniger was really particular about this house," says Gabriel. "She wanted to know that I wouldn't leave it. I basically had to live here all the time. When I went to New York for a long holiday, I pretty much had to get permission. She wanted to know when I'd be back. So, I came back and kept living here.
"On Mondays, we'd talk about all sorts of things. Her family, her friends, her pets… all sorts. I think she liked the human contact, that's why she'd come personally to collect the rent. I paid a ridiculous amount to live here, $210 a week for the whole house. I think it's fair to say that I became like a grandchild to her, and she was a bit like a grandma too, I suppose. When I was a kid, I called her Aunty Joycie."
Gabriel has a long hardy face, wide green eyes, and masses of rolling sandy curls. His smile is big enough to show off a full set of widely spaced teeth. He laughs and moves a lot. Yet, there's a sense of something loose about him… a kind of hippie hangover, perhaps the remnants of his parents' touch. He speaks loudly, with all the markers of his mixed heritage — "It depends on who I'm talking to as to what accent becomes stronger."
He sits atop a faded throw covering a laboured couch. The room is crammed with furniture and festooned in Tibetan flags. Gabriel is somehow on top and within this picture of student domesticity. He's proud of his house; it's a collection of his family history.
Maria Bore loves it too. Renovating is her passion; she's just finished a house around the corner in Schofield St. "I'm a spiritual person, and when I walked in, I knew it. I knew I had to have it. It's just got the best bones and the best vibe about it. I have to feel that way about a house before I buy it… These villas are gold. I know how they should look. You don't just barge in and start ripping things apart. You've got to understand them and restore them!"
Long dark straight hair, glinting jewellery and perfect nails — Maria is "brassy… I play my advantages and my disadvantages. I'm not afraid to use what I've got to get my way. I'm competitive and I hate to lose."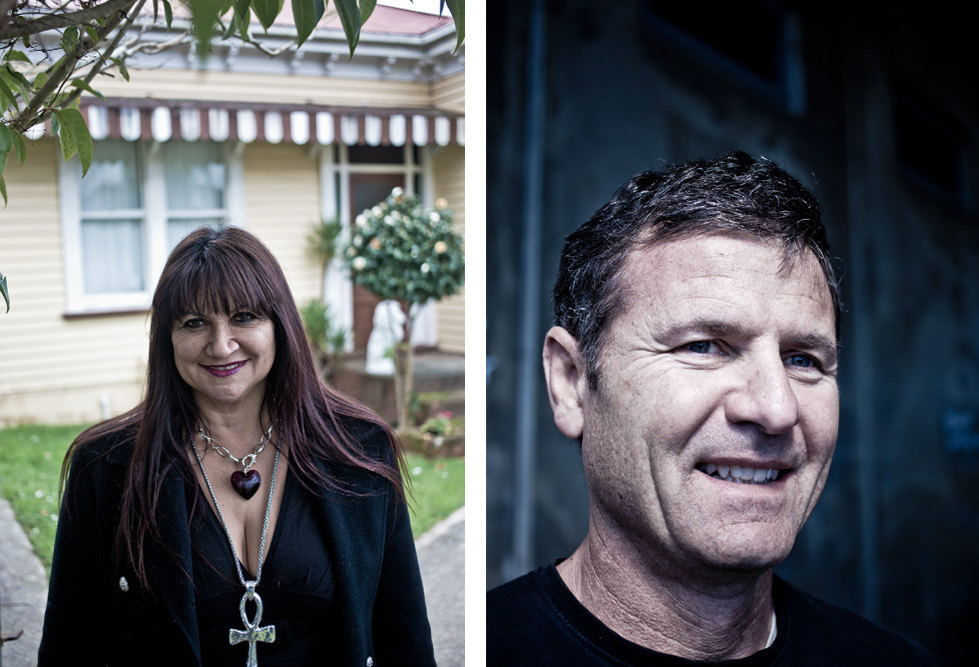 It's an utterly beautiful auction day afternoon. There's an open home at 2pm, with the auction scheduled for half past. At 2.25 the grass verge is filling; it's like a village gathering, with all the spirit of a festival that could go wrong after a few beers.
"I feel geared up for a fight!" Gabriel is trembling; he's in a local cafe, drinking Heinekens and chain-smoking menthols. He's fixed on the clock, watching the minutes tick over. "I wish I could stay calm, but I can't. I keep amping myself up, then trying to calm myself down. Thing is, I'm not selling this house for any price. It has to hit a million; otherwise, it's not worth it. It's my home."
"So many people are here." James Morrow is quietly edging through the crowd. He's nervous, the tension already tugging, but his strategy is to act "casual, aloof. Don't get the agents excited… make 'em sweat a little."
Maria Bore is at home, phone-bidding via her agent. She's watering the garden, hose in one hand, phone in the other — and a sauvignon off to the side.
"I reckon if some of those men saw who I am, they wouldn't take me seriously. They'd think they could bully me out of bidding. When I'm on the phone, I could be anyone. You know… I could be bigger than them, have more money than them. It's the only way I'd bid on a house."
For Maria, a single mum of two who's forged her own fortunes, this house is about her children's and grandchildren's future. She won't have them struggle as she did.
Ryan rings Gabriel, "Okay, mate, time to get down here." Gabriel has dressed for the occasion. "Looking smart isn't my forte. I normally just wear raggedy shorts and a singlet." But today calls for something more. He's wearing new jeans, an old grey T-shirt and a hoodie. He pulls the hood up as he wends through the crowd. He feels self-conscious and runs into the house.
First there's just a clutch of people. James Morrow always turns up on-site for auctions, all the better to judge his competition. But he wants to find a spot out of the way. "Inconspicuous. There's mystery about a bidder you can't see clearly." But as the crowds increase and close in, James finds himself pushed from the back to the front of the gathering. "I can't believe it," he thinks, scanning for a better spot, but it's too late.
"Who'll start the bidding?" Marian Tolich, the auctioneer, calls out. It's 2.36pm. The crowd shifts, uneasily. Finally, someone calls out, "Okay, I will — $800,000!"
And there you have it. An old Grey Lynn villa, a wallflower. The first bid has already alienated most of the country.
Gabriel immediately feels a little relief — a high opening bid is a good sign. He's sitting on the bed in the front room. He's twitchy, restless, jumping up only to sit down again.
Meanwhile, James is gearing up for his own fight. "I can feel all eyes on me. It's intimidating." Just like that, it seems, the bid hits the magic million but revs past it so quickly Gabriel isn't registering. "I don't get the numbers, is it 1.01 million or 1.1 million…? I need someone to write it down!"
Suddenly, Ryan bursts into the bedroom and grabs Gabriel in a hug. The bid has just exceeded $1.1 million. "Oh my god, my head's spinning," exclaims Gabriel. Spinning with visions of Porsches, new clothes. Savings! "I can't walk. I need water…"
There are five bidders, but they're dropping out. At $1.15 million, it's just James and Maria.
James is pinned to the hedge by the gaze of 200 onlookers; their collective expectations spur him on. He throws in another bid. Maria matches it. Again and again they parry. Now the bid is $1.19 million and James is over his budget. So is Maria. She takes another swig of sauvignon as her agent murmurs calmly over the phone.
The crowd is enraptured. The theatre is thrilling. A modern- day duel, the challenge has been laid. The gladiators are circling. Everyone is shifting, fidgeting, darting glances, making small jokes to normalise the madness. How is this house ratcheting up so many bids? And how come it's just so exciting?
Many are imagining what their own houses might be worth.
"Who's on the phone?" James wonders. He's feeling a little desperate. It's unnerving not being able to judge the expression of the adversary who's keeping pace with his every bid.
He's playing right into Maria's hands. "Is it a developer … or an Asian investor?" He imagines a businessman sitting in Shanghai, phone under his chin, marking up bids with a grunt and lazy wave of a hand, distracted by the Hang Seng index…
Meanwhile, Maria's thinking it might be time to bow out. "I'm competitive, not stupid. Although, I really want this house." She reminds herself of the villa she lost in another part of Grey Lynn. The winning bidders sold it 18 months later for $355,000 more. She tells her agent to make another bid.
The bidding hits $1.2 million. "Stop! You're being stupid," implores James' left brain. But he can see the renovation… the master bedroom and ensuite, the restored front porch, the gracious lounge leading, not into a laundry, but to a green lush garden, a pool off to the side. He can see the resale — $1.8 — $1.9 million… His right brain bids again.
Then, the action slows. It's $1,201,000 now and going up in $1000 increments.
Marian Tolich is a pro, 14 years in the game. 'You don't want to lose this house for the sake of $1000!' she cajoles. Maria bids again. James bids again.
Gabriel is tortured. "I'm thinking about Joyce. Is this okay, what I'm doing? Is it too late? Maybe I should stop the auction? It's too late, I can't."
The excitement is amping up every emotion. He remembers sitting by Miss Weniger's hospital bed after a fall. He can see her bursting into tears, begging his mother not to move out of the house even after they'd briefly fallen out. He once painted her a picture with a note saying, "Thanks for letting me stay here."
Miss Weniger loved Winston Peters. She hated salesmen; "slick", she hated "slick operators". Gabriel remembers the shock of learning two things from a lawyer's letter: Miss Weniger had died. Miss Weniger had left him the house.
The bidding stops. James and Maria have made their final calls. Marian Tolich slowly, torturously, closes the sale. The crowd shifts in relief and begins to clap. Nervous disbelieving smiles. Pats on the shoulder. Long heavy exhalations. Hearts racing, there's a collective exhilaration. The auction is over. It's set a street record. In just eight minutes, 31-year-old Gabriel is $1,205,000 richer.
The crowd disperses, the show is over. "I think the adrenaline will be pumping for a while yet," James says with a smile. "Man, there was such pressure to keep bidding. Everyone's eyes are on you, and there's nowhere to hide… Thing is, it's disappointing, but I feel a little relieved." No one slaps James on the back or throws a departing smile his way. The closing bid closes the interest on James like a tap — the moment Maria wins the auction.
"Yessss!" Maria pumps her elbow back with a closed fist. So close. "One more bid of a thousand and he would've had it. I couldn't have gone one bid more!" Maria happily throws down the hose and slips inside for another sauvignon.
Matt and Ryan are celebrating. Grey Lynn couldn't be hotter. Within one month, 32 Baildon's street record will be broken by another villa for over $1.4 million. They go inside to join Gabriel and his family.
The house is full. 32 Baildon Rd is hosting its final Wilmshurst-Green party. Gabriel's parents are there along with his sisters Geraldine and Gwendoline. Matt and Ryan and a collection of friends and family are toasting the sale with champagne. The house has never felt more like home. But it's not theirs anymore.
Maria Bore walks in through the front door; she feels comfortable immediately, the house is drawing her in. Gabriel's mother walks straight up to her. She looks warmly at Maria and says, "Hello. Welcome home."
Gabriel has now bought his first "flash" car, a green $8000 Jeep, and is in no hurry to spend the rest of his windfall. Maria has deferred renovations and is renting out No 32 while she plans a world trip. James Morrow has since bought a house in Westmere.

This story first appeared in Metro, October 2013. Photos by Stephen Langdon.