Apr 12, 2019 Property
With its striking concrete diagrid roof and sense of fun, HOME magazine's Home of the Year 2019 is a truly Auckland house. Watch the video to see more of this incredible, winning structure.
The 2019 Home of the Year winner, designed by architect Jack McKinney, is something else with its soaring 'diagrid' roof of raw concrete beams floating above the living spaces and extending outside.
The judges thought it was a confident, even playful house; "A striking roof of in-situ concrete floats above expansive living areas, contrasting with polished steel. A classically Auckland house designed around friends and family, with a sense of fun."
McKinney designed the home in Grey Lynn, Auckland, for his long-time clients and friends, builder Cameron Ireland (who built the home) and Rachael Newnham, and their three children.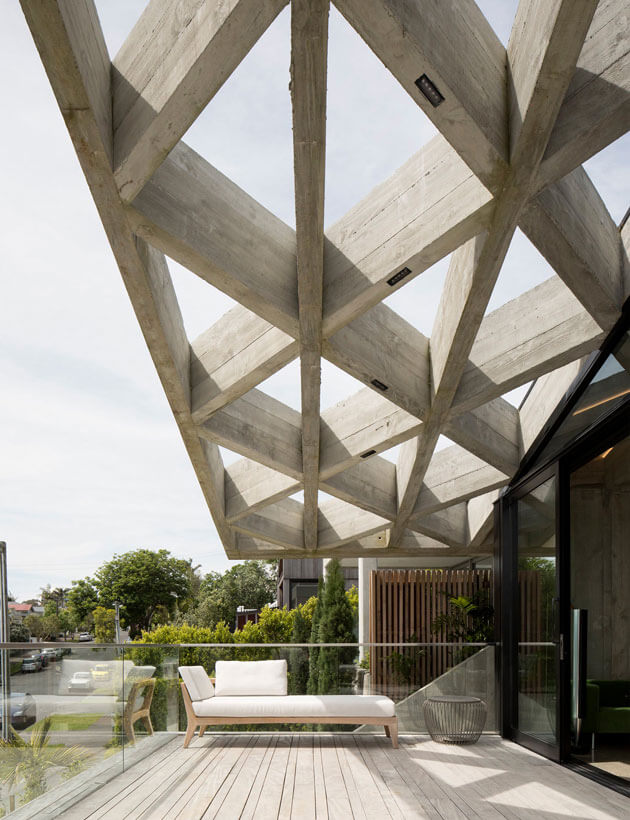 "Sometimes a project depends on whether it's immaculately perfect, where this lines up with that. But what we've learned with Cam is that his mind is an impatient one. So we had to come up with something that was a big shape, robust enough to survive a bit of editing on site."
The design is centred around an in-situ concrete roof, laid in a diagrid pattern of verticals and angles, over which he laid a glass roof in some places, and an insulated roof in others. It weighs 56 tonnes and soars from 2.2 metres up to 4.3 metres. You know it's heavy and you know it's made from concrete, but you can see the sky and it floods the space with light.
The distinctive diagonals nearly didn't make it. Pouring the long vertical support beams was a laborious task, which involved building plywood boxing lined with rough-sawn boards and propping them up on an angle. The steel bars inside the concrete are 35mm thick – a gauge so heavy it broke the small plastic feet that held the reinforcing bar up while the concrete was poured around it.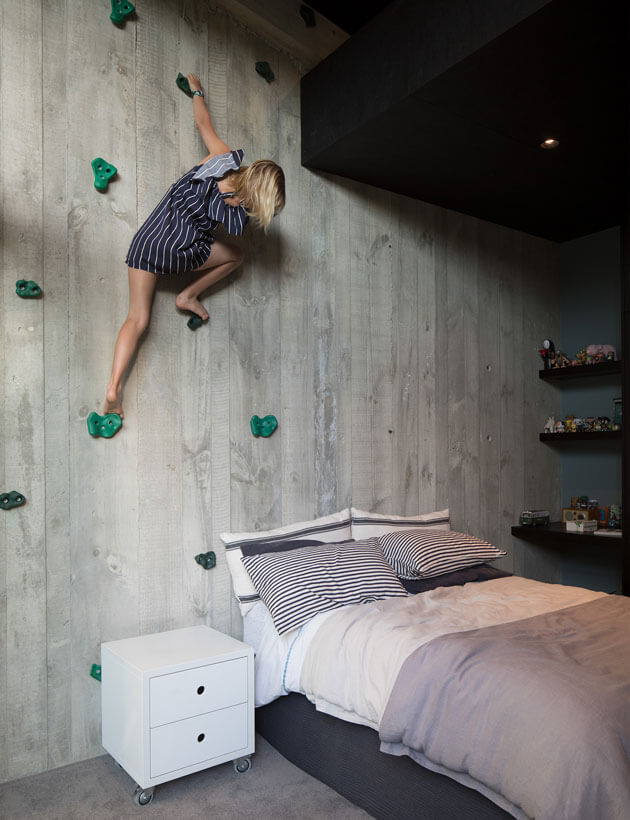 Ireland's team had to tie the steel bars to the top of the boxing, pour concrete, then gently lower the bars on top before pouring more concrete over the top. Then the concrete slid to the bottom of the slope, so they stayed on site until long after dark, raking it back into place until it cured.
You enter the home up a long flight of poured-concrete steps and into a voluminous, open-plan kitchen and living area, which opens out to a deck on two sides, a narrow pool and a small lawn.
Beyond that, a hallway services four bedrooms with lofts – one for each of the kids, plus a spare – on the northern side, and service rooms (bathroom, laundry, guest WC) on the other. The main bedroom is upstairs, and there's a separate media room: it's a straightforward, practical design.
"We can have heaps of people here," says Newnham, "but it never feels chaotic."
This story was first published on Homes to Love.
Follow Metro on Twitter, Facebook, Instagram and sign up to the weekly email