Mar 6, 2015 Fashion
The striped pole signifies an age-old trade, but the second coming of the barber shop — and the attention to male hair it signifies — is far more likely to involve hipsters, sports stars and ultra-trendy beards.
This story was first published in the January 2015 issue of Metro. Photos of Flash City, Ponsonby, by Josh Griggs.

At the railway crossing at Glen Eden, a local history board lists a barber shop as one of the first businesses in the fledgling 1886 settlement. Today, directly across the road is Eight One Eight Barbers, a plain white space with one large hip-hop graffiti piece on the wall and Sanctify Tattoo Studio out the back.
Across the city there's a network of barbershops, each with a different culture — hip-hop to hipster, ethnic to traditional — but cutting remarkably similar variations of the tight military fade at similar prices ($20–$30). Top haircut is the Sonny Bill (after rugby star Sonny Bill Williams), a modern comb-over with graduated shaved back and sides and shaved-in parting, sometimes boxed at the temple.
"Gents, short back & sides so in vogue" is chalked on one side of the sandwich board outside Green Bay's barber shop. On the other side: "Fellas, you know the hippy look is out? Come in for a haircut today."
The changing fashions in men's hair started overseas a decade or more ago, but here, we probably first noticed when our sportsmen started getting patterns shaved into their hair. Then came the military haircuts. Now there are young men everywhere looking like George V, with a full beard, combover and the sides of their head nearly shaved to the scalp.
Part of what's happening around the world is the steady rise of a cool-as "barber culture", which creates men's spaces, takes in men's grooming and is closely associated with tattooing.
Until the 19th century, the barber-surgeon pulled teeth, amputated limbs, lanced abscesses, set bones and bled you (hence the red for blood, white for bandage and blue for vein of the striped pole). He also cut out gallstones and hangnails, branded slaves and created ritual tattoos or scars.
The 1960s and long hair proved nearly fatal for barber shops. By the 1980s, most men were going to unisex or men's salons reeking of perm chemicals and mousse. Now, barbers and the heady scent of bay rum are well and truly back.
The coolest new barbers overseas have distinct sub-cultures of their own. And whether the look is skateboards and snapback caps or beanies and camouflage gear, you'll see plenty of heavily tattooed forearms.
There's a certain environment that barbers and tattooists often share. The walls are covered with pictures, memorabilia or collectables to do with boxing, motorbikes, hunting, sports, pin-ups and the historical paraphernalia of the trade. Both are places for men to hang out, talk, share a (sometimes dirty) joke and maybe a beer.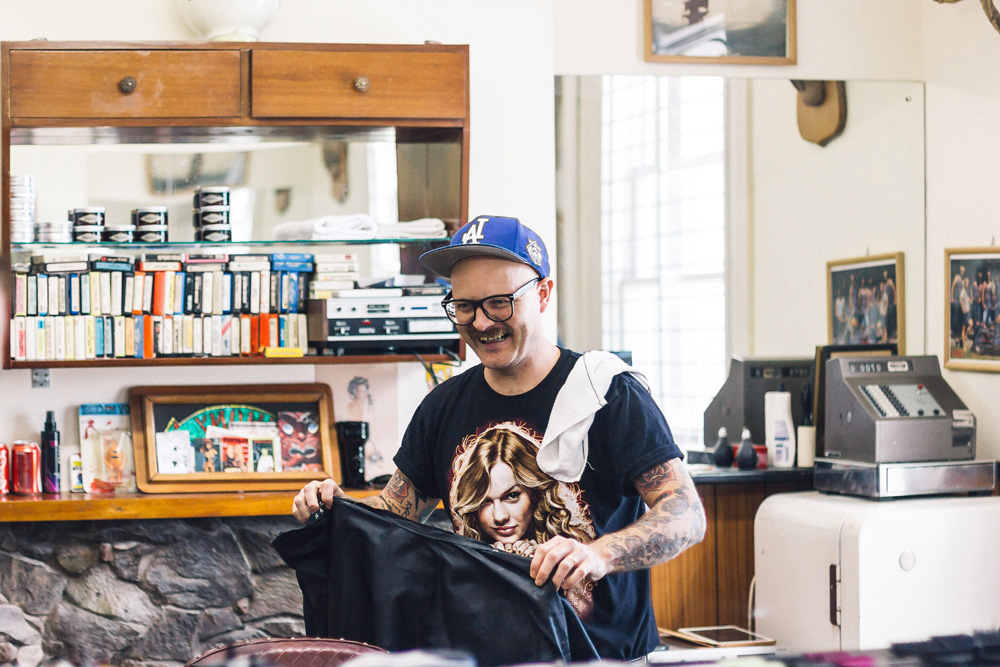 It's quiet at the predominantly Polynesian WestSide Barbers in Lincoln Rd, Henderson, even with four or five barbers working. This may be a cultural difference from the chat that can go on at a shop like Flash City in Ponsonby Rd or Maloney's in Victoria St West, CBD, where the clientele is more hipster than sportster.
The first tattoo parlours catered for seamen who came for a haircut and some new ink. It's still true today. Flash City offers a barber shop and flash-only (not customised) tattoos done next door at Two Hands. Several clients, one in the Navy, get a new tattoo with their haircut every three weeks or so.
Flash City can be a chatty place, with Clay Hepburn (cap, moustache and big-frame glasses) and Tim Castelow (who's bucking the trend and growing his hair) on the floor. Or the tattooed rockabilly stylist Barber Dan (preferred name), who specialises in the extreme undercut called the Hitler Youth, as worn by Boardwalk Empire character Jimmy Darmody. "Not everyone is a gentleman, but thanks to Barber Dan and the boys you can sure look like one," says one admirer.
Unlike other barbers, Flash City does cut some shorthaired women. Being female here is perfectly comfortable, in fact fun, unlike at some of the more macho hangouts. ("They probably won't talk in the same way as they would when it's just men," points out one man, not a Flash City client. "I always knew who my barber was sleeping with. They talk about football and cars, drinking and local rivalries, music and pussy.")
The complimentary beer at Flash City on Thursday nights is Coopers. It's imported Mexican Pacifico beer at Maloney's, where the clientele includes workers from nearby telcos and offices, university students and media people. Musician Dave Dobbyn calls in for a trim. So do broadcaster Mark Leishman, chef Al Brown and boxer/radio host Richie Hardcore.
"I've been getting razor fades since I was 18, so I've always gone to a barber," says Hardcore. "It's interesting it's made a mainstream resurgence. Fashion is always cyclical, so I guess it's just come back around. I think Sons of Anarchy has a lot to answer for — hipsters with beards and motorbikes."
Artist and taco truck co-owner Otis Frizzell is a long-time customer. "I had a number-one stubble cut for about 20 years. But after a vacation about a year ago, I hadn't cut my hair for about four weeks and had some hair for the first time in ages… My wife liked it. I kinda liked it… So now I go to keep it looking sharp. A friend of mine whose hair is thinning once told me I owe it to the guys who are balding to grow my hair because it's so thick and healthy!"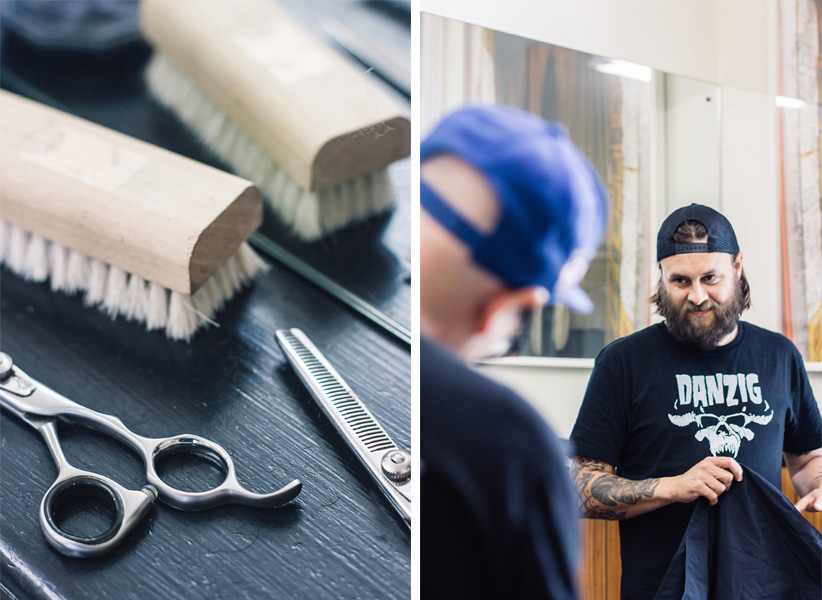 On the wall at Maloney's is a poster from the Rotterdam shop Schorem ("scumbags"), where the barbers sport bowler hats, beards, waxed mos and heavy ink. The coolest barber shops, such as Schorem, have online videos that share a certain old-time feel and play up traditional notions of masculinity. From Schorem's website: "There are three types of men who can touch a man in his lifetime — his tailor, his doctor and his barber. And that's a style rule we live by."
At Maloney's, four barbers are busy all the time, and two more floors have just opened upstairs for extra chairs, wet shaves and a social space. (The latter is common in the cool, speakeasy-style barbers overseas.) There is a female barber, Sue Phelan, and owner Julian Maloney's wife, Sue, manages the two busiest days.
Maloney is cutting a slick back, the style he wears with full beard. He uses hot foam on the neck and sprays with water that's scented with bay rum. "For a guy, there's not many ways to change your appearance," he says. "Your clothing is pretty much the same no matter what the occasion. Your hair's the one thing you can have some fun with."
Barbers get really good at what they do because they do it so many times, observes one of Maloney's regulars, Paul Wacker, a hair-salon business trainer. "They are really good at short haircuts with clippers. It looks easy but that's years and years of experience and a skill level people get to when they've been a surgeon for 10 years — a hundredth of a millimetre out and you'd really notice it."
Like many of the shops, Maloney's sells some barber-only products, such as ex-cricketer Dion Nash's Triumph & Disaster brand. Or pomades and brilliantine from New York's JS Sloane, co-owned by Smutty Smiff, the heavily tattooed rockabilly stand-up bass player with a love of Hollywood's golden era.
When Maloney trained as a women's hairdresser here in the late 1980s, there was no barber training. He learned on the job in the UK, where barber culture had never died, and opened his own shop when he returned to Auckland 20 years ago. Ponsonby Barbers at Three Lamps was the only shop he could find that had an air of the traditional. "I think that was really the start of the barber culture here, of the whole renaissance — the old chairs, the boxing photos, the nostalgia…"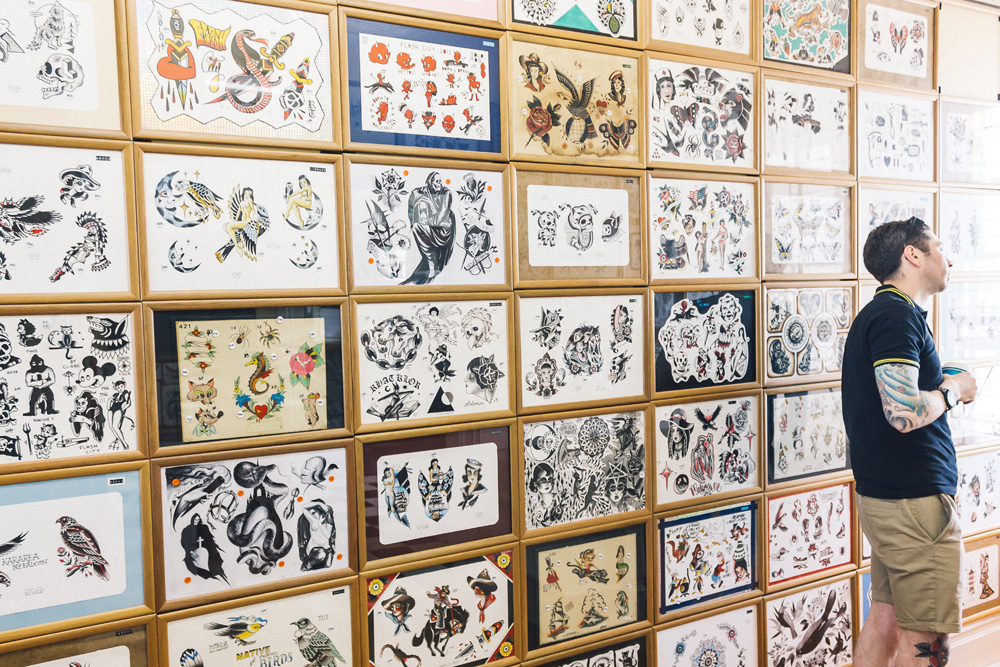 So where do the sportsmen get their fresh cuts? A hardcore sports hangout is New Flava Barbers in Papatoetoe, where quite a few of the Blues players such as Charles Piutau and Jerome Kaino have their hair cut, and a few of the Warriors, Manu Vatuvei and Sam Tomkins among them.
WestSide Barbers offers the combover, half mohawk, mo mullet (mohawk mullet), skin fade, razor fade and blow-out taper fade (short sideburns, longer sides and a large amount of hair on the crown, usually gelled upwards). WestSide barbered the Manu Samoa team in the 2011 Rugby World Cup and former captain Mahonri Schwalger (Chiefs, Counties Manukau) still gets his hair cut there or at MVP Kutz in Hamilton.
WestSide senior barber Meki Takapu learned his trade from his grandfather in Tonga 20 years ago. He says 70 per cent of his customers want to copy players from the NRL and Super Rugby and 20 per cent want to copy NBA players and American hip-hop performers. The kids want haircuts like those of Sonny Bill, Shaun Johnson (Warriors) and Israel Folau (NSW Waratahs, Wallabies).
Takapu is still razor-cutting decorative lines into the hair four or five times a week, but these days it's mostly for kids.
WestSide's YouTube video is done in a hip-hop style, with barbers switching between Samoan and English and plenty of gentle giggling. At one point it focuses on the barbers' own tattoos. Ray has scissors on his calf. Murray has the clipper on his huge bicep. Josh has the cut-throat razor.
DJ has the chair and barber pole: "I got it 'cos I'm proud. My manager's got a scissors and my brother's got a cut-throat and I didn't want the spray bottle, so I got the chair. I wanted the colour of the pole because people just think it's like ice cream or something."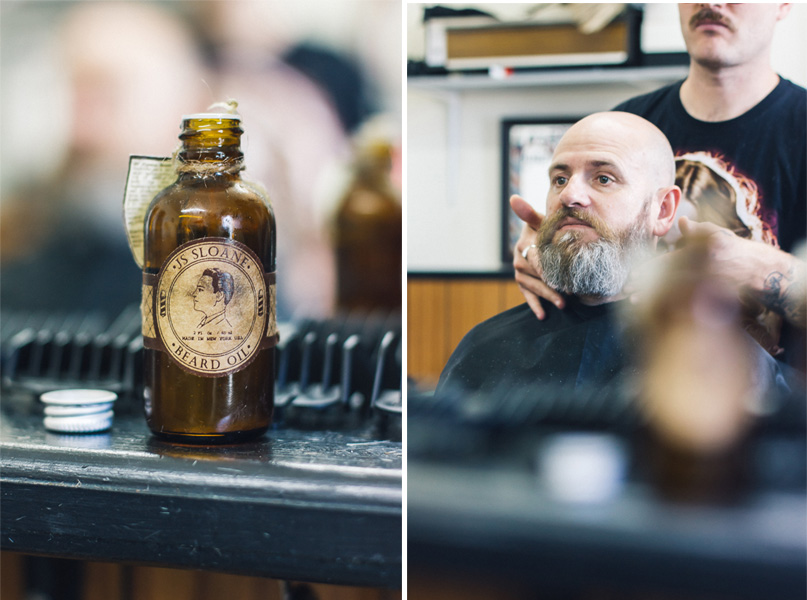 Neville Spence is old school; he did short-back-and-sides in the 60s, and has seen the industry grow. No matter how many barbers Spence and wife Jacqui train at their Mr Barber training centre, there are jobs waiting around New Zealand and Australia.
He says theirs is still the only dedicated barber school in either country. The central-city spot is always busy, with 20 trainees in white jackets and three tutors on the floor at any time. The punters line up every afternoon, and some mornings, for free haircuts.
Spence is still a youthful figure, balding with slim sideburns tapering across his cheekbones. He walks the floor supervising, examining the technique of students coming in to finish their diploma after six months in the workforce, teaching, demonstrating and taking the handpiece.
At 15, he did his apprenticeship with "Ten Pound Pom" barbers at the London Line salon in Victoria St. "Heck, yeah, they could cut. They were really qualified barbers — they were the first ones that washed guys' hair. This was just before long hair came into fashion.
"Everybody was getting their hair cut every two weeks, then all of a sudden they were getting it done every three months. All the barber shops went under; no barber passed on their skills because nobody wanted to be a barber. Everybody wanted to be a men's hairdresser or hair stylist. Men's barber was like the f-word because it meant short hair."
Subsequently, there were years of hairdressing, then when he and Jacqui opened two barber shops, they couldn't find enough barbers with any formal training. So in 2000, they started the school. Spence is the master of quick relationships, the firm hand-on-shoulder clasp, an "All right, mate?" to relax the customers. He's friendly, kindly, light on his feet, direct.
It's a necessarily intimate profession, and one that relies heavily on trust. Around the room, Pasifika, Pakeha, Maori, Middle Eastern, Indian and Asian men are gently tending to customers. "If I touched guys in the street the way I touch the customers in here, they'd want to fight me, they'd punch me," Spence says.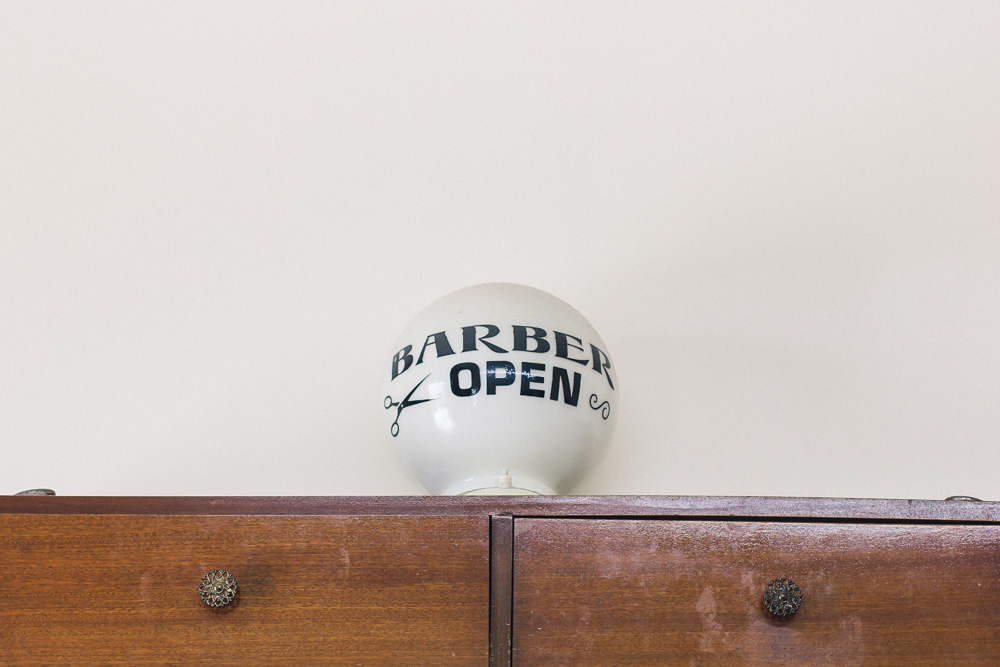 The beard is back. The shorter men are cutting their hair, the more they are growing on their chins. Overseas pundits have begun asking if the beard has peaked, but locally the forecast is for continuing stubble — at least in the short term. With half the All Blacks and half of England's rugby team bearded during the 2014 test series, the beard has certainly gone mainstream.
"You're getting that strange look now of the sportsmen with their great big beards, hair on top and shaved on the sides," observes Spence. "I call it a disconnected beard with whitewalls, because the skin underneath's all white. It's a horrible fashion but they want it. You see it across all codes but I think the soccer guys might be a bit cleaner."
Spence certainly won't be growing a beard: "My wife reckons I'd look like a bush pig."
Nor will Frizzell: "The beard thing is beyond me. It's just something I'm not gonna do. However, there are some men out there at the moment with fine beards. If you can pull off that look and can be bothered keeping it nice and trimmed, all power to you."
The early Victorians viewed facial hair with distaste and thought moustaches were for fringe dwellers, artists and revolutionaries. Late Victorians went for muttonchops and manly handlebars, but subsequently big facial hair again went out of favour — thanks, perhaps, to the implication there was some correlation between truthfulness, hygiene and being clean shaven.
"It's hard for young people to believe the uniformity of clothing and appearance when I was young," observes writer Gordon McLauchlan. "I can recall sitting on a bus in Napier in the early 1960s when a man with a beard got on, the first one I had seen for years. The provincial guy I was sitting with became increasingly uncomfortable, even aggressive, muttering about who did this bloody guy think he was. This man was drawing attention to himself, you see, something you didn't do then, especially in provincial towns."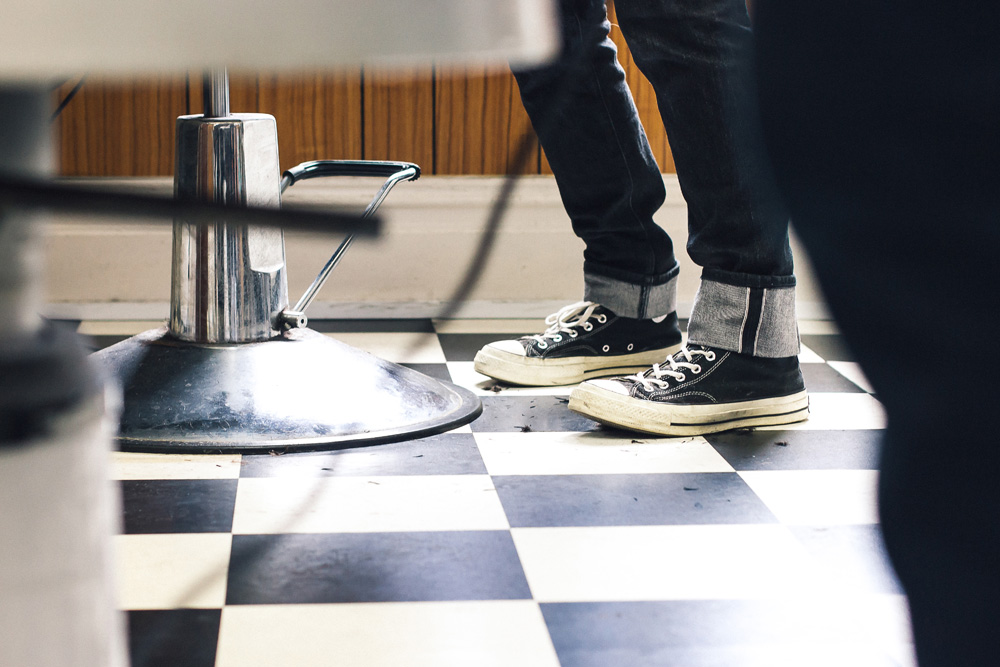 The modern beard emerged in the 1990s and strongly in the 2010s with the modern hipsters of Williamsburg, Portland, Hackney and Spitalfields, who were loosely associated with alternative music, non-mainstream fashion, alternative political views, recycling and organics. But what started out as a statement of non-conformity is now being used by the mainstream to convey masculinity, classic style and authenticity.
A smart man will get his beard groomed. At WestSide, clients are following the chiselled beard styles of LeBron James, the NBA player and first black man to make the cover of US Vogue.
Ray Opapo — who's since left WestSide  to set up Humble Cutz in Henderson — wears his beard slim and close along his jawline in a LeBron James style. He's the barber with the scissors tattoo on his calf, he listens to Niu FM and the rest of his visible tattoos are traditional Samoan. Opapo is one of the barbers cutting patterns into beards, sometimes bringing the pattern down from the scalp, a skill that they freehand and which shows a natural artistic bent.
From quite another subculture comes chef and musician Tim Stewart (Hopetoun Brown, Supergroove). He's a big bear of a man with a full beard and bald head, and so is his civil union partner, Murray Bean. The beard came — 35 years ago for Bean, 20 years ago for Stewart — with the bear side of gay culture and its biker and lumberjack style, says Stewart. "I guess it's just wanting to hang out with other dudes who have big beards and are big and masculine."
A hipster trend that may not catch on with bears is the flower beard. Yes, trending on Pinterest and Instagram in July 2014 were men with gorgeous floral arrangements woven into their beards, way beyond any stray flower that may have made it into the 70s hippie beard.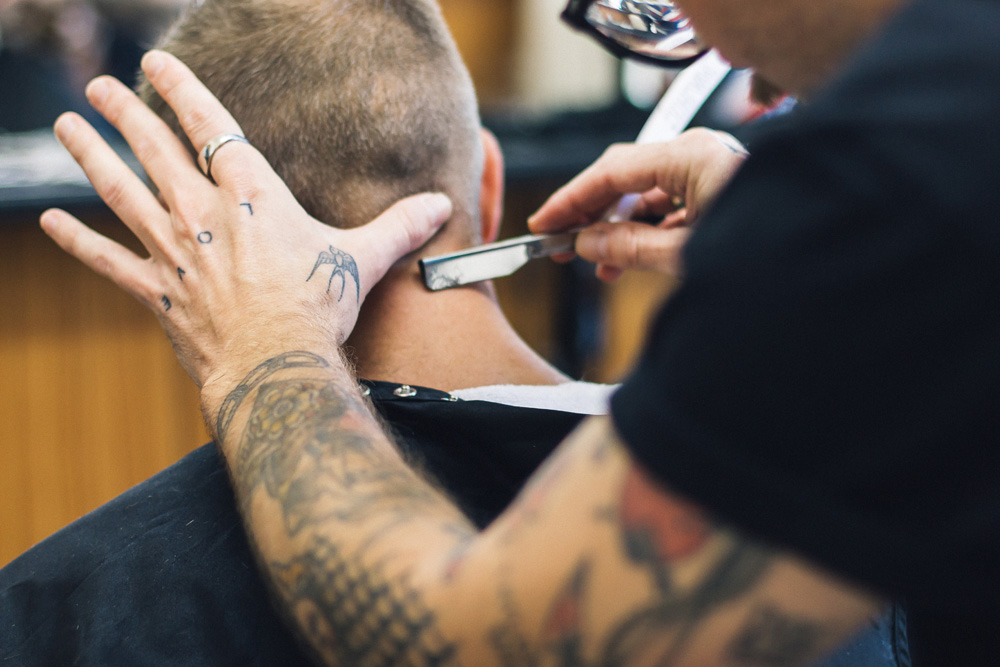 There is a whole world of marketing, branding, tweeting and blogging about the bearded lifestyle. There are countless online moustache wax tutorials, bearded profiles and web pages with grooming and styling tips and products. The urban beard brings with it a mashup of ideas like the drive for independence and freedom and the ability to break through societal pressures.
Tom Cunliffe, 28, is a Grey Lynn advertising creative whose daily business is to keep up with popular culture. Longhaired Cunliffe's worn his beautiful big red beard for about two years. "I just feel more comfortable, I feel like me."
He's discovered that a little beard grooming goes a long way. In London in 2014, he treated himself to a trim — currently costing £16–£45 ($32–$90) — at the very stylish barber Murdock in Covent Garden. "It was really cool. You have a whisky and there was a rockabilly guy there who was the beard trimmer."
Cunliffe keeps his moustache comb and other accessories in, of course, his Beardsman's Box, a clean, modern design that offers "style for the urban beardsman", by Beardbrand. (It tells its clients: "You are not part of a fad; you are doing what is intended by nature.") His beard box came with Woodsman Beard Oil — and he uses moustache wax: both are from The Bearded Bastard in Austin, Texas.
He could have bought New Zealand-made Lambert's Luscious Beard Oil — which comes in Natural, Rugged, Urbane or Buccaneer. Or from another local brand, The Bloke, The Lumberjack beard oil; instructions read, "Rub it in your beard. Pick up an axe. Chop some wood."  Or The Woodsman — "like dipping your beard into some New Zealand bush".
There's more than a dollop of ironic humour in all this interplay between urban hipster and wannabe woodsman. Cunliffe was amused that Sitka, a hipster outdoor clothing store in Newmarket, was even selling a boutique axe, a hand-forged, small Swedish all-rounder, for $249.90 with leather sheath and 20-year guarantee. And people buy them. Twenty axes were imported for Christmas 2013 as a one-off and most were sold by the middle of 2014. It's got a waiting list, and has ordered more.
A 2014 University of New South Wales study showed the more beards there were, the less attractive they became, giving clean-shaven men a competitive advantage. But for some men, the equating of beards with virility may still be a recipe for insecurity. Overseas newspapers reported that men were getting hair transplants from the back of the scalp so they could have beards like George Clooney or Brad Pitt.
Certainly all this facial hair has caused a downturn (estimated at around 10 per cent) in razor sales and the razor companies are busily co-opting the trend by promoting beard trimmers. Schick's response is the Free Your Skin ad campaign, which almost fetishises the feral appeal of men with various rodents entwined in their full beards.
Gillette's Fusion ProGlide Styler is now promoted for whole-body use. In their ad series What Do Women Really Want?, Kate Upton and two other impossibly airbrushed models encourage men to shave below the neck. The man who styles everything gets the hurrah from the ladies.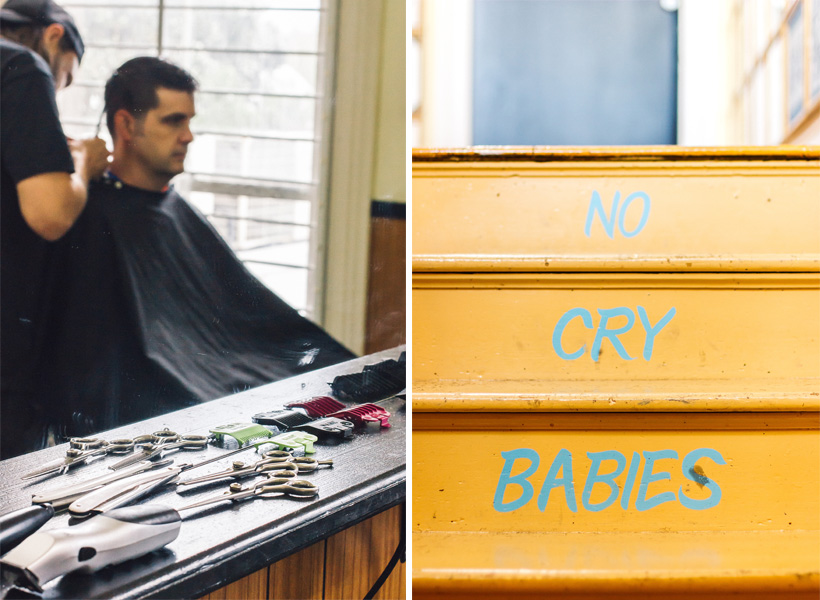 The beard has come in line for some lampooning, though. In her open letter to bearded hipsters, blogger Nicki Daniels says the beard has turned into the padded bra of masculinity. "Sure it looks sexy, but whatcha got under there? There's a whole generation running around looking like lumberjacks, and most of you can't change a tyre."
She declares that the beard is a symbol of quiet desperation: "Thousands of years of evolution priming you guys to kill stuff, and chase stuff, and fuck stuff…. and now what? You're stuck at a desk all day. No battles to fight. No wars to wage. So you assert your masculinity the only way you know how."
As if gender were that simple. The bearded Austrian performer Conchita Wurst, who won the 2014 Eurovision song contest wearing a super-feminine sequined gown and wig, plus an immaculate dark beard, emphasises the notions we have of gender and sexuality being one thing or another rather than on a continuum.
Given that facial hair marks puberty, it is certainly one sign of maleness. As with the short back and sides, some men chose a beard to look more masculine for each other — a kind of contemporary pissing contest.
Women may not always like what men are doing with their hair, but they're certainly watching: "I'm obsessed," says one thirty-something cafe owner. "It's like, oh my god, look at the hair! What sort of beard has he got? I wonder if he's tattooed? Are the glasses real?"
Cunliffe used to get women asking about his beard — "Is your girlfriend OK with this?" — which he found a bit offensive. But he doesn't now. While the traditional assumption is that kissing a bearded mouth would be like getting romantic with a hedgehog, women often find beards are rather soft — and certainly less abrasive than a vigorous five o'clock shadow.
Men go along with all sorts of weird fashions, often initiated by women — the recent surge in orthopaedic-style footwear, for instance. Beards are a trend men have all to themselves, but it's simply another fashion — and like the chinstrap and the soul patch, the beard, too, shall pass.