Sep 4, 2019 Fashion
Peta Mathias – food writer, television show presenter – talks about her enduring love of a colourful outfit, and how life sometimes doesn't turn out the way you think it will. As told to Frances Morton.
I was 17 when my mother made this silk voile dress (below) for my debutante ball at the Town Hall. I went to St Mary's College in St Marys Bay. The dress was pretty untraditional at the time. I was in love with Mary Quant. I wanted the neckline to be much lower, but my mother refused.
My life has been nothing like I thought it would be at 17. I was still quite conservative, and I assumed I'd be a nurse and get married and have a family. It was only when feminism and the social revolution of the 60s and 70s hit us that I realised I didn't have to follow the prescribed path.
I did nursing, then became a hippy and wore hippy clothes with long hair and bare feet. In 1974, I went to Canada. It wasn't until I moved to Paris in 1979 that I became seriously interested in fashion. I was very influenced by the way Parisian women dressed.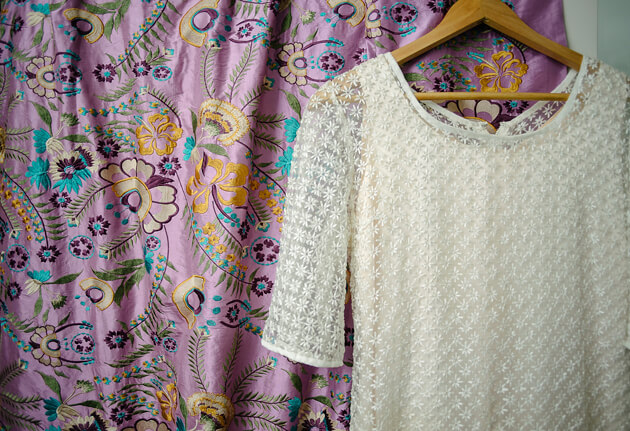 I had been living in London and had a failed love affair. I was working as a cook in a cafe and this French girl came in. We got talking and she said, "Come to Paris. You're much more made for Paris than London." So I went over to visit her and fell hopelessly in love with Paris and stayed for 10 years. I married a Frenchman and opened a restaurant.
I had a Clementine Couture suit that was for if I was going to the theatre or out to dinner. There is no reason to hold on to it — I would never be able to wear it again — but I can't let it go.
When I came back to New Zealand in 1990, I was working as a chef, then in 1995, I published my first book, Fête Accomplie, about my life in Paris. That book changed my life because it turned me from a cook into a writer. The executive producer of the lifestyle division at TVNZ asked if I would audition for a new show called Taste New Zealand. I had a budget for buying a wardrobe. That's when I became addicted to designer clothes. I got things like this Trelise Cooper skirt (below).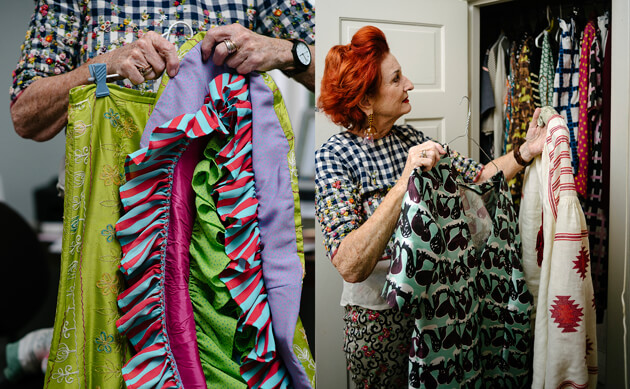 New Zealanders like wearing black. Our national personality is not to be show-offs. We like style, but we don't like people looking at us. You have to have a lot of courage to wear colour, but it just makes me happy. That's why I do it. If things are not going well in your life, making yourself a beautiful meal and putting on a beautiful garment is a really cheap way to make yourself feel happy. Much cheaper than going to a shrink.
This is a Marni dress (above) I bought years ago. So beautiful. Most of my Marnis are in France. Now I have a house in Uzès, I keep three big wardrobes here and three big wardrobes in France. Once I've finished my six months in France every year, I do food tours in India and come back to New Zealand. If you're travelling, you can find these designer clothes in sales.
At the moment, I buy quite a lot of Indian clothing (below). This top is Indian — Péro — it's hand embroidered. The pants are French, by Souleiado, who use southern French fabrics inspired by India. They've been doing it since the 17th century.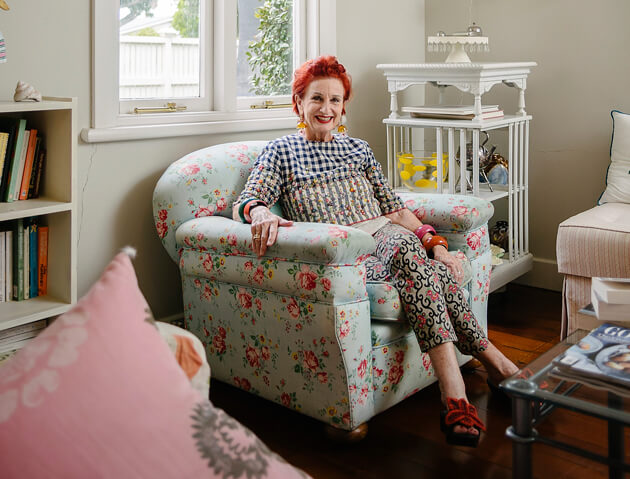 Tattooing is a transformative thing; you're telling a story on your body that can never be removed. I have a tattoo on my shoulder of a rose, and below it is written "La Vie en Rose". I do tend to see life through rose-tinted glasses. And I do sing Edith Piaf. I studied opera at school; that's why I was at St Mary's. Sister Leo was my teacher. When I left school, I dropped opera and reincarnated myself as Joan Baez. I tend to really overdo it with my performance clothes. This whole outfit is Rajasthani (main image).
I had no inclination to go to India or Asia — I was very Eurocentric — but India gets under your skin. It's so over the top, the way Indian women dress. They wear rings in their noses and on their toes. They wear what looks like tinsel on their saris, especially in Rajasthan. I went to research a culinary tour there and I thought, oh my god, I want to dress like a princess every day.
This piece originally appeared in the May-June 2019 issue of Metro magazine, with the headline "Her true colours".