Jun 17, 2014 Fashion
The tougher the day – giving birth or going into hospital with cancer – the more important the clothes. How to face the world, one dress at a time.
It started with a World dress. Floral, buttoned through the waist and replete with shoulder pads. Not Balmain-cool pads, but the non-ironic variety. The year was 1993 and I was graduating from high school. I'd driven to Auckland in my grandmother's 1976 Hondamatic with an open cheque from my parents and permission to buy a dress befitting the occasion. Back then, World was opposite Unity Books on High St and it sold Karen Walker. But on this day it was a World dress that caught my 17-year-old eye.
Obviously, I'd worn clothes before. But this was different. Until this fateful day, my exposure to fashion had been tragically limited to the finest Hamilton had to offer. The day the local Jean Jones opened, I took my lunch money and layby'ed some shorts (I'd wanted a dress, of course, but my lunch money didn't cover the minimum deposit). I then mowed all the lawns in the neighbourhood until a few months later I was able to pay them off.
Jag and Thornton Hall were a whole new level. Clothes from stores of this prestige required more than lawnmowing, so I set up a company renting pot plants to local businesses. A pair of salmon Country Road jeans (as attractive as they sound) were my first mail-order item, purchased to be worn with a grey marle Jag hooded logo top for a school mufti day (the front of the top was tucked in while the back was left loose), and life wasn't worth living unless I could own a Jag watch. Which I eventually did.
Post-World dress I was hooked. The subsequent move to Auckland was ostensibly so I could do a BA, but was really for the university's proximity to High St. I barely knew what a fashion magazine was, but I'd heard some names on the street — Workshop! Streetlife! Standard Issue! The fact I didn't know anyone in Auckland didn't bother me. I had a student loan and a job as a check-out operator to fund my rapidly growing compulsion.
Next, a maroon Karen Walker maxi-skirt. This looked fetching when worn with my blue-and-white-striped Levenes shirt. Working the check-outs never looked so good.
A Workshop linen shirt was my first "It" item. I don't know how I thought a shirt so long could look good on one so short.
I've worked for clothes my whole life. The irony of that isn't lost on me. By the final year of my BA, I was working 40 hours a week and barely had time to attend lectures, let alone write essays. But damn  did I look fine. This was a particularly fertile time for my look — many of the pieces purchased in this seminal period are still tucked at the back of the wardrobe. I like to think of my student loan as capital in a fine-art investment. The pieces may never be worth more than a few dollars on Trade Me but their cultural significance is immeasurable.
A Workshop linen shirt was my first "It" item. I don't know how I thought a shirt so long could look good on one so short. But that was beside the point.
Next up, a black Sister leather jacket. My favourite-ever item of clothing. A big call but one I'm happy to make. Unlike film and music snobs who are too scared to commit to one above the rest, the memories of youth, innocence, rebellion and daring are too strong for me to deny that jacket its place in history.
I vividly remember the day I bought it. I'd been eyeing it up for a week, desperately awaiting the first instalment of my student loan. It was locked onto the racks, it was that precious. A staggering $550. They unlocked it for me, I tried it on and had to choke back tears, it was that beautiful. I wore it out of the shop and wear it to this day.
Soon after, I applied for a job in the Sister store. To my interview I wore a mid-calf satin pencil skirt, a baby-pink fine-knit V-neck sweater with orange detailing, and of course the leather jacket. How could Kate Sylvester, the Sister designer, turn me down? No more check-outs for me, I now had a wholesale discount at my disposal, and a staff layby system that meant my student loan could be spent on, you know, books and things.
Everyone remembers where they were when Princess Diana died. I remember what I was wearing — a frivolous outfit, totally at odds with the occasion. I was working in the Sister store in High St that day and, as was the fashion, I was wearing about eight different items of clothing. The look wasn't derelict chic, à la Olsen twin, but more "my house is on fire and I have to wear every item of clothing I own outta here". On this particular Sunday, it was a pair of tight black Lycra trousers that, sensibly, I'd covered up with a green skirt with a red lace overskirt. Over this ensemble I'd thrown a sleeveless shirtdress, unbuttoned to the waist. My delight in concocting such a spectacular get-up was marred by news that my beloved Diana had died. I swiftly removed the festive green-and-red skirt so that I could sport more appropriately sombre attire.
Zambesi were the smartest at the multi-layering trend. You needed a PhD to get their clothes on (and that was once you'd braved the terrifyingly aloof shop assistants). Plus you needed a bit more than a student loan to fund them. One of my cherished purchases was a midnight-blue Zambesi sheer mesh overdress. I used to wear it with my tight Sister pencil skirt and a tank top. It was, in the words of Nina Garcia, perfection. The kind of piece you'd keep forever. Unfortunately, these were the days before public smoking was outlawed and the first time I wore my dress to Cause Celebre half of it disappeared, just evaporated after coming into contact with a cigarette. Warning: Cigarettes may be hazardous to your wardrobe.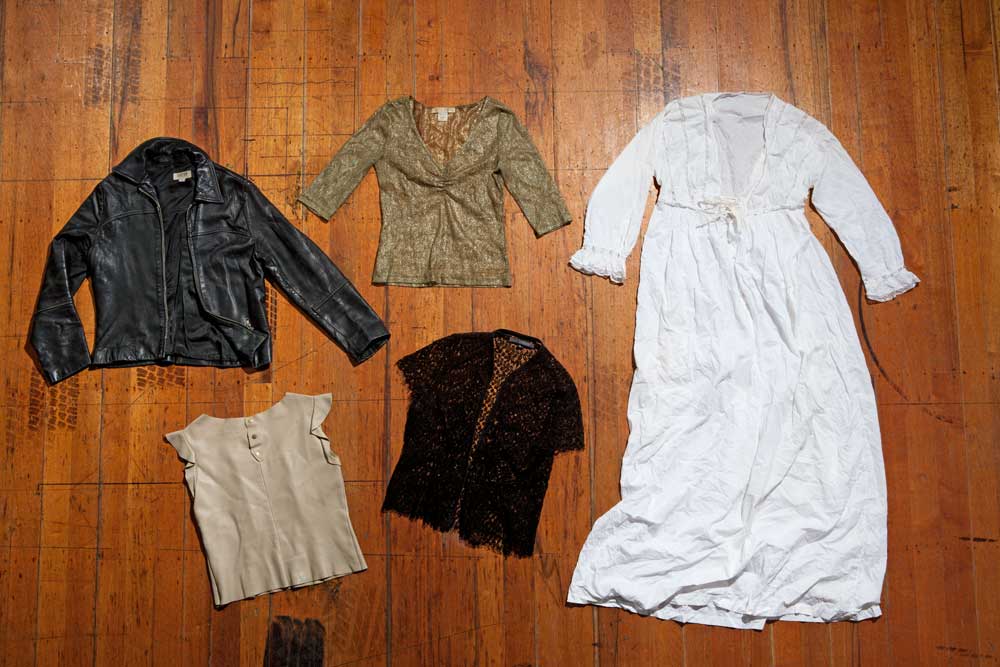 I was wearing a black, tailored Sister "Marcello" coat and Costume National ankle boots when I left Auckland for Melbourne in 1998. I was undertaking post-graduate studies but a "part-time" job at a new, upmarket department store was soon to take preference over school work. Marc Jacobs (pre-Vuitton), Lawrence Steele (pre-Brad and Jen), Jimmy Choo (pre-Sex and the City), Marni… My mind was officially blown. I may have been studying art curating but it was at work that I felt like I was walking the floors of a gallery.
Alas, Melburnians didn't have the same appreciation of fashion as I did, and when it became clear we weren't shifting the stock, a gift-voucher-based commission incentive was launched. I started skipping uni to take on extra shifts. Sheryl Crow, Kylie Minogue and countless Australian starlets all helped my sartorial dreams come true as suddenly, thanks to many big sales, I was able to purchase clothes I'd never thought possible.
After graduating from university (in Marni, in case you were wondering), a brief sojourn working in the Melbourne gallery scene made me swiftly realise that industry was never going to keep me in clothes. It was time for a "real" job. I wore a gold lurex Collette Dinnigan top, Scanlan & Theodore A-line skirt and Sigerson Morrison slides to the interview where I managed to wing a job as a writer for an online magazine in the first heady wave of the dot.com boom.
My sadness at moving away from retail perks was helped by a Gorman camel-coloured fitted leather shell top with frilled sleeves — a gift from the designer Lisa Gorman to wear to the opening night of the 2000 Melbourne Fashion Festival. I was the first journalist to interview Lisa, and the top was a token of her appreciation.
I knew my shopping had gotten out of hand when I made a trip to Sydney to cover Australian Fashion Week. Strolling around Paddington, I spied a divine turquoise handbag in the softest baby leather in the Corner Shop. Luckily, the shop assistant was so insouciant there was no chance she could glamour me into a purchase so I doggedly kept my head down and got out.
Congratulating myself on a close call, I walked into Robby Ingham feeling invincible and there I saw them — Costume National sandals in the exact same leather. I quickly backed out the door and ran for the airport. But the image wouldn't leave me. It followed me around for days, I couldn't work, couldn't eat. I knew there was only one way to exorcise it from my system. So I got my credit-card limit extended and flew back to Sydney. In hindsight, it would've made more sense to buy them over the phone. But that was the problem — in the face of beautiful things I lose all sense.
In the early dot.com days, investors threw money at you in an attempt to make themselves hip to an ever-discerning youth market. Unlike today's fashion bloggers, I took home a lovely pay cheque each week. Once the industry crashed and investors pulled out, my wardrobe and I relocated back to New Zealand. But not before I held an ill-advised garage sale where for the first — and definitely the last — time, I parted with some of my treasures.
I still flinch when I think about what I did that day. My long black Zambesi coat with the Mandarin collar that kept me warm through my first Melbourne winter, my blue-and-white-checked Sister smock that I wore to my first Australian Fashion Week show in 1998. My Workshop denim jacket with a leather collar dating from that first year in Auckland. Gone.
I bought Sophie Kyron gold-and-brown earrings for my mastectomy, two years after I'd arrived back in New Zealand. I was 26 and I was in shock, I guess. The diagnosis came from out of the blue.
What to buy when your body is under attack and you're facing six weeks in bed? Earrings.
How to cope? Go shopping. What to buy when your body is under attack and you're facing six weeks in bed? Earrings. Of course I was asked to take them off before the operation and afterwards I couldn't move my neck, let alone my arms. Putting earrings on was a low priority. Still, I kept them as a symbol of innocent optimism — and my belief that the right outfit could get you through any situation.
Of course, there was a diagnosis outfit as well but I threw it away and blocked the details from my memory. Part of me blamed the sweater. I could never have worn it again. Didn't even think it appropriate to donate it the Salvos. You know, just in case.
My favourite memory from this time: an '80s prom dress selected by a dear friend with an uncanny ability to dress people. I was too ill to go shopping and it was for a dress-up party for the opening night of my new boyfriend's film festival. I'd invited friends over to have drinks and get dressed with me first, only to be told they were having drinks with other friends instead, with no invite extended to me. Clearly a bit of a downer. These were the hardest things to live with, harder than losing my breast and hair.
So the presentation of the perfect dress — navy, with a three-tiered ra-ra skirt, solid sweetheart neckline and mesh fitted top — made me feel loved and less alone. As did other sartorial gifts from this time — a striped beanie in the softest velour, from Kate Sylvester, who was my boss again, and a pair of black knee-high Uggs from Karen Inderbitzen-Waller. Flowers were wonderful but these little gifts are lasting reminders that people cared.
I'd been wearing a borrowed Topshop lace tank the night I met this boy, my future husband, six weeks before my initial cancer diagnosis. It was a balmy evening in January 2003 and the long straps kept slipping off my shoulders in a way that clearly appealed to him. The more I drank, they more they slipped. My top and I flirted our way into marriage. Except, of course, it wasn't my top, it was somebody else's. The memory seems incomplete without the actual top to gaze back upon and since that night I haven't borrowed clothes again.
My wedding dress: the ultimate fashion keepsake. Made by Kate Sylvester and her assistant Sally, with metres of scallop-edged vintage cream lace, sweetheart neckline and black velvet sash. I resisted getting it drycleaned afterwards, the grass stains and marked lining all part of the memory.
I'm so glad I went bridal, after flirting with the idea of a more practical, Grecian-styled sundress.
Wedding dresses shouldn't be worn again. I had the shoes for that — black velvet Marc Jacobs pumps brought back from San Francisco by my future husband with the help of (randomly) Lisa Loeb. He wasn't to know they were a perfect match for the black velvet sash of my dress.
The day of the Kate Sylvester show at New Zealand Fashion Week 2007, I was 35 weeks pregnant and wearing a black pleated Kate Sylvester shift dress, belted at the waist, homemade footless tights and black Marc by Marc Jacobs plastic flats. I was working as Kate's PR manager and I took a break from setting up seats at the show to have a routine blood test. I was naked, in the bath, two nights later when my husband took a call from my oncologist. He said it appeared I had secondary cancer.
I didn't care about clothes after that. That late in my pregnancy there was nothing I could do but wait until I'd given birth before they could specify or even confirm. I tried, I really did. A Marc Jacobs baby-doll dress was worn with a Kate Sylvester lace shirt to the premiere of my husband's first feature film three weeks later. But I just didn't have it in me. That dress is now pushed to the back of the wardrobe, slipping off its hanger and lost between clothes I no longer fit. I know I'll never wear it again. I was miserable that night, 38 weeks pregnant, mentally and physically tortured, observing a roomful of carefree partygoers. (For some reason I've managed to forgive the shirt. It had seen some great times before that night and I know it will again.)
I wore a Glassons dress when I waddled into Auckland Hospital to deliver Toby and in the days following. The first 10 weeks of my son's life were a devastating mix of highs and lows. I tried to stay resolute in my certainty that I was well, but it was hard in the face of sleepless nights.
Of course, the whole thing was eventually determined to be a hideous mistake. I celebrated with a pair of Chloé wedges.
A vintage nightie from Victorian Gilt was remodelled by Ingrid Starnes last year for the birth of my second son. I wanted to celebrate his birth by having the energy to care about what I was wearing, for this, my second child. Now I have the most beautiful nightie to swan around the house in, replete with memories of awe and wonder — both of precious little Vincent and my own, much maligned body, now healed and performing miracles.
Nowadays, I'm also making memories through my children. An impossibly small Petit Bateau white ribbed one-piece, a "Mon Premier Chloé" jacket purchased at Harvey Nichols, all fiddly buttons and first-time-parent naiveté. Carefully folded and put away in my wardrobe. Reminders of those sweet, healing, warm babies they came with.
I know I'm fickle. Shallow even. I've long accepted it. Material things to commemorate and celebrate, a reminder of the good times and of surviving the not so good. Who needs a camera when you have a wardrobe? The clothes that hang in my closet are more evocative than any photos — rips, stains, smells and all.
First published in Metro, November 2010. Photos: Ken Downie.