Mar 5, 2016 Fashion
Morgan Maw, the entrepreneur behind Bonnie Goods, shares her life in clothes. 
This article was first published in the March 2016 issue of Metro. Photo: Jane Ussher
I wore this dress (main picture) to our post-elopement celebration in New Plymouth. We eloped to New York. We picked up our certificate from City Hall and went to Central Park, in April 2014. I always liked the idea of not having a big wedding. It sounds totally selfish but we were going to Coachella [music and arts festival] anyway and we had friends in New York and thought now is the best chance.
"I didn't wear my wedding dress … I wouldn't have felt comfortable. And maybe I just wanted an excuse to buy a dress."
Our families were really understanding. They said, "That's totally fine as long as you come back and have a big party on your return." So we did — in New Plymouth a few months later, across the road from my childhood home. There were about 120 people. It was pure party.
The one thing that had a bit of a wedding slant was, being a baker, I just love cake, so I wanted a table that was laden with cake. I asked all the women in my life who are really good bakers to bake their favourite cake.
I didn't wear my wedding dress. Maybe because it was at the Huatoki Tennis Club — it was such a casual setting I wouldn't have felt comfortable. And maybe I just wanted an excuse to buy a dress. It's from Reformation. They're an LA-based brand and they recycle vintage materials.
I've got so many aprons, but this one is my absolute favourite. I love linen. It's from Father Rabbit. I don't use it on my smoked paprika baking days because I would hate to mark it. My mother has always been a big baker. It was totally naughty but after school we'd always have slices and cakes. At the age of eight, I baked my first chocolate cake without any help.
I went to Sacred Heart Girls' College in New Plymouth, then university in Wellington to do a bachelor of commerce degree in marketing and HR. I always had the idea of starting up my own business but I wasn't sure what.
We left New Zealand as soon as I finished university and went to Scotland. Nic and I have been together since my second year of uni. I joined a couple of baking clubs when I was overseas, which are just like book clubs except each month there is a different theme. It could be gluten-free, or fruit or cheese.
I came across oat cakes in Edinburgh. I started to make them a lot and try them out on different Scottish people because they're going to be your truest critics —  it's their national cracker.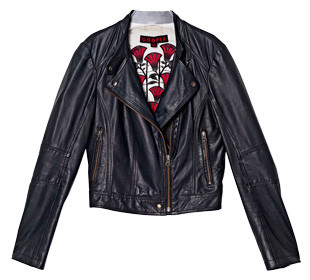 I started Bonnie Goods at the end of 2013 at La Cigale Food Market in Parnell. That's where this leather jacket comes in. I wear it all the time. I got this when I worked at Trelise Cooper three years ago. I only had 28 cents to my name when I came back from overseas so I needed a job.
On the way back we went through Europe and did the WWOOFing [Willing Workers on Organic Farms] thing. Then India. When we left Sri Lanka, we caught a tuk-tuk but didn't have enough money to get us the whole way to the airport so the driver dropped us off at the side of the road with our backpacks. It was raining. We had to walk two kilometres to the airport.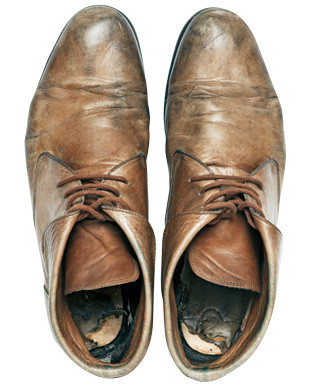 I came back and went to my parents' place. Trelise Cooper was doing an event in New Plymouth. I thought she was a really good speaker. Although I had never worked in fashion, I approached her about getting a job. She gave me a job doing marketing and lending out samples and a little bit of sales, so I moved up to Auckland. I met some lovely people but the fashion world wasn't for me. Once I had the confidence and enough capital to start up, I left. I was there for only nine months but I got some beautiful garments in the process.
These are my trusty leather beat-up shoes. I got them the first week I moved to Scotland, five years ago. They are my everywhere shoes but also my gig shoes. They took me, most memorably, to Glastonbury, which was really muddy. Beyoncé was playing and Radiohead did a surprise set. I just love music and festivals. With Nic, that's a big part of our relationship. We just took a trip down south and went to see Kurt Vile at Port Chalmers. I think I'm going to do WOMAD this year. It's in New Plymouth.