May 5, 2015 Fashion
Minnie Baragwanath: Chief Executive, Be.Accessible.
Interview by Frances Morton. Portrait by Sarah Grace.
I needed a beautiful dress for an award ceremony, so I went off to Miss Crabb and saw this stunning silk dress — pink and cream and quite feminine with a little quirk to it. About two days before the event, I showed the girls at work and one of them said, "I love the juxtaposition between how feminine it is and the skulls and crossbones."
My mouth fell open. I honestly had no idea. I thought I'd bought a dress with cool little flowers stitched on. I love the idea of skulls and crossbones but it didn't seem quite right when I was receiving an award from the Governor-General. It was the Peter Blake Trust leadership award in 2013.
My team at work will often jokingly say, "Oh Minnie you're not really blind." Either I'll have bought a piece of clothing or I'll notice something that they're wearing. I'm the person that notices someone has had a haircut when no one else does. I notice people's silhouettes. I may not see the detail of their makeup, or even who they are, but I get a printout of their outline.
When I look at my own face in the mirror I can only see bits at a time because the thing I focus on disappears a little bit. If I can do bold lips, well, then my lips are there. My face is there.
When we were teenagers, my mother had a clothes shop called Cumin (as in the spice) Clothes. It was very cool in the 80s in Palmerston North. We grew up with an awareness of what people wore. Mum used to despair because I'd always end up in school plays as the boy or the worm or the devil — the very unfeminine roles. I went to a friend's birthday party as a cavewoman. Everyone else went as fairies and princesses and I went in a fur waistcoat with a bit of rope tied around myself and mud rubbed on my face and bare feet. Having three brothers you run the risk of being quite a tomboy.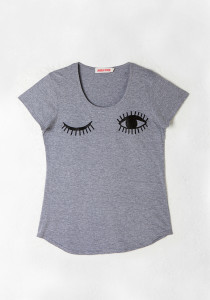 The T-shirt is by Andrea Moore — who I went to university with in Wellington. I love it because of the eyes. It's like a little joke for me. It's got something sparkly on it. With my sight condition, Stargardt's, I see flecks of light over everything. Even if it didn't have sparkles, it would have sparkles.
I have a friend Sarah, who works with me, who is also partially blind. We joke about the fact that neither of us uses white canes. We want to get a T-shirt range designed. One of them would be "Too vain to use a cane".
Be. Accessible is a social change agency with a sole purpose of making New Zealand the most accessible country in the world and the best place to be for all people. We're very brand-led. One of the biggest challenges is how we make disability something that every New Zealander — whether you're the CEO of a big corporate or running a local cafe, or a kid at school — a brand you can identify with.
We took the colour palate for a lot of Be off a beautiful necklace of mine and an amazing chartreuse coat that belonged to my friend's great-aunt that I used to wear all the time — it's not in great condition now. The brand — dare I say it — is very closely aligned to me. It's about positive, bold, vibrant, engaging colours.
The bag is made from recycled Italian wetsuits. It's Nicola Waite. I'd seen this in Australia and absolutely loved it. Then my boyfriend at the time, that ended, and I said, "Then I think you need to buy me that bag." Not a day goes by when I don't get stopped by someone, male or female, to ask me about it.
And I get hooked onto people. I was at a hotel the other day and I was getting myself some breakfast from the buffet — I hate buffets because I can never see what I'm getting. This nice guy came and unhooked me. I've been hooked on people's belts, and door handles. So it is a very funny bag. It has a life of its own.