Apr 2, 2015 Fashion
Former Fur Patrol frontwoman Julia Deans has taken to the theatre in recent years, with starring roles in Jesus Christ Superstar and Brel. During the Auckland Arts Festival, she channelled Billie Holiday in Lady Sings the Blues, at the Festival Club's spiegeltent in Aotea Square. Her wardrobe reflects a deep appreciation for stories of the past.
Interview by Frances Morton. Portrait by Mark Barber.
I'm a terrible anthropomorphiser of objects. It means I'm good at looking after my things and when I lose something I get really upset. Say if I've worn a pair of jeans until they're indecent, or shoes, I usually take them out to the bin and say a little thank you and pop them in. It's terrible being so sentimental because I'm a chronic hoarder.
The floral skirt (main photo) — it's actually me trying desperately not to wear so much black. I live around the corner from a huge Savemart and pop in there sometimes if I need to go for a walk. I found this skirt and thought, "That looks good and summery."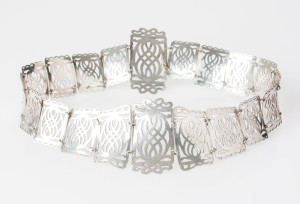 The belt — I picked this up on a recent trip down south at the Mayfield Emporium, which is New Zealand's best-kept fossicking secret. It's a nurse's belt. Apparently when you became a registered nurse they used to give you these. I'm not sure how old it is — early to mid-1900s. It's sterling silver. It was black as pitch but my magpie eye saw it and I cleaned it up. Mayfield is en route to Geraldine if you take Thompsons Track about an hour and a half out of Christchurch, where I grew up.
We got a lot of our clothes from second-hand stores when we were kids. Mum's got a good eye. We weren't a very well off family. I went through a phase when I left home and started earning money of only wanting to wear brand-new clothes but I really swung back the other way.
This is my granny's ring (main photo). It's a star ruby. Her aunt brought the stones back from Burma. Apparently she had another one that was exactly the same except sapphire and she took it off to milk the cow and put it on the hay bale and forgot about the ring. To this day they don't know what happened to it. The cow couldn't have eaten it. The cow had its head in stocks. I wear it a lot. I think precious things should be worn.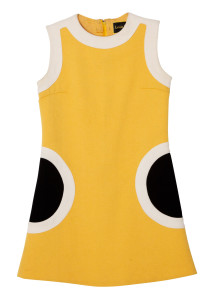 Actually, something I own and never wear is this 60s yellow dress. My friend Mel gave me this when we were living in Melbourne. I was a little more rock 'n' roll skinny. Now that I'm a bit healthier it squashes the fuck out of my boobs.
I never wore it on stage because it's wool but I've worn it to parties. It's such an immaculate piece. The label says Louis Féraud, Paris. I don't know anything about him. It's my favourite colour. It lives in the wardrobe and I take it out and admire it now and again.
The silver ring (main photo) I bought in Camden when I was 18. It was the first time I'd been out of the country and I'd been touring Canada with a band, Banshee Reel. I decided I wanted to go to London and visit my cousins. I've worn it pretty much every single day of my life since. So that's 22 years now.
There's a dent. I dropped it and then I stood on it when I was probably drunk one night. One of the lyrics of a song on my new album came after thinking about this ring. It's called "Souvenir". The shape of it and the softness and the dents in it are like my life and how it's been shaped by the people I love.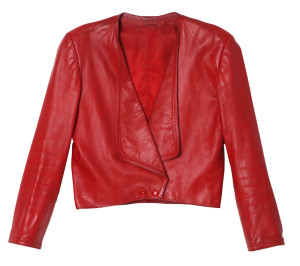 I got my red leather jacket in Berlin when I was going through one of the amazing junkyardy places. I wear this with everything. I don't care that it clashes. The sad thing is, it came with a high-waisted pencil skirt. She wanted 100 euros for the set and I only had 50 on me. I made her split up the set, which I immediately felt bad about. It would have been 2009 when I was over doing some recording for my first solo album. I have since bought another red leather pencil skirt but it's the wrong red.