Apr 3, 2020 Fashion
Penny Pickard, model and early-childhood teacher, tells Aimee Cronin about her life in clothes.
It's a hard road finding the perfect leather jacket, especially second-hand. I could go and get one from Stolen Girlfriends Club that would be amazing and really well fitted but I still do like the thrill of trying to find something from an op shop. I'm always on the lookout for the perfect leather jacket and I thought this one (main photo) was a bit of a find. It's a little weird and everyone was saying to me "it's too small and too boxy", but I like it. My boyfriend Sid has a lot of leather jackets because of his motorcycle obsession and I borrow some of his, which just makes me look like the Michelin Man. I got my one from The Cross Street Market.
Buying vintage has always been a natural gravitation for me. I used to love op-shopping as a 14-year-old in Papakura, where I grew up, and K Rd, where there were just tonnes of those little op shops. When I was younger I was always op-shopping. I think I was a little bit obsessed with it. I find it a little bit trickier now. A lot of times it seems like when you go into them the stuff is from big chain stores, so it feels really different to when I was op-shopping in the 90s. Back then, it would feel a little bit like you'd stumbled across something really rare and a real treasure. Cross Street Market does the work for you a little bit and picks out the good stuff.
I got these shoes (01) from a flea market in Paris in 1997 when I was 16 or 17 and have treasured them ever since.
I wouldn't define myself as being into fashion. I'm not big on keeping up with the seasons, or making sure I always have the latest trends. If something really speaks to me I'll buy it, but I don't buy a lot of clothes. I think a lot of people would assume I would be obsessed with fashion and have tonnes of stuff, and I probably should have collected more fashion, but a lot of it has been boxed up over the years and given to charities. Throughout my modelling career, Kate Sylvester is one of the designers I have worked with the most consistently and I have tried to keep a lot of her clothes. This (main photo) is a really beautiful dress that is almost bridal or something, but I just love it.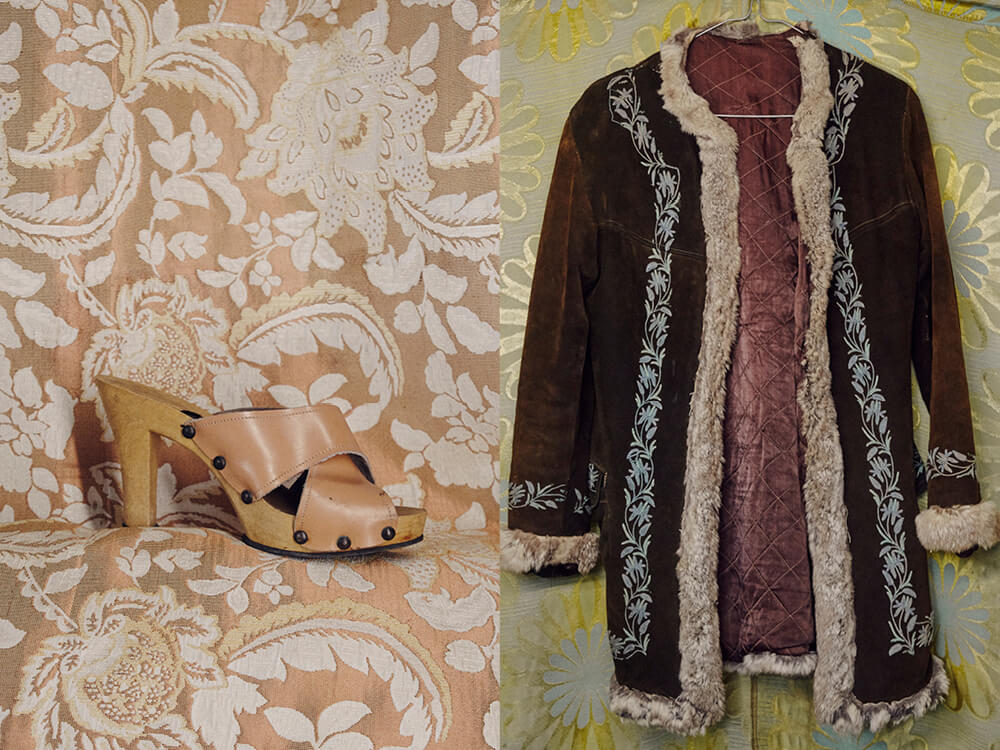 Left: (01) Shoes found in a Paris flea market in 1997; Right: (03) A jacket, possibly of rabbit fur, bought from a Sydney op shop. Photos: Frances Carter
I work as an early-childhood teacher now, as well as modelling part-time. I finished a philosophy degree and was really interested in early learning and early-childhood development, so I went and did a graduate diploma in teaching and now I am working at a Steiner kindergarten in Ellerslie. There is a bit of a colour therapy situation where they kind of discourage teachers from wearing black, which is funny because I wear a lot of black in my personal life. I wear light-coloured Kowtow T-shirt dresses that I layer up. I love the Kowtow stuff.
My mum and dad moved to Paeroa five years ago and this dress is a Paeroa find. It's a little bit moth-eaten. I saw it hanging up and had to buy it because I think it is so unique. It's New Zealand-made from the days when a lot of things were still manufactured here. I've worn it a couple of times on special occasions, to a few significant birthdays with zero on the end. It's a bit of a showstopper.
My mum is 79. She had me quite late. She grew up in that generation where her mother sewed all of her clothes for her. There are beautiful, glamorous photographs of Mum in the 50s and the 60s in incredibly tailored clothes that were hand-sewn, and I think I might have inherited a bit of that respect and reverence for making things last and for thinking about where things come from and not necessarily going to the chain stores.
This jacket (03) I bought when I was about 17. I think it's rabbit fur. It's the kind of hippy vibe I was always into and I still wear it now, but I don't know that I wear it as well any more; it might have suited me more when I was younger. I wouldn't ever get rid of it. I think I bought it from an op shop in Sydney and just loved how authentic it was. I have another dress I haven't been brave enough to wear, but it's another New Zealand-made one. I was given it when I did a show promoting vintage clothes. It's so over the top, I really love it. I have this Mama Cass fantasy of wearing it one day. I read an article recently that talked about the "big dress" as being a way to smash the patriarchy now, and dressing for the female gaze, and I thought that was really interesting. I'm turning 40 next year, so I'm thinking it may be the time to be a little bit fabulous — an "it's your party so you can wear what you want to" sort of thing. I was thinking after reading that article that a lot of the clothes I own are quite long and roomy and I might naturally be dressing for the female gaze. I think it's an important, subtle way that fashion can be a political statement.
This piece originally appeared in the March-April 2020 issue of Metro magazine, with the headline "Looks & gazes".