Jul 27, 2015 Fashion
As design director of Working Style for more than two decades, Tim Dobbs has a style informed by the boutiques of Milan, trade fairs in Paris and early mornings on London's Portobello Rd. I've travelled with him several times a year for almost seven years now, and I've witnessed his uncanny knack for seeing value in things often overlooked or not immediately understood. His own style of dressing is pared back, showcasing some marvellous accessories.
This story first appeared in the July/August 2015 issue of Metro. Photographs by Mark Barber.
Dobbs on his favourites:
I found the Louis Vuitton Président briefcase at a shop in London's Knightsbridge that mostly sells vintage Hermès and Chanel. I was looking for a gift for my wife and I saw this. It was actually being used as a display prop but I had to have it. It was over 30 years old and had the most beautiful patina. Recently, I took it to Robert Niwa at Louis Vuitton and he arranged for the edges and handle to be restored to original condition. I now consider it a masterpiece.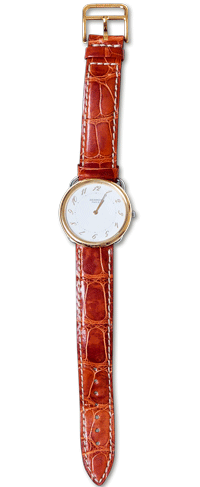 I've always wanted a crocodile belt (not shown), but they really are expensive. However, early last year, after an intense negotiation session with our Italian belt-maker, they offered to make me a belt of my choosing as a gift. I seized my chance. It works best dressing up a really simple outfit, like worn-in denim and a black shirt.
I spotted the Hermès Arceau watch by chance in the window of an estate jewellery store in Paris — I'd just finished a long day and had got off the train a couple of stops before the hotel so I could have a walk. It's an excellent early version of a watch that is now an icon among Hermès products, and I love the Arabic numerals and more discreet size.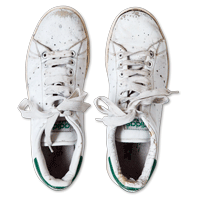 I got the Stan Smiths when I was in my first band at high school. In the 80s. I don't wear them much anymore, but I will never part with them. Being with friends, playing music, they're very important and these shoes remind me of that.
Disclosure: Eddie von Dadelszen works with Tim Dobbs at Working Style.