Jul 18, 2015 Fashion
I went to the same school from 1987 to 2001. My mother had a falling-out with the local primary school so she put me into the school that she and her mother went to. I think the school uniform is burnt into my brain. When I think about my childhood, it was that — and the odd party dress.
This article first featured in the June 2015 issue of Metro. Photographs by Greta van der Starr.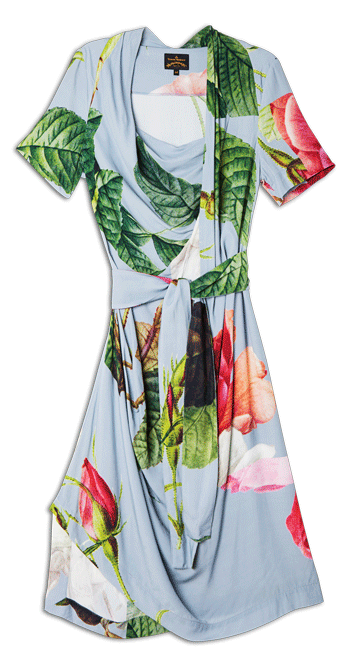 The uniform thing has definitely stuck with me. I don't wear clothes that are too fussy. I'm slightly over six foot and no one wants to see a woman that tall in frills or anything frothy. It's like no one wants to see a women this tall really drunk. It's too amplified.
I really like wearing New Zealand designers. I guess I take it quite seriously. I believe in what good designers do. That's part of the reason why I bought the Vivienne Westwood dress. I had some weddings to go to. The inside of my wardrobe looked like a Sicilian mafia funeral, so of course I lurched to the other extreme. I went for colour. I love interesting cuts and silhouettes.
Vivienne Westwood's memoir is a fascinating read. She talks about buying really expensive clothes, which I thought justified my habit of spending too much. She's like, "good clothes should be expensive. Buy them and then thrash them" — which is what I try to do.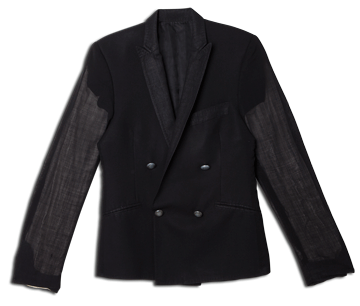 I stalked the Zambesi blazer. I loved it and I couldn't afford it when it was brand new. When it came down in price periodically, I'd go to try it on again. I remember once getting a taxi after work to Zambesi on Ponsonby Rd because I knew it was on sale.
When I got there, they didn't have my size. I found it second-hand at Scotties. I saw it and thought, "This is as good as it gets. It's still a bit much but it's got to be part of the collection."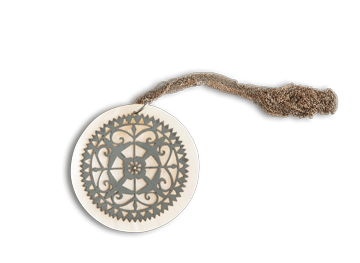 I'm 31. Some stuff feels reflective of a real time in your life. The pendant was made by Niki Hastings-McFall for me. She was in the exhibition HOME AKL. I don't really collect art but I do really like New Zealand jewellery. It was a way to mark that show and also moving to Auckland and trying to understand the culture.
It feels cool wearing Marilyn Sainty in Auckland because she has a long history here. This top (main photo) is from 1988. I know that because it's on the label. I like shoulder pads. It makes me feel like
Rachael from Bladerunner.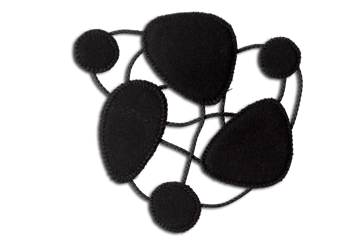 The brooch is by a friend of mine, Vita Cochran. It's called the "network brooch". I love it because it has a mid-century aesthetic which relates to my research on cubism. When I'm working on shows, I have lots of ideas that I'm trying to connect and it feels like a funny little network swirling around.
I did art history at Otago then a masters of museum studies at Vic in Wellington and now I'm doing an MA through Auckland University on the impact of cubism. My latest show explores how John Weekes,
Colin McCahon and Louise Henderson worked within the formal
structures of cubism.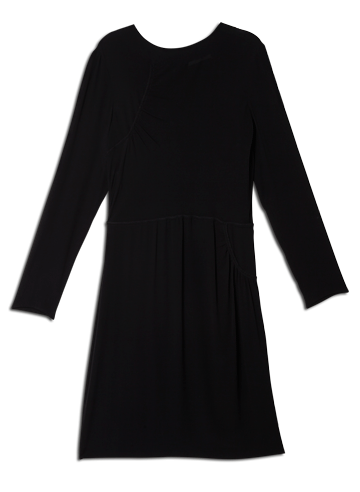 I bought the Margiela dress second-hand in Dunedin. I love it because it has long sleeves. I wore it to my father's funeral. The thing I thought was really beautiful about it was I felt so safe in it. Deciding what to wear to your father's funeral is very hard.
I also spoke. I read a poem. I thought it was an amazing thing that this black dress — this simple dress I bought in Dunedin with a friend — had really served me well.
Freedom and Structure: Cubism and New Zealand Art (1930-1960), Auckland Art Gallery, to March 6, 2016.