Mar 17, 2015 Fashion
Jun Tsujimoto hasn't always been immaculately presented. Five years ago, he sported a crude bowl cut, which has been immortalised in some of the marketing collateral at Jasmax, where he works. We asked him about the influences on the way he dresses and to tell us about some favourite clothes.
This story was first published in the January 2015 issue of Metro. Portrait by Jane Ussher.
"I'm fascinated with the tension created by offsetting and juxtaposing elements. For example, in architecture, a really tough and heavy material like concrete can be softened through the introduction of timber. I think it's interesting to play these games with clothes too: people wearing big bulky jackets with fitted jeans and heavy boots or a tailored jacket with baggy grey pants and dress shoes with no socks.
I know it's a cliché for someone who works in architecture, but I also like wearing black on black, overlaying textures to create depth. It's similar in my work, where I like the combination of natural and industrial materials and playing with finishes and processes to enhance them. In the AUT Sir Paul Reeves Building (where this portrait was shot), we used timber and steel and sealed the materials with beeswax oil, allowing the materials to breathe and feel natural.
I have had the privilege of working with designers, builders and craftsmen who have an intimate understanding of how to work with certain materials. I value this in clothes as well. The process of constructing clothes is beyond me but I love how you can turn an unlined blazer inside out and see the thought and skill that has gone into putting it together.
Visvim corduroy jacket. Buying clothes while travelling gives you great souvenirs and if you go to a flagship store you also gain a reading of the brand through a spatial experience. My brother introduced me to Visvim by Hiroki Nakamura on a trip to Japan. Hiroki goes on field trips, searching for the drivers behind unusually shaped garments. He's interested in how materials wear in and construction techniques that have remained unchanged for generations. Ultimately, he's looking at how clothes are derived from a culture and place.
I believe architecture should be like that, intimately woven into our culture using materials that get better with age and give a sense of being worn in by people.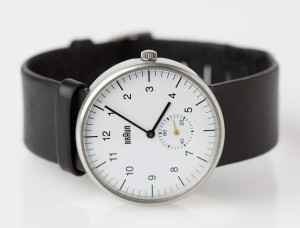 Braun watch. This was a birthday present from my girlfriend and it also coincided with the completion of the Sir Paul Reeves Building, the first major building that I was involved in. It reminds me of the collective effort of the project and that good things take time.
The design of the watch is inspired by one of my design heroes, Dieter Rams. He believes in doing "less but better" — something I feel really takes guts.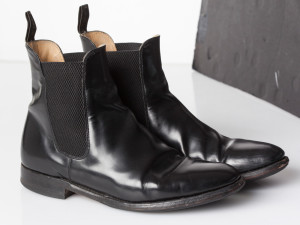 Loake 1880 boots. These robust hand-made Chelsea boots look better as they age and have a weightiness that toughens and adds a utilitarian feel to an outfit.
Raf Simons trousers. These are expertly tailored and the colour is the perfect shade of grey. They are so minimalist, even belt loops have been removed from the design.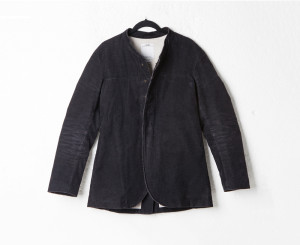 Zambesi blazer. I bought this years ago; it's my go-to jacket. It's slightly torn now because it's been worn so much, which makes me love it even more. It's a timeless design from a New Zealand brand that I admire and am happy to support.