Nov 14, 2019 Fashion
Wellington designer Havilah Arendse is one to watch in the capital's fashion scene. She speaks to Jean Teng for Metro.
Fashion designer Havilah Arendse is calling between classes at university. Now 20, she's completing a bachelor of design degree with honours (majoring in fashion design) at Massey after leaving high school aged 16. She juggles study with her own fashion label, Havilah, and also co-founded pop-up shop Smashed Avocados (which stocks her brand) with a collective of female creatives. Evidently, it's all go.
Arendse started work on Havilah in April last year, making a collection on a whim for Project Fashion, a platform aimed to help Wellington fashion designers launch their own labels. "It was so well received that I ended up starting an online store and getting into pop-ups," she says. A few months later, Arendse showed at New Zealand Fashion Week (NZFW) 2018 as part of the New Generation showcase with her collection 'Unapologetic', building a following for her line-up of ruffled, billowing outfits.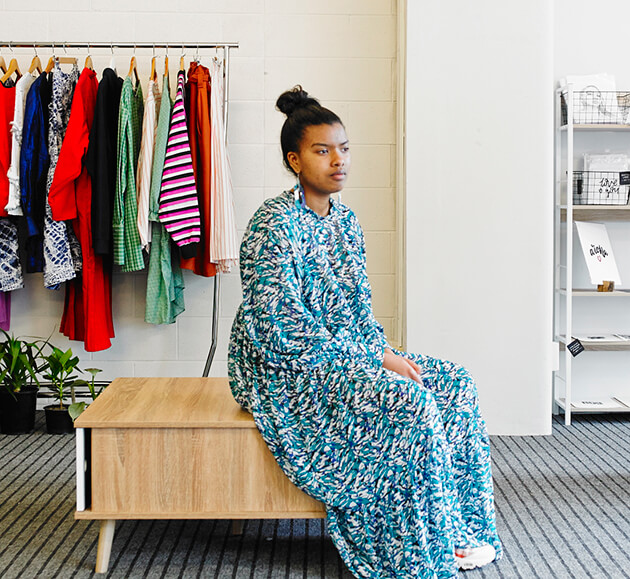 Havilah is for the conscious consumer who just wants to have a little fun. The colours are brazenly bright, sometimes clashing; the draping is flowy and feminine. Dresses are textural and dynamic, and unafraid to play with volume. It all starts with the fabric: "What would feel good to wear, and what would not damage the environment?"
Havilah is a sustainable label with a fully transparent process — recycled polyesters are from Haiti, Mexico and Honduras, organic cotton from India — and all its products are made to order in Wellington. "Whenever someone buys something, we tell them about the supply chain of that fabric, and all the hands involved in making it," Arendse says, a process she hopes will become the norm in New Zealand's fashion industry.
Havilah's latest collection, 'Learn my name', shown at NZFW 2019 in a joint show with fellow socially conscious brand Starving Artists Fund, received rave reviews both for the clothes and for her choice of models — diverse in age, ability, ethnicity and size — after an open, no-experience-needed casting call on her Instagram. "Growing up, no one in my family was smaller than size 14. I just thought that's the way everything should be," she says.
The collection's individual pieces are inspired by the stories of people in Arendse's life, including her mum, Michelle, and grandmother, Johanna. "They sacrificed a lot to raise me, and I knew I needed to say thank you somehow."
Arendse was seriously ill from age seven until well into her teenage years. Her life experiences led her to announce a partnership with Rare Disorders NZ, donating part of her profits from Havilah. "I had to learn how to walk again, learn how to use my hands again. I was told I wouldn't be able to sew, so my main motivation was to be able to prove them wrong," she says.
She credits her art teacher, Judy, and drama teacher, Bianca — both of whom have pieces named after them in the 'Learn my name' collection — for supporting her through it. "I just needed to get to 16, and once I was there, I'd be ready to see if my doctors were wrong." And, very clearly, they were. "That was kind of great."

Havilah Arendse presented her full 'Learn My Name' collection at the Project Fashion Wellington gala on 9 November.
This piece originally appeared in the November-December 2019 issue of Metro magazine, with the headline "Learn her name".