Sep 24, 2019 Fashion
A new fashion exhibition at Te Uru gallery places New Zealand in its geographical context, showing the way our design is shaped by our position in the Pacific.
Nesian Mystik's debut album Polysaturated came out in 2002 and was four times Platinum less than a year later. The early 2000s saw something of a hip hop revival, with artists like Scribe, P Money, the Deceptikonz (and then Savage, after he Beyonce-d away from the rest of the group), all churning out hit after homegrown hit.
The targeting of Polynesians in immigration crackdowns during the 1970s is a cultural touchpoint for many Pasifika living in New Zealand, and is referenced often. Think: Dawn Raid Entertainment, or designer and musician Bill Urale's clothing label Overtstayer. In 2003, Urale, aka King Kapisi, sent a model in matching tan shirt and shorts down the runway at fashion week, the word "Overstayer" sprayed in black across the chest, letters dripping like graffiti over Pacific-inspired motifs. The pieces were sold at Farmers the same year – a first for a local urban clothing label.
That same outfit is on display at Te Uru gallery in Titirangi as part of Moana Currents: Dressing Aotearoa Now. And for the record, co-curator and Viva fashion editor Dan Ahwa would still wear it today. "It's one of those pieces where I look at it now and … it's [still] so cool."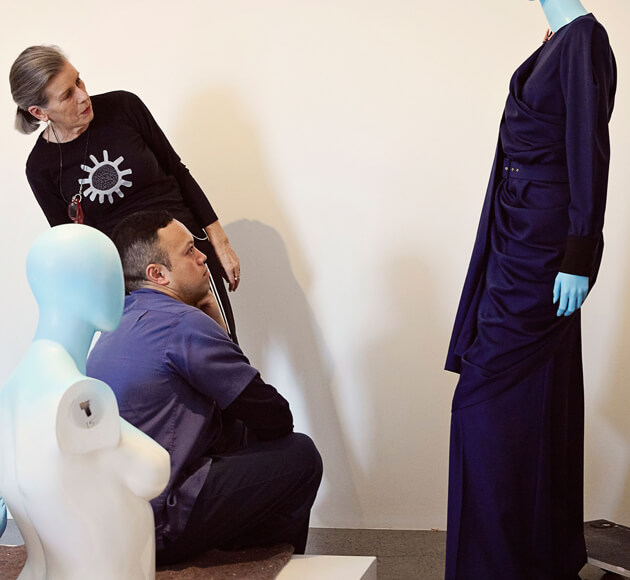 Ahwa and co-curator Doris de Pont, an award-winning fashion designer who now runs the New Zealand Fashion Museum, collaborated for a year to bring Moana Currents to life. "It's all about putting a mirror to ourselves," Ahwa says. "I'm hoping people can see themselves in some shape or form in the exhibition.
"It's a timely exhibition because everyone's thinking about their identity and what it means to Maori, what it means to be New Zealand-born Samoan, what it means to be New Zealand-born Chinese," says Ahwa, who is Samoan, Chinese, Dutch, a New Zealander. "Who are we, you know?"
de Pont continues: "That's the conversation we want to have – how are you a person of this place? There's interesting stories about that hybrid Polynesian identity." Of belonging here, but also to somewhere else, she means – like so many of those artists at the centre of this country's hip hop renaissance.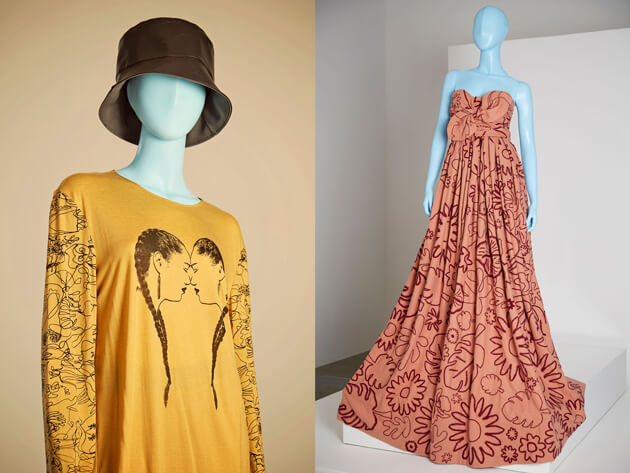 Moana Currents is a contemporary exhibition (Urale's 2003 piece is the oldest on display) and features a mix of established and emerging designers. Other pieces include work by Misty Ratima: loose cotton shorts and a screen printed t-shirt featuring two women with their noses pressed into a hongi, their faces and braided hair creating a heart shape. Designer Keva Rands' bold orange Mama dress is made to be one size fits all – de Pont says the almost baggy style seen in so many of the designer's work is typical of fashion design here, and part of the history of New Zealand's fashion design shows an "ongoing dialogue" between wrapping and structured dressing. "One of the features of New Zealand fashion is a looseness in how we dress – not body-conscious clothing but clothing that offers protection, without too much scrutiny."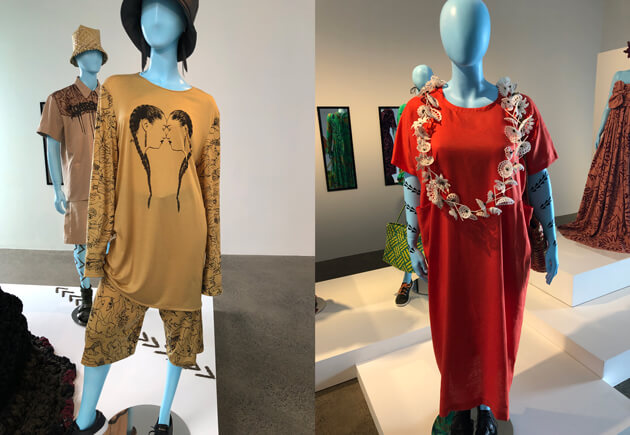 The common thread is not the ethnicity of the designers, but rather the cultural motifs and themes local designers of myriad ethnicities put into their work. Though many are Pasifika, there are also garments and accessories by Maori and Pakeha designers including a gorgeous flowing Karen Walker strapless gown on loan from Te Papa, and made in collaboration with the Kuki 'Airani Creative Mamas (the piece was shown at Buckingham Palace). A moveable hei tiki by Pakeha designer Neil Adcock adorns one outfit.
When is it alright for Pakeha designers to use cultural motifs that aren't part of their own heritage; when is something "ours" (as in, ok for anyone to use) and when is something stolen? "I think you know instinctively straight away," Ahwa says. "Who that designer is, who they surround themselves with, whether or not they've received a blessing." Everything in Moana Currents has been chosen thoughtfully with regards to this question.
"People are more mindful more now than they were before, which is a good thing. And that's another thing about the exhibition – it might make people think twice about how they…" he pauses, then laughs. "Find inspiration."
Ahwa and de Pont point out art and design being made in New Zealand is often assumed to be culturally distinct from the rest of the Pacific, when in fact we are quite literally a Pacific nation. The exhibition's description says the pieces on display "invite us to consider the impact of diverse histories of migration and cultural exchange on the evolution and expression of our identity."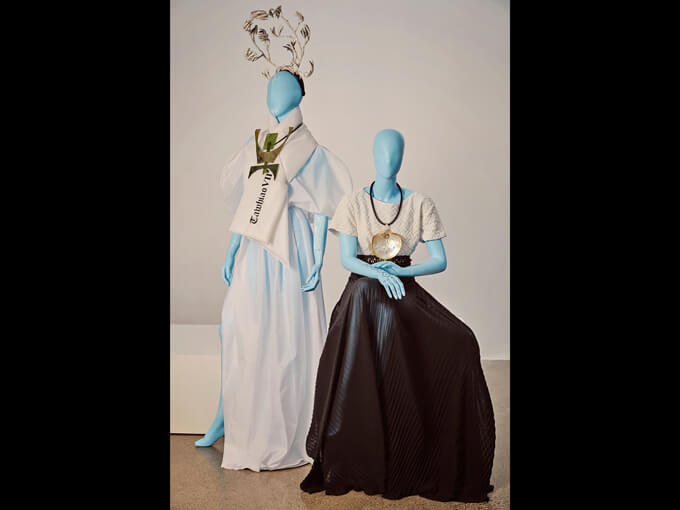 de Pont says what she and Ahwa have tried to do is "identify that part of Aotearoa, Pasifika, Maori, that has just sort of crept through to the mainstream". The ocean, which is so integral to life in the Pacific Islands and to our identity in Aoteroa, is referenced constantly – through print, material (such as the wetsuit-like fabric used in teenage designer Natasha Clare Senior's two-piece outfit) and accessories, many of which incorporate shells and delicate lace, woven like the mesh of coral. "More than ever before we're looking to our geography rather than our history to position ourselves in the world."
It's fitting, then, that through the windows of the beautiful Te Uru gallery, you can see the water of the west coast, moving with the tide. Wandering around the collection tucked away in Titirangi I think of the opening line to the introduction of Nesian Mystik's Polysaturated: "Once upon a time, in a suburb far away, in a tiny corner of the South Pacific…"
Moana Currents: Dressing Aotearoa Now runs until December 1 at Te Uru Waitakere Contemporary Gallery in Titirangi. A companion book is available for purchase for $39, and Te Uru provides a copy for use inside the gallery.