Dec 9, 2019 Fashion
Journalist and broadcaster Janet McIntyre tells Aimee Cronin about her aversion to fast fashion, her time living in Italy, and a special shirt her late husband loved.
I was having a love affair with Italy and spending quite a bit of time there in the 80s, and wanted to get something that would be a reminder of that time. I had a mad romance with an Italian and everything seemed rosy and exotic. It was a moment.
I bought this piece of fabric (below left) in Rome and hauled it back to Australia, which is where I'm from. I brought it with me when I came to New Zealand in 1989, and in the early 90s, Angela Wickstead (Emilia's mum), who was designing clothes at the time, said she would design a jacket for me. I haven't worn it a lot, but I still think it's an amazing garment — the tailoring and finish. It takes me straight back to the streets of Rome, to that time in my life when I was deciding which path to take.
Most of my clothes are old. I'm not into fast fashion; I keep things that make me happy when I remember the stories that are attached to them. This is Nana's locket (below right) with a little picture of her son Harley, killed in a plane crash when he was 26. It's a treasure. I feel her love and pain when I wear it.
I've never been on trend with fashion, sadly. I keep my beautiful things, and every now and then, something new jumps out at me and I get obsessed with it. I do simple and functional at work — a lot of black pants and just a pop of colour. When I am interviewing, I don't want the focus to be on me, so I try to dress in a kind of muted way.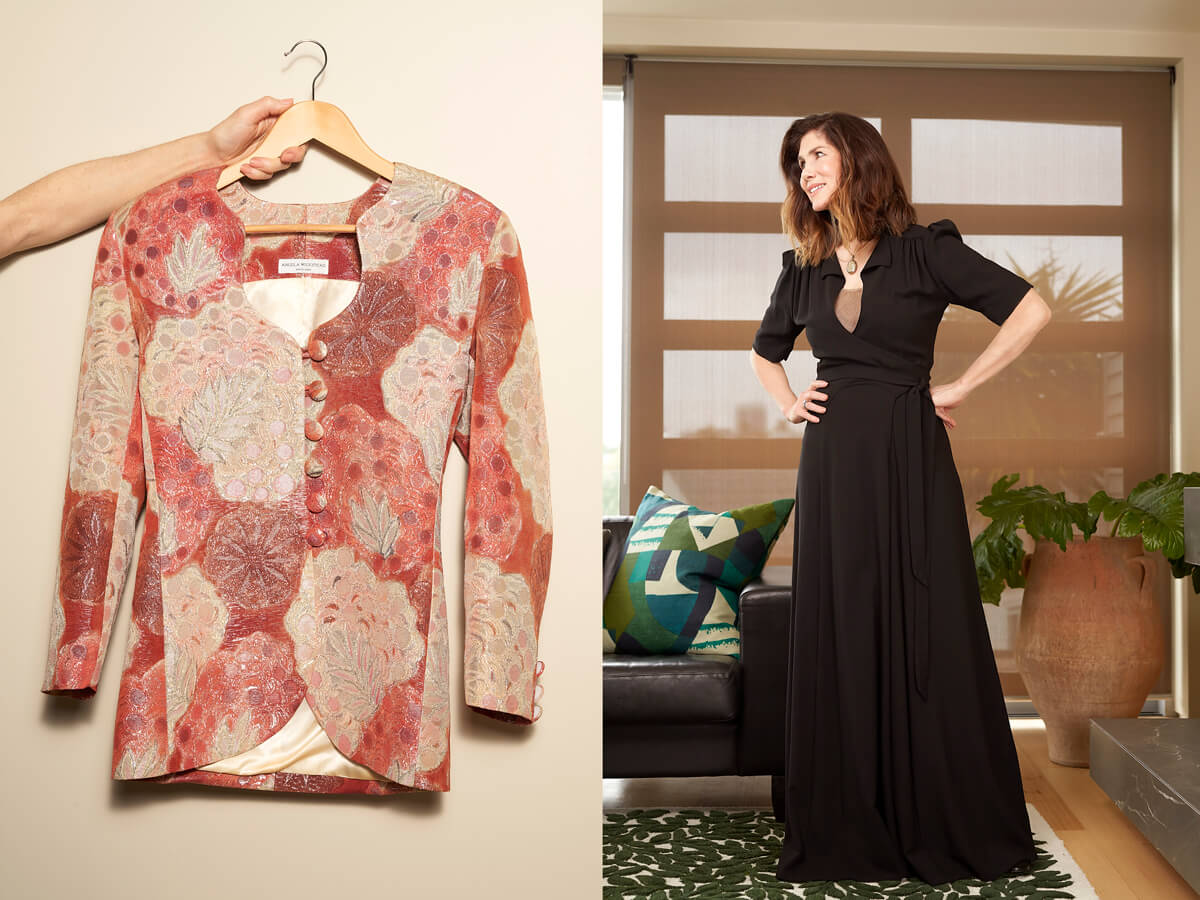 I have a Zambesi camel coat from the early 2000s. I am really infatuated by coats because I never had one growing up. We never needed one in Queensland, of course, so wearing coats was something that happened in movies and books, and when I came to New Zealand, it felt very glamorous to be able to wear them. I love it because of its colour and shape. I've never seen one quite like it. I wore it to do a story with Peter Snell in Modesto, California. I remember walking with him on this red gravel athletics track, and it was early morning and the fog was settling and it was just so beautiful. We played "California Dreaming" and every time I see this coat, I hear that song.
I probably feel that I have been influenced by my parents. My mum has always been such an elegant woman who takes so much pride in her appearance, and my dad, too, was a very smart dresser. He had a particular aesthetic, and was very fussy about shoes. I can't remember seeing him in public without his R.M. Williams boots on; I'm not sure what he would have made of my Franco Burrone boots.
As kids, all our clothes were homemade, and mum had set ideas about what we should wear. My pretty, blue-eyed sister always got the pink and red dresses and I always got the green, the blue and a lot of mustard. I hated it. Mum would make giant hems and thick seams so that everything could be let out and taken down — nothing was wasted.
I fell in love with wearing black here in New Zealand, which was pretty much unheard of in Queensland. It's so versatile. It's funny; when I go back to visit my family in Queensland, black seems to be an aberration over there. You can feel like you're standing out in Kiwi clothes. I am amazed at how quickly I get almost seduced by that old palette of primary colours, and I have made some terrible faux pas thinking things like an orange jumpsuit will work back in New Zealand.
This (above right) is one of my favourite dresses. It's a classic old design from Zambesi. Like everyone, I was probably terrified of walking into a Zambesi shop for many years. It just felt so cool and stylish, didn't it? And now I feel at home there.
Another favourite is the houndstooth. I still wear it to work with a shirt underneath it; it's the most delicate wool. It is 16 years old but feels brand new. I have thrashed it. Liz Findlay made my wedding dress and she modelled it off this dress — it started with this idea, this line.
This (main image) is a shirt that I gave Keith, my husband, who died two and a half years ago. I remember when he first put this on — the big smile. He loved the feel and the cut of it. I wear this to work sometimes. I don't mind that it's a bit big. Mostly I love the way he loved it.
This piece originally appeared in the November-December 2019 issue of Metro magazine, with the headline 'Story trail'.