Jun 17, 2022 City Life
I was 19 years old when I entered my first and only beauty pageant. I was a budding student journalist at the University of Auckland student magazine Craccum when a callout for Miss Auckland applications popped up on my Facebook feed. I thought it'd make a hilarious piece of stunt journalism, an exposé on the wild, glitzy and bizarre world of pageants, so I filled out the form and rolled up to the preliminary interview process.
I was working at the clothes store Kookaï in Newmarket and donned my most recent staff discount purchase — a super-femme floral playsuit with nude heels — and I told myself I'd see how far I could go before they figured out I was a scam. A few days later, I was offered a place as a finalist.
The thing is, I'm a feminist, the bra-burning, spell-casting, queer intersectional kind. I've got a lot more to learn, but I'm always trying to protect and uplift our wāhine. So how do I reconcile that with entering a beauty pageant? Aren't pageants an archaic remnant of 'who's the prettiest cow at the fair' topped with an extra sprinkle of Trumpian sleaze?
I'd been told pageants were undergoing a facelift. No longer a cruel exercise in objectification, they were now 'empowering', 'diverse', 'charity-focused' and '#girlboss'. They were filled with promises of lifelong friends, growing confidence and poise, entrepreneurial skills, and philanthropy. When Miss Auckland organisers asked, "Do you like to help others in the community? Do you want to be a part of a group of strong women?", what else could a young woman say but 'yes!'?
I spent close to $2,000 on my Miss Auckland experience and walked away feeling worse than a schmuck who got scammed with an Arbonne 'multi-level-marketing' scheme. And for four years, I haven't known what to make of my experience, except for a deep sense of shame. Was I missing something? Did all the other contest- ants end up feeling the same way? I had to find out.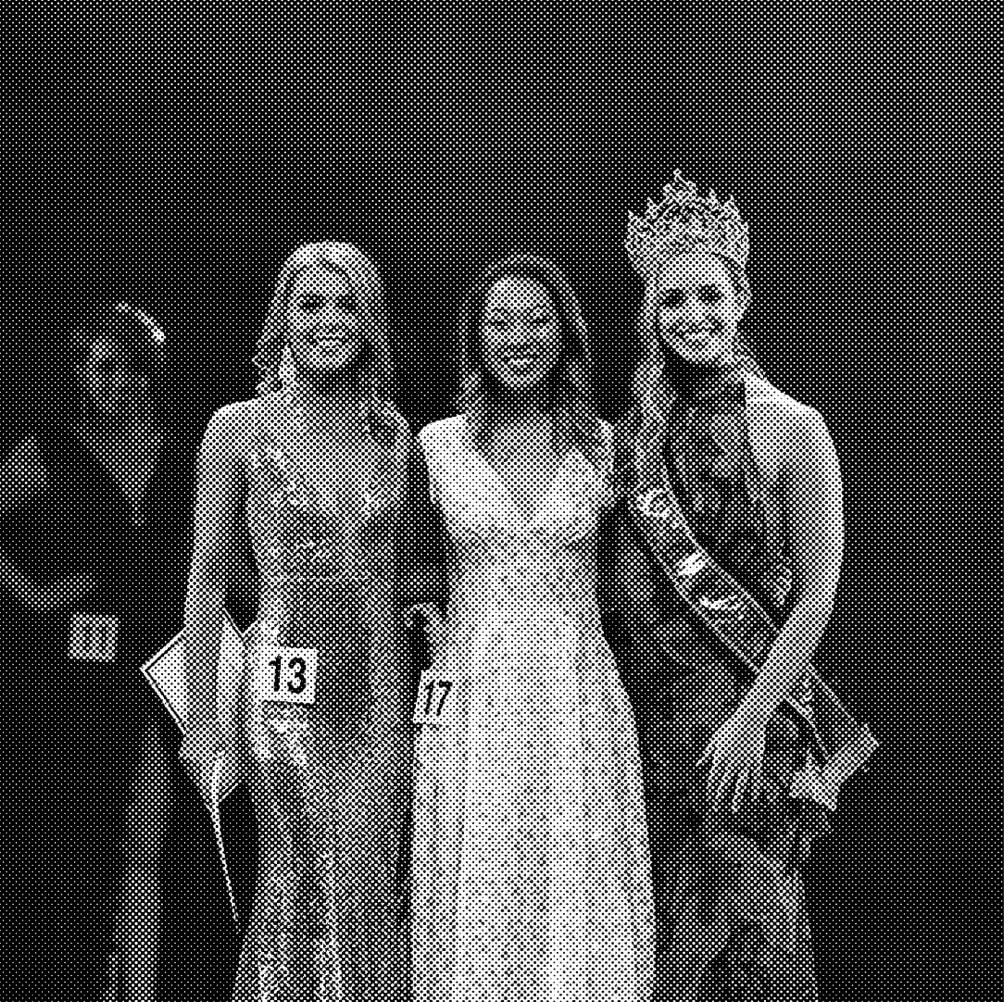 Most pageants in New Zealand require participants to pay a substantial entry fee. For Miss Auckland in 2018, it was $750. The fee, we were told, covered training such as catwalk, dance and public speaking, venue hire for the pageant, hair and make-up, photoshoots and administration costs. It did not include your evening gown, shoes and charity fundraising.
While some contestants paid it upfront, most were encouraged to find a local business to sponsor them. It was all part of 'networking' with the community, we were told. I struggled to find a sponsor until a family friend, a real estate agent, sponsored a portion of the entry fee.
I wish Miss Auckland had been more financially transparent from the get-go. On the first night of rehearsals, they handed us an information pack that stated their mission was "to find Auckland's most generous young woman". The judging breakdown was 25% "beauty with a purpose" (a nod to Miss World's humanitarian section, to encourage charity work), 25% interview-based and 50% final-night performance (which included three catwalks and a dance).
The number of tickets you sold counted towards a third of your "beauty with a purpose" score. At $60 a pop, that's $120 just to invite parents. There was no offer of complimentary tickets to participants so they could bring their loved ones. We were told we had to sell a minimum of 20 tickets. So 'charity work' included how much money you could make for the pageant.
"It's not a beauty pageant, it's a business pageant," explains Miss Universe New Zealand finalist Georgia, who wished to remain anonymous for fear of harassment. "It's about who can make the most money for these organisations. And to be able to have access to these resources, you have to be part of wealthy communities that aren't marginalised. You have to be marketable in the eyes of the pageant, which means meeting these conventional beauty standards."
Having grown up watching America's Next Top Model and X-Factor, Georgia was mesmerised when she saw Miss Universe on TV. She saw it as a way to achieve her dreams. But after attending 'stiletto camp', a mass audition of around 40 girls to choose the 20 regional finalists for New Zealand, she noticed a disconnect between the values of the organisers and the participants. "A lot of girls went into it thinking it's focused on personal development and women's empowerment. But there was a lot of emphasis on the pageant's branding, image, and commercial aspects."
Miss Universe New Zealand 2018's entry costs were $1,375, so you'd think a certain level of care and support would be provided. But Georgia was shocked by the participants' long hours and 'working' conditions. She says a trip to Thailand — for which the finalists were levied an additional $250 — was sold as a 'tourism cultural experience' and 'holiday' to take their swimwear calendar photos, yet every day was packed with photoshoots and promotional activities for their Thai sponsors. The trip brought each participant's total fee to $1,625. Finalists were also required to post at least 45 minutes of social media interaction a day, as stipulated in the Miss Universe Retreat information pack.
Georgia was furious after the finalists were taken to Phra Dhammakaya temple, a Buddhist monastery being investigated by the Thai government for fraud, as part of their cultural immersion experience. "Hundreds of thousands of people in Thai- land were sharing news stories about us visiting this temple," Georgia says. But "the common understanding at the time was that it was a cult. I was so angry because we're being shipped off to whatever sponsor is going to pay money to have us there. Our pageant director, who was meant to be responsible for us, wouldn't even research whether this was an ethical place for us to go."
While Georgia's Miss Universe involvement opened doors for her to pursue modelling, her perspective on pageants has since shifted. "The benefits I'm gaining from participating in pageants is built off privilege and its damaging effects on women. You're not treated as a person, you're treated as a commodity."
Karishma Ranchhod started her pageant career with Miss India New Zealand and found it a positive way to connect to her culture. After becoming runner-up, she competed in Miss Five Crowns NZ. Like many others, she found her way into pageants after a low point in her life. "I have a chronic health condition, so growing up was an isolating experience," she says. "I missed out on a lot of teenage-girl things."
Initially, Ranchhod hoped other people with similar struggles might see her in a pageant and be inspired. But she doesn't think she'll ever compete again. "I look back on it and I'm kind of embarrassed," she says. "I feel like it didn't make me feel good about myself. I felt like I wasn't enough. When they interview you, they make you sound great. They try to personalise it and say you can make it your own. But then you end up feeling a little bit trapped. It's like this cult-like environment."
I, too, entered the Miss Auckland pageant with high aspirations to advocate for mental health with our chosen charity, Youthline. But something about the pageant environment really got to me. I found I could barely help myself, let alone advocate for others. Shae Ronald, CEO of Youthline, confirmed they received "a small amount of fundraising income from pageant participants who fundraised for Youthline, totalling around $60,000", but clarified that Youthline has no formal or ongoing relationship with any pageants. Even though Youthline were $60,000 better off, it felt ironic that for many contestants, their mental health wasn't prioritised during the pageant.
But was I naive to think that beauty and humanitarian work co-exist? When I asked Kalo Funganitao, a former winner of Tonga's Miss Heilala pageant, she rolled her eyes: "What does it even mean?"
In 2019, Funganitao gained international media attention for calling out the lack of support and professionalism from the pageant organisers. She experienced serious amounts of online bullying and harassment during her reign. The Tongan Tourist Association subsequently stripped her of the title. But being Miss Heilala never met any of Funganitao's expectations. She'd hoped to advocate for women's education and build relationships with foreign ambassadors. "You're supposed to be the face of Tonga in tourism," she says. "But it's just your face. You dance and look pretty."
Funganitao says the humanitarian work she undertook as a pageant participant never felt genuine. "We were turning up with sashes and outfits. You wouldn't go to a beach cleanup or to build homes dressed to the nines in heels. When it came to doing things that were supposed to benefit others, we still needed to look a certain way for them to package it."
Rena Zhu, a Miss Auckland 2018 finalist, is staunch in her position: "If you want to save starving children, just go fucking do it. If you are passionate about charities and empowering women, just do it. You don't need a pageant."
But other women I spoke to had more positive experiences. Tiffany Pillay, another Miss Auckland finalist, says she doesn't regret entering a pageant because it taught her where to seek self-worth — and it's not in a pageant. I guess Miss Auckland also taught me exactly what I want to be, too, and that's not a beauty queen. "We get told we have to be a princess with a crown and that we have to be someone to make a difference," says Pillay. "But that's the wrong way to encourage little girls. You can raise funds for charity every day. You can give back every day."
When I entered Miss Auckland, I thought I could represent our queer whānau, but the pageant's narrow definitions of femininity found a way to fish-hook my insides. I couldn't 'tokenise' myself, I couldn't be a marketable queer. At a certain point, I was just trying to ride it out to the other side. Even with fighting the good fight, I found it incredibly hard to remember my 'why' when I was being compressed in these systems.
When Nurul Shamsul was also a finalist in Miss Universe New Zealand 2018, she became one of the first hijab-wearing contestants in the country, and was excited to debunk the stereotypes and misconceptions about Muslim women who wore hijabs. "If you're the first in anything, you're going to feel tokenised," Shamsul says. "But if you have the right intentions, it's more than just about you. It didn't feel like a competition. For me, it was an empowering experience."
But when news of her pageant involvement went viral overseas, she received a wave of online harassment. "I kept reminding myself that it's a reflection on themselves, not on you," she says, "so I tried not to take anything they said to heart."
Miss Universe New Zealand will be her first and last pageant. "There wasn't anything wrong with it, but I just want to keep the good memories I had. I don't label myself as a beauty queen."
Similarly, last year, Arielle Keil became New Zealand's first transgender beauty queen. She recently competed in Egypt in Miss Intercontinental after placing runner-up in Miss New Zealand. But underneath the #diversity, she doesn't think anything has changed. Keil grew up idolising beauty queens. Her family are from the Philippines, where she says pageants are just as important as rugby is in New Zealand.
Transgender women have been allowed to be Miss Universe participants since 2012, and Keil promised herself that one day, she'd enter a pageant. However, transgender contestants are required to have had gender reassignment surgery. Keil says many people still confuse sex and gender as the same thing. "If I had it my way, I would include everyone. Currently, it's like you can join us, but only under certain conditions."
Meeting archaic requirements isn't the only hurdle for transgender contestants. Being queer is condemned in many countries, including Egypt. "I was terrified of going, because what if I got clocked? Are they going to let me fly from Cairo to [pageant venue] Sharm el-Sheikh?" But she says the pageant team never took the initiative to check up on her.
Keil also felt pressured to hide her identity as some sponsors were shocked to find out about her. "You know what they say: if you have an idol, don't meet them. I love pageants so much, but it wasn't how I imagined it. It was degrading. I felt like a piece of meat."
It was a stressful environment for Keil. Her mental health took a dip, and she developed an eating disorder while competing. She struggled with the expectations to be a prim and proper beauty queen. On one occasion, a member of the public touched her and another contestant inappropriately. "Usually, I'd cuss him out. You ask for consent before you touch someone. But I felt like I couldn't put him in his place"
Many pageants still require participants to be 'natural-born' females; the requirement is stipulated, for example, on the 2022 registration form for the one-day Miss International New Zealand and Miss Tourism International New Zealand pageant.
Pageant agreements also require contestants to declare that they're unmarried and childless. Miss Rotorua organisers have been celebrated for being ahead of the curve as they've removed these requirements, and the upper age limit of 27. On their 2020 entry form, they stated that the pageant "is not a physical image-focused competition, but more for personality and Mana Wāhine". Contestants must still be born female, however.
Pageant participants must also be of "good moral character". Miss Auckland's rules of entry state any breaches of this are grounds for instant dismissal, including "nude pictures, illicit relationship with a married person, sexual advances and any immoral behaviour". Miss Universe New Zealand even extends this to any nude content believed to be private.
Keil believes these requirements are outdated, and wasn't impressed she had to take down some of her photos. "It's misogynistic and perpetuates the idea that men can't control their sexual urges. So as women, we have to cater to them or be punished for it."
Commenting on the exclusionary rules for the one-day Miss International New Zealand/Miss Tourism International New Zealand event, organiser Meg Kenney says she'll try to create more awareness of transgender participants, "but I have to keep my rules the same as the international pageants".
She agrees the wording around moral conduct needs to change and maintains she isn't trying to police contestants' personalities. Her expectation is simply, "Don't be a shit person. Don't publicly post anything illegal on your social media. It's like entering a job with requirements. I'm fiercely protective of my girls."
So, are beauty pageants worth it? What do you get for all that money you have to raise? Even though the financial pressures were challenging for Rena Zhu, she's still proud of participating in the pageant. "I had the guts to do something new. It was never about winning." But did she get what she paid for? "I don't feel like I got confidence from [the pageant]. What started giving me confidence was going to the gym: work- ing on myself rather than a version of how someone else thinks I should be." And not having control over the way she looked at the photoshoot made her feel ugly. "I couldn't be happy in the photo. I just had to fake it."
I wished I had chatted to her during the pageant because I, too, felt very alone. The moment before I walked on stage for the final night was the ugliest I'd ever felt in my life. I couldn't recognise contestant number 17. It wasn't really me. It's not how I'd like to perform femininity or my identity. Thinking back on my experience, I feel cheat- ed because the cost wasn't just financial, but what pageants represented for wāhine.
And if you were looking for similar things to those I was seeking, there's a better 'investment' to be made for your future. Cheaper, too. Running in heels at my shitty retail job for the summer built my confidence in 'stilettos'. Co-founding an award- winning queer zine by taking advantage of university printing discounts taught me entrepreneurial and charity skills. Physical theatre workshops taught me poise. Spoken-word open mics taught me public speaking. Producing a community theatre project with aunties from the tai chi group made me realise how much magic you can create when people feel like they're enough.
And so, I still wonder, is there a place for pageants in feminism today?
Karishma Ranchhod thinks beauty pageants and feminism inherently clash. "It started a hundred years ago when equality wasn't really a thing and men were the judges," she says. "It hasn't really changed. Pageants turned me into a girl that society thinks I should be, and I don't really like that."
I ask Arielle Keil if she would go back to pageants and she laughs, "Nah, I've already uploaded a photo on Instagram where I'm just in a G string. I miss the freedom of being able to speak out on certain issues that I couldn't before. Like sex workers' rights. I'm standing up for all women."
She recalls a prominent figure in the pageant industry telling her: "You don't need to do all that [in reference to her bikini photos], you've already had your surgery. You don't need to be a trans person, you can just be a normal girl."
Keil snorts: "I'm just being me. And what does being a normal girl even mean? … Pageants are a crock of shit. It's the same feeling of like when you meet up with a guy for a root. Then, afterwards, you just feel so used by the guy. So in a pageant context, you feel used by the patriarchy and misogyny. You don't feel empowered after."
As for Georgia, she doesn't think pageants in their current form fit in with feminism. She sees the Spice Girls as a parallel: "They were always the proponents of girl power, girls can do anything! But they were a group of conventionally attractive women. And though they did eventually take power back over their bodies, their man- agers commercially objectified them."
She thinks pageants are the same, because despite the emphasis on women's self-development and confidence, the people in control and who are profiting off them are still men. "I don't think a structure that's built off sexism and patriarchy does anything to serve women." Even though Georgia's built some strong friendships, unless it's the right kind of pageant, she won't go back.
The wāhine who participate in pageants are some of the most generous, intelligent, hard-working people out there. They're young, ambitious women who want to make their mark, and there's nothing wrong with that. We should encourage that. I don't doubt the women who ran Miss Auckland tried in their own way to make it a pos- itive experience despite the toxic industry. My gripe is with the institution and those who hold the power.
Meg Kenney acknowledges there are numerous toxic aspects to pageants. "We need to rehabilitate our image," she says. "We need to start that with us. It's on us, for sure."
She maintains it's not about putting women against each other to be judged. "I'm a feminist myself, and one of my most important things is choice. Because this is something I've chosen to do. Of course, I didn't sign up for the bullying or harassment, but it's my choice to enter a pageant.
"A lot of women I know have felt incredibly empowered while doing it. I've watched the girls grow — really come into their own. It's so important, because young women feel like they can't hold space."
I don't think journalistic curiosity quite covers why I did Miss Auckland. The pageant dug into a part of me I'd prefer to hide: the tan-skinned chubby Chinese girl whose nickname growing up was 丑妞 — "ugly little girl". She salivated at the chance for validation and for redemption. While I was part of Miss Auckland, I wanted to believe in it. I needed to.
Printed in the 2018 Miss Auckland pamphlet, under my name for my 'ambition' sits: "TO PURSUE LAW/JOURNALISM, WRITING AND CREATIVE ARTSABLE TO HELP, IS GIVEN PROPER ACCESS"
I was too embarrassed to ask the organisers about how they messed up the printing so much with typos and nonsensical fragments.
Maybe it was divine intervention, trying to tell me I was going about it the wrong way to support our wāhine.
So this is me, doing my bit, for the gals.
–
Sherry Zhang is the recipient of the inaugural
Metro Deadly Ponies Scholarship.
This feature was published in Metro 434
Available here in print and pdf.