Nov 9, 2022 Metro Arts
Kia ora dear readers –
'Talking to my students about porn' is one of the chapters in Amia Srinivasan's The Right to Sex that I've been re-reading recently. While teaching an introductory course on feminism at Oxford University, where she is the Chichele Professor of Social and Political Theory, Srinivasan wades through the murky depths of 'the porn question' — a necessary component of any such course. Initially she's not so enthused about this historical debate on porn, anticipating that her audience of undergraduate students — "the first generation to be raised exclusively on internet pornography" — would find the duality of pro-porn versus anti-porn more than a little passé. But, to the contrary, Srinivasan's students are "riveted" by the topic, not least certain parts of the anti-porn position. They find compelling the argument that porn might not only represent the subordination of women but enact it. So too do they find the claim that porn has served the role of dampening, if not silencing, women's calls for what they find pleasurable and what they don't.
Perhaps the most interesting element of Srinivasan's conversation with her students is getting a sense of just how much porn swooped in to fill the yawning gap left by the prudish and censorious sex education in the lives of the latter. It's hard to imagine porn's control on the public sexual imagination not exerting a strong pull on how people think and talk about sex — and most concerningly how they have sex. But is there a way of critiquing pornography without foreclosing how it might model something other than sexual violence – or that it might even affirm non-normative sexual practices, or the very simple fact that people who aren't deemed conventionally attractive have sex which they wish to see reflected in the world? And if the question becomes one of good porn and bad porn (and everything in between), who exactly will be judge and juror, and how will they exercise this questionably earned authority to tell us what we can and cannot want?
"Nothing good comes of forcing desire to conform to political principle," is a statement from Andrea Long Chu's much-debated, award-winning essay 'On Liking Women'. "You could sooner give a cat a bath," she goes on to say. To be sure, Chu is not arguing that desire is not political; her claim is that we won't get far trying to shoehorn our desire to neatly align with a political programme. Afterall, who wants their sex life to be a list of worthy acts of duty and charity? And how many among us want to be condescended by being on the receiving end of said acts for said reasons? (Well, maybe I would once or twice, if Skepta wanted to exercise his sense of duty or charity in such a way towards me.) What I find most compelling in Chu's argument is the extent to which it signals the impossibility of corralling our desires into something manageable or something that is always agreeable.
But how might we adopt something like Chu's position without lapsing into the fatalism of 'the heart wants what it wants', here are my sexist, racist, ableist sexual preferences, you can take them or leave them? What if we approach the task at hand not as one of mandating who should fuck whom and how (in the name of justice or equity or whatever) but one of disrupting the ways in which certain forces (transphobia, white supremacy, heterosexuality, capitalism) already have a stranglehold on what our so-called choices, delimiting the horizon of possibility before we've had a chance to consider that things could be (and in most cases have been) otherwise. Admittedly, I used to scoff at so much sex-positivity talk a few years back but now I can see how its contemporary manifestation is preceded by decades of thought, speech, and action — a lot of which have helped illuminate just how much is at stake in what and how we desire.
It's these thoughts, and several others, that I'm looking forward to contending with while watching Chris & Eli's P*rn Revolution, a six part series by comedians Chris Parker and Eli Matthewson. Their aim is to "launch a campaign to shake the stigma from p*rn" through conversations with "experts, creators and consumers across the country". If you've ever listened to Chris and Eli's podcast The Male Gayz you'll know how great a rapport the pair has and how well they use comedy to break into some thorny subject matter. Throughout their new show they bring on several guests including Samuel Te Kani, a writer and self-styled sexpert whose own forays into sex and pleasure by way of writing and television have been wildly entertaining and exemplary in how they cut through the general atmosphere of prudery in the culture at large. I'm looking forward to what Chris, Eli and their guests have to say on the porn question.
Chris & Eli's P*rn Revolution launched on The Spinoff on Monday, with new episodes airing daily all week. Finale airs Saturday 12 November.
— Tendai
Black Grace Giveaway!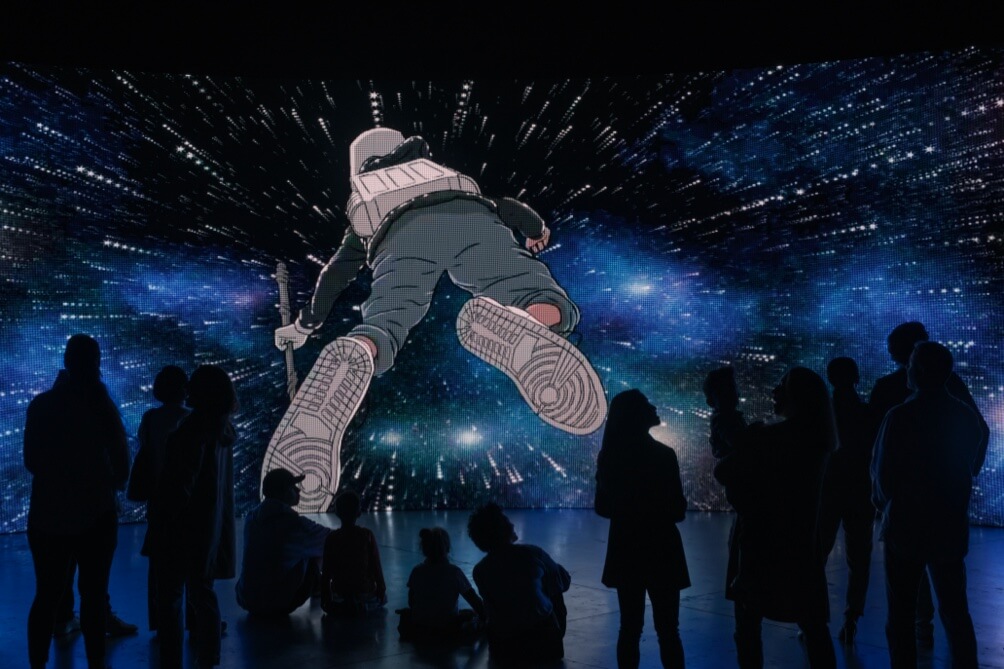 Black Grace has unveiled their most ambitious, exhilarating creative project yet. Coming to the city centre this November, The Art of Black Grace 1/5 is a state-of-the-art, first-of-its-kind architectural, digital and immersive dance experience suitable for the whole family!
Enter the universe of The Art of Black Grace – a portable 360 degree, 15 metre diameter by six metre high 'cylindrical structure' situated in Auckland's Karanga Plaza, Wynyard Quarter. A new era for Black Grace, experience a sensory exhibition displayed on 288sqm of LED panels, using sophisticated technology to immerse you in an extraordinary world of dance, art and music.
Created by Neil Ieremia, ONZM, the world premiere is supported by Creative New Zealand.
We are giving away one double pass to the opening session of the world premiere of The Art of Black Grace 1/5.
Email tendai@metromagazine.co.nz to go in the draw to be one of the first 100 people to experience this first-of-its-kind digital immersive event. Winners will be drawn midday Monday 14 November.
For session times and ticketing information see here.
Calendar
North by Northwest
ASB Waterfront Theatre
25 October–19 November 
Robin White: Te Whanaketanga | Something is Happening Here
Auckland Art Gallery Toi o Tāmaki
29 October 2022–30 January 2023
Thom Hinton: Spirit in the Mass
Paper Anniversary
31 October–28 November 
The First Prime-Time Asian Sitcom
Q Theatre
3 – 27 November 
The Artist
Q Theatre – Rangatira
8–12 November
Kete Aronui Film Club presents: The King Maker
Gus Fisher Gallery
10 November
Rituals of Destruction / To Cut a Mermaid's Tongue
Academy Cinemas
11 November
The King of Taking
Q Theatre – Rangatira
11–12 November
Improv Masala
Covert Theatre
11, 12, 18, 19 November
Jeanine Clarkin's Photo DJ Party
Te Uru Waitakere Contemporary Gallery
13 November, 2-4pm
Music Therapy Week 2022
14–20 November 
Aotearoa Art Fair
The Cloud
16–20 November 
NZTrio present: LEGACY 3:
Auckland Town Hall Concert Chamber
17 November, 7pm
The Vista Foundation 48Hours Grand Final
The Civic Theatre
18 November, 6:30pm
The Art of Black Grace 1/5
Karanga Plaza, Wynyard Quarter
20 November–10 December
Alan Carr – Regional Trinket
Kiri Te Kanawa Theatre
24 November
Ko Ngā Wawata a Hina:
Heidi Brickell, Jalaina Hitchen, Te Ara Minhinnick, Neke Moa, Ming Ranginui, and Jade Townsend (a response to Wawata: Moon Dreaming, a new pukapuka by Dr Hinemoa Elder)
Season
25 November–24 December
Portage Ceramic Awards
Te Uru Waitakere Contemporary Gallery
26 November–5 March 
–
Metro Art delivers free to emailboxes all over Auckland every week(ish)!
Sign up to get it here