Sep 29, 2016 Theatre
The latest production from prolific local theatre company Last Tapes is Valerie, a cabaret written and performed by Robin Kelly and Cherie Moore. It's about Kelly's grandmother, Valerie, and her tragic, heart-breaking, cool and colourful life. Here, he explains the inspiration for the piece in his own words, via his family photo album.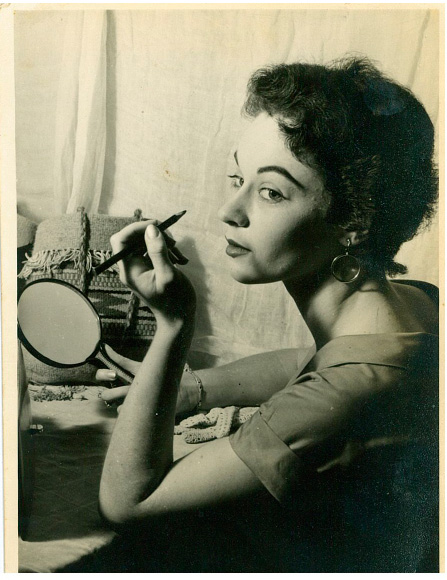 This is a photo (left) of my grandmother, Valerie Bethell. Obviously it's an old photo, I imagine she's about the same age that I am now so I'm looking to it for clues – some insight into Valerie the Woman, not Valerie the Grandmother. The photo sits on my bookshelf and comes with me to the rehearsal room these days.
I'm very close to my grandmother – she lived with us through my teens, she gave the blessing at my civil union. She was quite overwhelmed on the day and it was because we said some things in our vows about managing through difficult times and it took her back to her own vows and the sadness she still has about leaving my grandfather when his illness proved insurmountable.
My grandfather was never well, he had bipolar disorder and paranoid schizophrenia, he and Valerie were divorced when my mother was a teenager, and he was in a home for most of my life, but we all grew up with the stories of he and Valerie in earlier days. It always sounded so glamorous. Even my grandfather's illness sounded exciting. The number of times I've retold those stories about his mad family – a possessive gothic mother, a twisted sister with a boyfriend who thought he was the second coming of Christ and kept canaries in his beard (yep, real live canaries). Talked about my grandfather the inventor and entrepreneur. He and Valerie in their Melbourne restaurant hanging out with Ava Gardner and Frank Sinatra. His breakdown and Valerie jumping valiantly to the rescue – keeping her family safe, caring for my grandfather. It's our own personal family mythology. An oral tradition.
Valerie gave me a 12-page letter she'd written to her lawyer justifying grounds for divorce. In order to show that divorce was warranted she needed to lay out all the facts of the relationship. It even had a title: 21 Years of Married Bliss. She was so dry. And it spread their whole history out on paper. I learnt a lot from that letter – it didn't seem glamorous and exciting anymore. And it also triggered a realisation that I wasn't looking at these stories just because they were interesting. I was looking at them to try and figure out what's been passed down the genetic line. What I've inherited.
There's a strong current of depression (and more) in our family, and more suicides and breakdowns on my mother's side than is comfortable to think about. It's particularly uncomfortable since my own depression and anxiety seem to be worsening as I head towards my thirties. As I unpacked Valerie's story the fear kept growing and I needed to know more about what I've inherited. How bad it could get for me.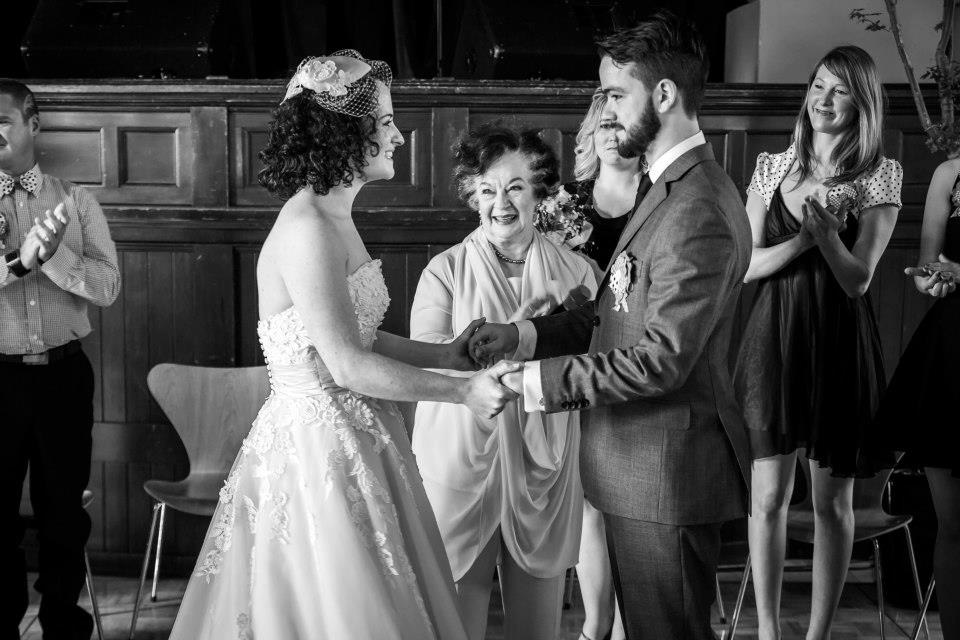 Bethell officiating Kelly's civil union with Cherie Moore. (Left-right: Moore, Bethell and Kelly).
So as we've developed the show it's become about that too. I have the support of my partner, and one of my best friends on stage with me and I'm using them both to help me bring Valerie's stories back to life, and to explore genetics and biology and mental health. Stare the fear full in the face. It's a chance for me to put Valerie back into the centre of all these stories, because that woman is resilient as hell. She survived. She did more than survive – she somehow protected my mother. In fact my mother turned into a pretty awesome person to be honest. I still don't know exactly how she did it – even after developing this show I still don't know, but I just hope that whatever that quality is, she passed that down to me too.
The show goes to some dark places. It's an exercise in not being afraid of those dark places too. I've written songs that explore the connection between experiences across generations. I've written some pretty brutal truths. I've written science lectures. But ultimately I think the show is about love. As cheesy as that sounds. It's a love letter to my grandmother. It's a way of me saying thank you to her, and to relieve the burden maybe. She's held on to these stories for so long, kept everyone safe underneath her. I'd like to take some of that away. Let her know we'll all be okay.
She's coming to see the show and I could not be more nervous….
Valerie plays Tue 27 September – Sat 8th October at Basement Theatre, Auckland, as part of the Auckland Live International Cabaret Season. For more visit www.aucklandlive.co.nz