Jun 2, 2016 Theatre
Above: Actor Natalie Medlock, star of The Voice in My Head.
Playwright and director Jodie Molloy is a post-graduate student in Creative Writing at the University of Cambridge. The Voice in My Head is her first play, and is showing at The Basement until June 4. It confronts the topic of abortion through five unique monologues, acted by local star Natalie Medlock. Here Molloy shares the inspiration behind the piece. 
My first experience of abortion happened when I was five years old. My Catholic mother was pregnant with my little brother and so unwell she had been advised to have a termination based on medical grounds. She was even booked in but at the final moment, she chose not to heed their advice. The story of his survival in the face of this close call is part of my family lore.
For her, God wasn't involved, just a maternal blindness to continue.
In this photo (below), there are Herculean wills at play in the stare-down that's occurring between myself – on my grandfather's shoulders – and my heavily pregnant, corduroy-loving mother. There's no question I'm being told off for saying something inappropriate like "Why am I dressed like a Cowboy wearing Fry's in 1979?"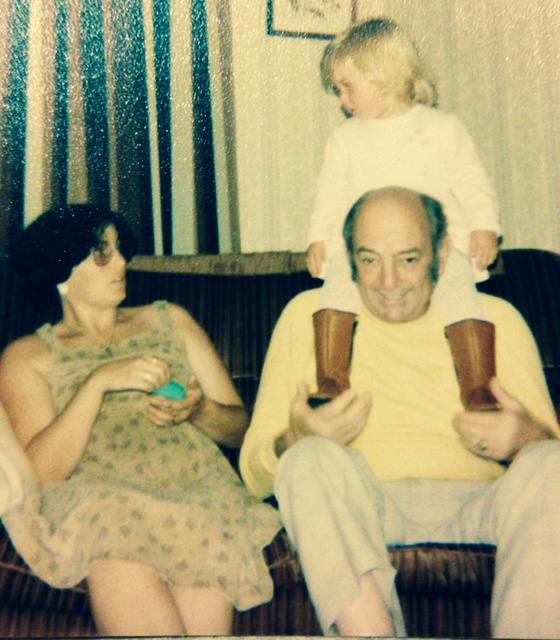 I think she would have my full support in suggesting she didn't take her parenting cues from Marmee in Little Women, but what I do know of the world, of women, came from my eavesdropping on her and her friends as they attempted to make sense of their lives over tea and biscuits. It also came from reading her books and pretending to ignore her evangelical sermons, which aimed to make me understand the privilege of being a First World, educated female with choices.
The Voice in My Head is about abortion; something we don't dwell upon terribly often in art and a trigger word that represents a multiplicity of experiences for those who have chosen to discontinue a pregnancy. The current law in this country places it in the Crimes Act and I believe that's partly why a stigma still surrounds this health choice. The legal position New Zealand takes is draconian in relation to the overwhelming statistics that prove it's a very common experience. One in four  New Zealand women have had or will choose this procedure.
This show wasn't intended to be political, however, the nature of the content comes with an inadvertent responsibility to look at the wider issues associated with the theme.  Abortion will always incite heat and fracas, a natural consequence of a subject that is rife with competing dogma. So many other socially contentious issues can now be discussed with some modicum of rationality so I would like to imagine this show can be viewed as part of the wider discussion.
I love story telling, I love the power of performance and that's informed the style of the show. At the heart of the maligned word "abortion" are stories. There's nothing to fear in examining what has and will continue to be a legitimate part of a female's right to agency over her body.
The Voice in my Head, until 4 June, Basement Theatre. basementtheatre.co.nz