Jul 28, 2014 Theatre
The Good Soul of SzechuanBy Bertolt Brecht
Auckland Theatre Company at Q Theatre
July 26, 2014
"Be good and everything will be all right," is the simplistic message of the Gods. "Good deeds bring ruin," retorts Shen Te (Robyn Malcolm). Thus Brecht, the great 20th-century playwright and polemicist lays out the territory of The Good Soul of Szechuan. A parable, rooted in Marxist analysis, filtered through Chinese ethics, it portrays Western economic and religious values in conflict with the reality of ordinary people's lives. Given the widening gap between rich and poor in our society, its contemporary relevance is particularly piquant.
On a mission to find a "good person", a trio of Gods (Bronwyn Bradley, Simon Prast, Cameron Rhodes) dressed in metaphorically protective white boiler suits arrive in the city of Szechuan. Wang, a water seller (an energised and energising Shimpal Lelisi) attempts to find them somewhere to stay. Among the struggling, self-serving citizens no one, except the good-natured prostitute Shen Te, will take them in. Delighted to have found living proof of "goodness", the Gods – not normally given to involving themselves in matters "economic" – give Shen Te money to buy a tobacco shop.
Instantly beleaguered by a motley rabble who take advantage of her generosity, Shen Te is forced to invent a tough-minded alter-ego, a male cousin, Shui Ta, who takes charge when soft-hearted Shen Te's circumstances become desperate. Ripped off and left pregnant by a faithless and mercenary pilot, Yang Sun (Edwin Wright), with whom she falls in love, Shen Te has no option but to abandon her good self and become the hard-hearted Shui Ta.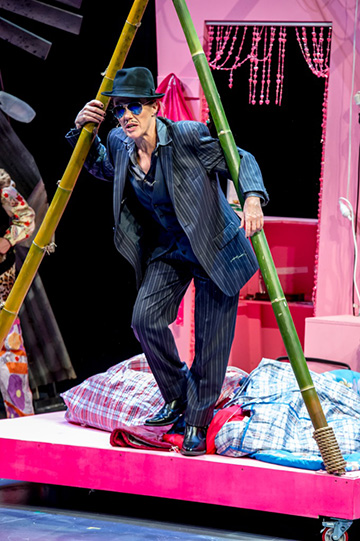 The plot is slight, contrived even, and Brecht relies on broadly drawn character and situation to carry the story. Not only exploring themes of goodness – what it is, how to find it, what sustains it – Brecht also riffs on religion, love, gender: the intractable and impossible expectations of the commandments; love and economics as uneasy bedfellows. Shen Te, easy prey as a woman, wears authority as a man. The play doesn't provide answers: in the final scene, the Gods desert Shen Te and as the lights go down she offers a plea to the audience for help.
Colin McColl's vivid, colourful production is flavoured with vaudeville and redolent of modern street life (Wang carries plastic water bottles), while never permitting the audience to forget the Brechtian dictate: this is a performance. Actors engage with audience before the show; stage crew deliver microphones; the audience is support to the onstage action. Emotional distance is preserved by humour and song.
Production team and cast, relishing the opportunity, discard caution and deliver a vital, theatrical experience: the final court scene is a highlight. The lurid pinks in John Parker's wittily flexible set are matched by equally and entertainingly eloquent costumes by Elizabeth Whiting. John Gibson's tough-minded music, played live, captures both rawness and lyricism while Phillip Dexter's lighting design confers a showy clarity.
And Robyn Malcolm? She occupies the centre with a mercurial grace, warm and open as Shen Te, gritty and indomitable as Shui Ta. Byron Coll does a nicely finessed turn as a suitor, and the whole large ensemble – 12 actors, a rare treat – enliven the stage with deliciously controlled anarchy.
The Good Soul of Szechuan runs until August 17.