Mar 13, 2013 Theatre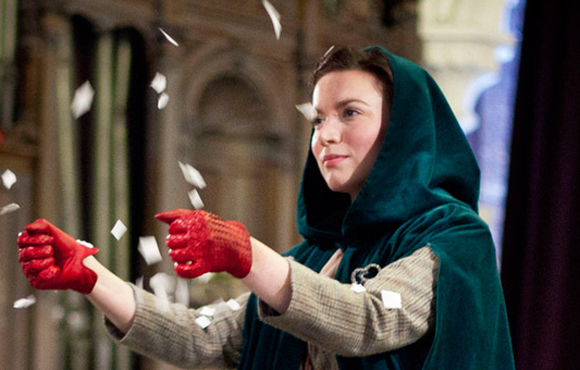 The Strange Undoing of Prudencia Hart
National Theatre of Scotland
The Bluestone Room until March 24
Reviewed by Simon Wilson
They start serious, with a lament, and then launch themselves into a long and very funny jag, all in rhyming couplets and loosely tied to a preposterous academic dispute about "authentic" modern folk music. As in, ballads or football songs?
But there's a whole lot more to The Strange Undoing of Prudencia Hart than that. This Scottish show is located in that nefarious part of Scotland where for centuries nothing and nobody has been quite what they seem: the Borders. Which means, musically, it's not just "Scottish": there are English whiffs – Sandy Denny, that most English of folk heroes, gets a shout-out – and definite Irish riffs too.
The Borders are most particularly not what they seem on a stormy midwinter solstice night in 2010 when Prudencia Hart visits. Old-fashioned (she dresses straight from the 1950s) but young, an expert in border ballads and lost souls, she is humiliated by her colleagues, then gets lost, then saved… by a short and not so handsome stranger. Hello, Mr Devil.
And hello, Hell, which turns out to be a bed-and-breakfast with a view of a Countdown carpark, although it transpires there is also much worse. The play tone shifts surprisingly in the second half, becoming a kind of gender-reversed, super-updated and eventually hilarious retelling of the Scottish ballad Tam Lin. They don't sing the song, which is a shame, but they sure win your heart.
The National Theatre of Scotland likes to stage this piece in a pub, and in the convivial atmosphere upstairs at the Bluestone Room it works a treat. But don't be misled. The bar is open beforehand and at interval: during the show you're asked not to move from your chair, for fear of getting in the way. Get there early and get 'em in.
Prudencia Hart is about the pleasures of traditional culture, about the relevance of the old songs and stories, and most of all – surprise, surprise – about love. With all those ballads hanging in the air, it could hardly not be. Yet its themes are far more complex than in any true-love-lasts-forever song. In this show, love makes you safe and it is clearly also very dangerous. "In poetry," says Prue, "it's not what lovers do that counts, but what lovers start to undo."
It's also about theatre itself, about what makes a live show worth going to. It takes place in front of, behind, around, above, threaded through and, for one or two "lucky" individuals, right on top of the audience. And that helps to make it wonderful. You could film it, but you would lose the heart of it – this is a play that celebrates the delights of being in a room with very clever actors doing their stuff.
And it's very funny, in all sorts of constantly surprising ways. Robbie Burns is in there, of course, and Elvis gets a mention too. You'll discover – and love, I promise – the hidden depths of Kylie Minogue, and there's even a most memorable version of Katy Perry's "I Kissed A Girl". Yes, it's that kind of show. So much fun, on opening night I think most of us wanted to wrap it up and take it home.