Mar 24, 2013 Theatre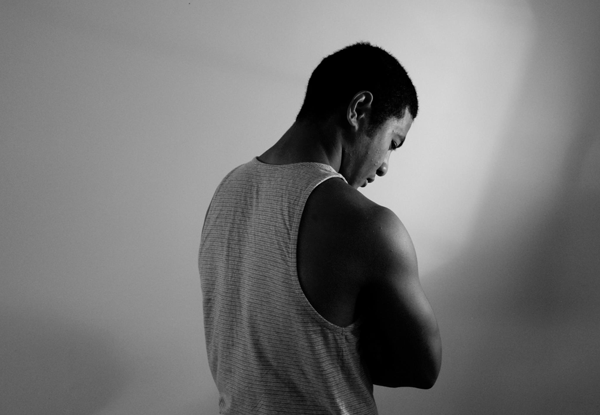 Le Tonu
Polynesian Laboratory (P Lab)
The Basement
March 22, 2013
Reviewed by Frances Morton
Clocking in at 45 minutes, Le Tonu – The Decision is a short play but it is by no means slight. With just a bare stage, three actors, one chair and a basic story it traverses deep themes facing Auckland's Polynesian diaspora touching on modern Samoan history, cultural identity, the trauma of the Dawn Raids and intergenerational tension. And it does all this without getting bogged down, because at its heart, Le Tonu is a tender family tale.
It's Papa's birthday and the family are gathering to celebrate. Peni (a booming, brilliant Fasitua Amosa) is trying to juggle the event plus more longterm arrangements for his aging father (Max Palamo), who is suffering from dementia. Peni comes up against nephew Lucky, played by Beulah Koale, who has a special connection with his grandfather and is endearingly patient with the old man's repetitive tales of the past. A scene in which Lucky bathes Papa is beautifully done and particularly poignant.
These three actors have come through Massive Theatre Company – known for devising bold, physical theatre based on authentic storytelling – and it is encouraging for local theatre generally to see the performers take up this mantle and run with it in their own direction. During a season that has had to compete with some huge international productions in the Auckland Arts Festival for audiences, it was a pleasure to nuzzle down in The Basement and see this intimate portrayal of a local story.
It's the second outing for Le Tonu, directed by Shadon Meredith and Amelia Reid-Meredith. It first appeared as Hypothesis One at The Basement last year and the collective Polynesian Laboratory (P Lab) have taken the time to revise and develop. That's obvious in the strong performances. The cast have fun switching between characters during the party scene drawing big laughs as they flit from cheeky youths to gossipy aunties but they are at their most powerful in their key roles struggling with the big issues that risk tearing at a family and its values. By dialing back some overbearing character traits, these moments will resonate even more.
Le Tonu still has the feel of a work in progress but leaves you wanting more.
On until March 30