Apr 16, 2013 Theatre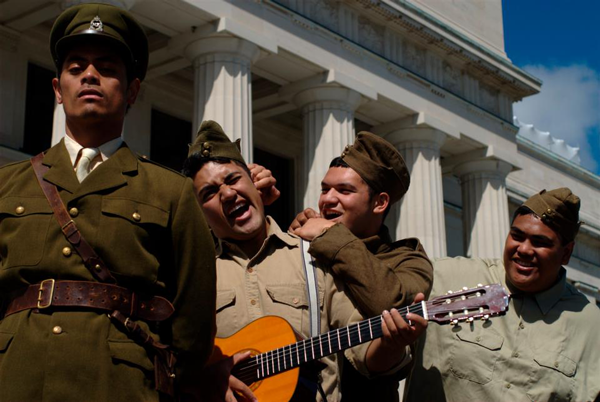 Image: Sian Parker
Goodbye My Feleni
Hekama Creative
Basement Theatre, April 16, 2013
Reviewed by Frances Morton
The heroics of the Maori Battalion are cemented in our nation's historical lore. What's lesser known, is that within the D Company ranks – Ngati Walkabout as it was known – soldiers from the Pacific Islands marched alongside their Maori brothers in arms. Goodbye My Feleni takes up their tale. We meet Cook Islander Lance Corporal Simi Bishop (Samson Chan-Boon) and his two young subordinates Niuean Tama Apala (Leki Jackson Bourke) and Samoan Ione Churchward (Andy Sani) at Papakura Military Camp in 1942, just as they are about to ship off to "travel the world and kill Nazis", as Apala says.
The new recruits are as squirmy as schoolboys at a sleepover party. Bishop beats time until reveille gambling at illicit card games in neighbouring barracks. Stuck in a merry limbo the excited soldiers face their future naively. Reality starts to sink in with the arrival of 2nd Lieutenant Eteli Masani (Taofia Pelesasa), a staunch, battle-weary veteran carrying secrets from the front.
The title comes from a Samoan farewell song and familiar wartime tunes are expertly woven through the play. As well as being beautifully performed (Chan-Boon has a fantastic voice) they provide the historical context. Including British tunes like "It's a Long Way to Tipperary" highlights the absurdity of kids from Niue and Aitutaki heading to the battlefields of Europe.
There are some lovely touches in the direction by Shadon Meredith and Amelia Reid-Meredith, particularly the movement of the actors transitioning scenes in the tight Basement space. The action takes place in darkness illuminated by shifting spot lighting. This evokes the restrictive camp setting well.
Ultimately the story wants to soar and despite a very solid script by David Mamea, the play doesn't quite find the emotional heights it's reaching for. The actors do cheeky comedy superbly but need to delve into riskier territory to find dramatic depths. Too many fluffed lines on opening night were a distraction. That aside, the plight of Pasifika soldiers during World War II is a story that needs to be told and makes great material for the stage. Goodbye My Feleni is an engaging and thought-provoking prelude to Anzac Day.
Until April 25