Mar 31, 2014 Theatre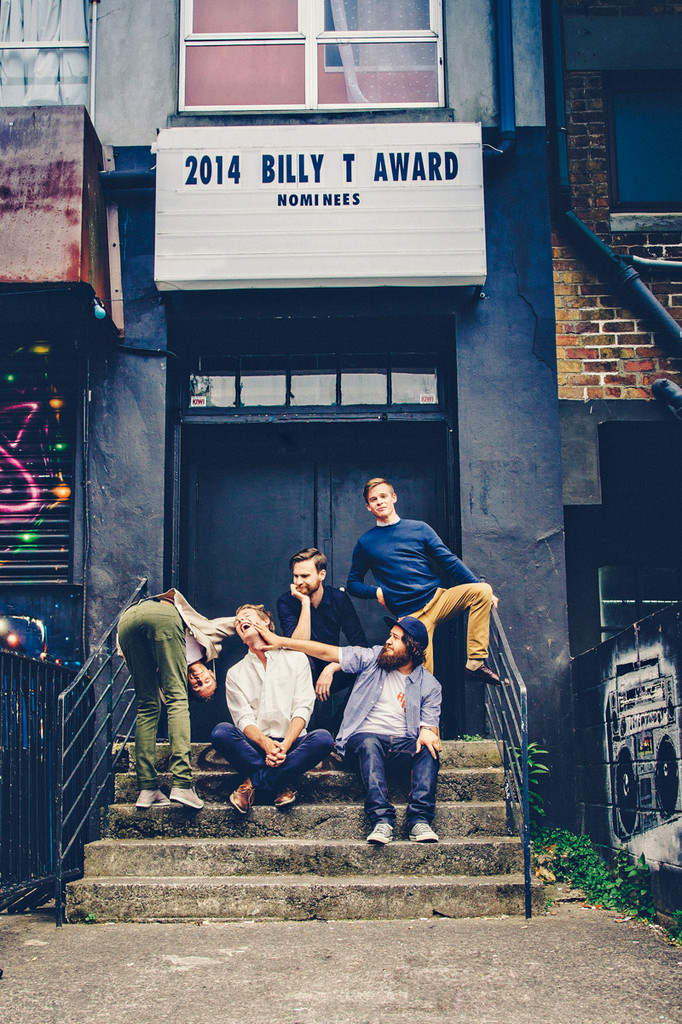 Don't be fooled by the smiles. As the NZ International Comedy Festival approaches, the five young comedians nominated for the 2014 Billy T Award are engaged in a bitter rivalry, to be settled once and for all at the winner's announcement on the festival's final night. We took the opportunity to get them together for a chat while they were still on speaking terms.
Is being a smart-arse a blessing or a curse?
Jamaine Ross: It's definitely a blessing. It's great for diffusing awkward situations. Like one time, I took my now ex-girlfriend to a tangi at my marae, and I introduced her to my cousin. And my girlfriend said to my cousin, "I don't even know whose funeral this is. Who died?" To which my cousin replied, "My brother." So after the awkward pause, I started singing He Ain't Heavy, He's my Brother and everyone laughed.
Guy Montgomery: It is a curse, a damn filthy curse. The lady who ran the ferris wheel at the Christchurch A & P show put a hex on me when I was five.
Tim Batt: Smart-arses rule the world. Think about it, squares go on to be presidents, smart-arses become the Bernie Madoffs. Sure he's in jail but he had a waaaaay cooler ride getting there. They're more hated on average, but it's difficult to hear people berate you from your spa pool.
Brendon Green: It's definitely a blessing. Laughter is the single best thing in the world! It's easily the most enjoyable distraction we have from the crushing meaninglessness of existence.
Funniest thing in New Zealand, now or in the past?
Stephen Witt: That would have to be the 2014 New Zealand International Comedy Festival, and those that are preparing to perform in it. I think that there are some hilarious new comics coming through in the NZ scene that are well worth watching. They have a great lol ratio.
Guy Montgomery: The Billy T James Morning Talk sketch is probably the funniest thing. Give it a YouTube.
Brendon Green: Being a Vodafone Warriors supporter. And I say that as a Vodafone Warriors supporter.
Tim Batt: Historically, our former PM calling a snap election while hammered cracks me up. It's the most kiwi thing that could ever have happened. Currently, the funniest thing is the idea (though not necessarily the execution) of my and Guy Montgomery's podcast The Worst Idea of All Time. We watch the same movie every week and keep reviewing it. The movie is Grown Ups 2. It's part social experiment, part long running gag told through an online medium, part self-abuse. Guy came up with the idea and I thought he was a genius until I realised he ripped it off a guy who watched Julie & Julia every single day for a year.
Jamaine Ross: When my dog goes crazy and starts sprinting around the house at full speed and bangs his head running under the coffee table. I lose my shit every time.
What was your first job?
Brendon Green: Technically it was delivering junk mail, but I was so scared of dogs that my mum did most of the work for me because I couldn't get past the end of my street without having an anxiety attack.
Guy Montgomery: When I was 13 my best friend and I worked in a factory assembling boxes of tourist products. We were surrounded by 50 year old women and Classic Hits. It was the best of times, it was the worst of times.
Tim Batt: Check-out chick at New World. I have also worked at McDonalds, Starbucks and the complaints department of Inland Revenue. I rate having terrible jobs very highly. Terrible jobs teach you WAY more skills than good jobs. At a good job you're just trying to not get fired and sucking up to everyone. At terrible jobs you're finding out how to deal with a 63 year old woman who can't appreciate that there's no chicken nuggets today because the stock ran out. She should be able to appreciate the physics of the situation at her age, but she doesn't. And that's where you learn expert communication and negotiation skills.
Jamaine Ross: Delivering newspapers. Specifically the Christchurch Star. I got one of those racks that you attach to the front of your bike to carry the newspapers in, but it was too heavy for me and I kept bailing and spilling the newspapers all over the ground. So I ended up using a rusty old pram I found down by the river.
What other awards have you won?
Brendon Green: I won the 2012 Best Newcomer award at the Comedy Fest, which was cool. But my proudest achievement was winning Best Speaker at the Model United Nations in high school. I represented Japan, and over the course of two days I managed to get a unanimous vote in favour of legalising all forms of Whaling.
Stephen Witt: I won first place in a colouring in competition when I was seven. The prize was a $10 voucher to spend at Deka, and I bought a plastic sword. That was a great time in my life.
Guy Montgomery: I won the effort prize in Year 8 and I'm still trying to wash the 'effort' stench off myself.
Jamaine Ross: The 2012 Raw Comedy Quest, 2013 New Zealand International Comedy Festival `Best Facial Hair' Award, and the 2014 Jamaine Enterprises February/March GST Filing Award.
Tim Batt: Last year I won Best Newcomer at the festival but missed the ceremony because, from memory, I was at home sleeping off a hangover. Also, I'm confident I won something for basketball at primary school. Which is good because at 5'10", I'm never winning anything for that ever again.
Proudest moment until now?
Jamaine Ross: I don't usually do pride because I saw Se7en and I don't want to get serial killed. But it'd have to be when I was asked to open for Tenacious D last year.
Tim Batt: Getting our stupid podcast to number one on iTunes. Though that's probably because I have a terrible memory.
Brendon Green: I remember feeling genuinely proud of myself the first time I finished an entire Mac Attack from McDonalds. I think I was 15 years old when I did it, and now I'm proud of myself every time I don't eat one.
Guy Montgomery: Now, as in answering this question for Metro? I am so overcome by the gravity of this moment I can't access memories.
What are you doing five minutes before getting up on stage?
Tim Batt: Concentrating on the vastness of space, the immeasurably small impact my performance will have on it and then remind myself to have fun. Unless you're very misguided, you certainly don't do comedy in New Zealand for the money, so you better be having fun.
Stephen Witt: Usually I'm talking, flapping my gums, with the other comics. If I can I'll take a moment and listen to the show, try and gauge what the audience is laughing at, and responding to, if they are responding at all. If they aren't then you can be sure that's what the comics are talking about backstage, among other things. Like bums.
Jamaine Ross: Pacing and beatboxing and doing the wave (the hip-hop dance move, not the Mexican crowd action).
Brendon Green: Looking in a mirror, regretting not owning a better iron.
Guy Montgomery: Aimlessly pacing the green room wondering if it's too late to study medicine.
Favourite stand-up comic, living or dead?
Stephen Witt: For me it's Zach Galifianakis. He gets away with a lot on stage. He is incredibly smart, and incredibly overweight, and that isn't cruel. You only need to spend 10 minutes watching him on YouTube to know why. I recommend watching Between Two Ferns if you haven't seen it already.
Tim Batt: That changes minute by minute and I'm not a sycophantic fan of anyone but right now? Bill Hicks comes to mind. I like that he appeared to be on a bit of a mission by the end of his career to really make an impact and change the world. Then again he did drink like a fish, smoke like a chimney and did more drugs that would be available to a graduate level chemist so maybe he was just trying to justify his own destructive life to himself. Either way, dude was spitting some truth at the end there.
Brendon Green: I get incredibly inspired/jealous seeing people my own age doing amazing things. John Mulaney, Michael Che, Sara Pascoe, James Acaster, and Jennifer Lawrence (because she has to make every list of 'favourite people' ever, it's the law) are on top of the game right now, and I just want to be friends with them.
Jamaine Ross: Apart from myself, Dave Chappelle. As soon as I saw Half Baked, I was on board. I love his stand-up specials, Chappelle's Show and Dave Chappelle's Block Party (which is my favourite movie ever), but not Robin Hood: Men In Tights.
Guy Montgomery: Living, I find them much more engaging that way.
NZ International Comedy Festival, April 24 – May 18. comedyfestival.co.nz.