Sep 21, 2015 Theatre
Behind the scenes photographs: Stephen Langdon.
A knife to your throat; NZ Opera's Tosca is visceral and electric.
The curtain goes up, orchestral chords crash, and the story is on, with an escaped prisoner dashing breathlessly into a church. Puccini's Tosca, one of the very first pieces of music to premiere in the 20th century, dispenses with that old 19th century stalwart, the overture, and is lushly but not ornately scored, with a story as direct as a knife to your throat: love, lies, war, torture, murder, obsession, suicide.
It combines melodramatic excess with an elegant simplicity, both in the music and in the narrative, and NZ Opera's new production serves both ends of this balanced aesthetic beautifully. It's a great night out, well designed (mostly), brilliantly costumed, and well sung, with stand-out performances from Orla Boylan in the title role and Phillip Rhodes as the vile Baron Scarpia. They're a powerhouse pair of voices: their shared scenes, especially in the crucial second act, were electric.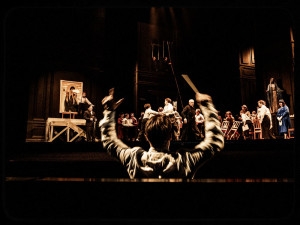 Puccini's story is set in a corrupt Rome threatened by Napoleonic invasion. This production jumps one-and-a-half centuries to the politically troubled Rome of the 1950s, an era only a little closer to ours than the early 19th century was to Puccini. The temporal relocation changes the music and the story not at all, note for note and line for line.
But it changes the overall force of the opera substantially: set under electric chandeliers and enacted by men in sharply tailored suits, the second act's key torture scene can't be perceived as a barbarity from another age. Although the actual acts of "enhanced interrogation" occur in the wings, the spectre of recent world history is fully present onstage.
Those electric chandeliers were my one issue with the production design. They hang a little low and they're a little bright; I had to squint. In general Jason Morphett's lighting is clever and effective, using shadow to enhance the sense of space in Jan Ubels's splendid open-plan, dark-panelled sets, and Elizabeth Whiting's costumes, especially those suits and their sinister accessorising – black gloves – evoke the period perfectly.
Auckland lacks an ideal venue for opera. Voices strong enough to fill the Aotea Centre even at non-fortissimo moments are rare, and although the Auckland Philharmonia under Tobias Ringborg were restrained, precise and responsive, some of the singers did not ride over the orchestral sound as effortlessly as others.
Simon O'Neill was passionate and alive to the music as the idealistic painter Cavaradossi, and his voice can soar to a magnificent fortissimo punch, but at less impassioned moments he sounded as though he was standing 20 metres further off than Boylan and Rhodes. In other ways, that sense of cavernous space plays to the production's strengths: this is a big opera, dealing with big emotions. It deserves to draw big crowds.
*
At the other end of the venue scale, Auckland is well served: mostly by churches. St Lukes in Remuera is one of a number of churches around the city hosting regular concerts, usually under-publicised, usually drawing small audiences of devoted regulars, and often featuring adventurous programming and good playing.
Four days before I heard him conducting Puccini at the Aotea Centre, Tobias Ringborg performed at St Lukes on violin, together with flutist Luca Manghi and pianist David Kelly, in the first of two concerts associated with Auckland's Festival Italiano street fair. Flute, violin and piano is a trio combination only slightly more famous for its rich repertoire than mouthorgan, cello and glockenspiel, a combination that does not exist at all. I went along mostly because it seemed such an unlikely idea. I came away glowing.
The programme surveyed 19th- and 20th-century Italian music, including Puccini, Paganini and the virtuoso flute composer Ciardi; but the two great discoveries for me were Carlo Cammarota's Arioso e Fuge (angular, sinuous, gorgeous) and a dazzling three-movement showpiece trio by the great film composer Nino Rota (The Godfather).
From its moto perpetuo opening through a gorgeously dark central andante to a giddy, rushing finale, the piece is a fantastic exploration of how these three instruments can feed off each other. It's also an instructive example of what you can find if you step out of the performance mainstream into smaller venues, where overhead costs don't impose the necessity of playing reliably crowd-drawing repertoire. Performers free to take risks are more likely to surprise you.
Tosca, to September 27, ASB Theatre, Aotea Centre (then in Wellington). nzopera.com