Sep 20, 2017 Theatre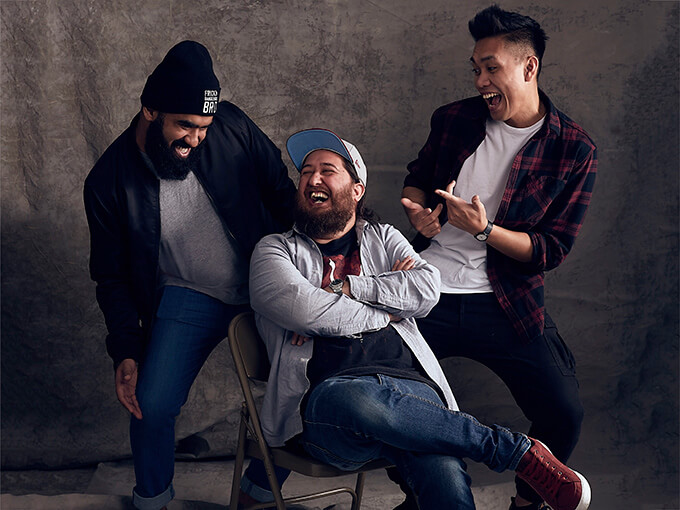 Three's company
When you think of where great ideas are born, Denny's doesn't quite come to mind. But for comedy trio Frickin Dangerous Bro, great gags materialised at the chain's Auckland CBD branch. Stand-up comedians Pax Assadi, James Roque and Jamaine Ross, who call themselves "NZ's brownest, funniest and cockiest sketch comedy trio" took a trip to Denny's after a night out at The Classic comedy bar back in 2014 and decided they should start a podcast.
Most drunk decisions aren't destined to end well, but their podcast proved a success. Sketches came next and a central theme became the "brown experience", as Roque calls it.
Race, ethnicity and social issues are all joked about in their sketches. "It's about how to be constructive, without making shit worse for people," he says. "I feel like when you're doing comedy about race, it's so easy to play the easy card and then just perpetuate stereotypes for cheap laughs."
Adds Assadi: "I don't think it's a fragile subject when it's coming from the voice of the people that experience it, if it comes from a true place."
Assadi is a New Zealand-born son of immigrants (from Iran and Pakistan), Roque migrated from the Philippines with his family as a child, and Ross is tangata whenua. "The sketch stuff works because all three of us have a really distinct viewpoint when it comes to the brown experience," says Roque.
Frickin Dangerous Bro's "World Tour of Tamaki Makaurau" will take them to Auckland's north, east, south and west, along with the central city, with the aim of delivering comedy to people who don't usually get to see it.
"Most of our gigs are in the city and the audiences tend to be mainly white people," says Ross. "We kinda wanted to perform to people like us — a Maori audience, a South Asian audience… and an 'other Asian' audience," he jokes. Roque is in the "other" category, but the stab at casual racism isn't lost on him. Everyone laughs. "Instead of convincing people to come to us, we'll just go to them," agrees Assadi.
The three had very different routes into comedy. Ross was told to try stand-up by a friend who thought he was funny at his old job at MediaWorks, Roque started out in the Class Comedians programme at high school, and Assadi was inspired by YouTube clips of comedian Russell Peters.
Assadi's mum is only just coming to terms with the fact that he's not in a medical profession.  "When I turned 18 and told my mum I was going to be a stand-up, she cried and she cried," he says with a laugh. "And then for years she continued to give me pamphlets for different medical courses. It started at doctor then it went to dentist and then it went to physio and then it went to nurse and then it went to nurse's assistant."
Being a comedy group gives them the chance to take risks they may never take in their solo stand-up careers.
"For any stand-up comedian, it has to be a little more tight and a little more conscious and polished. If something doesn't work out and you have to fix it, it all lands on you," says Assadi. "Whereas with us, I feel like there's a little more of a safety net and what that creates is more room to play around; we can take more risks, we can be a little more loose, we can be a little more crazy."
Those risks include adding improv to their scripted comedy sketches. In one show, a guy threw his phone at the stage after being riled up by the trio; in another, the three convinced a "rich-looking white man" to sponsor them. When I ask what a "rich-looking white man" might look like, I'm told it's just a white guy in a suit. Fair.
With no clear career trajectory in mind — "we haven't really sat down and thought of a plan," says Assadi — their main goal is to just go with the flow, with the end goal being television. "Our dream is to have our own TV show," says Roque. "Act in it, write it and have creative control."
For now, though, they're content to crack (up) every part of Auckland. "So far, everything's been really organic. We haven't really forced anything," says Ross. Jokes Assadi: "I was born with a microphone in my mouth."
---
Frickin Dangerous Bro's World Tour of Tamaki Makaurau runs from Sept 23 to October 21. Tinyurl.com/frickin
This is published in the September- October 2017 issue of Metro.