Oct 4, 2017 Theatre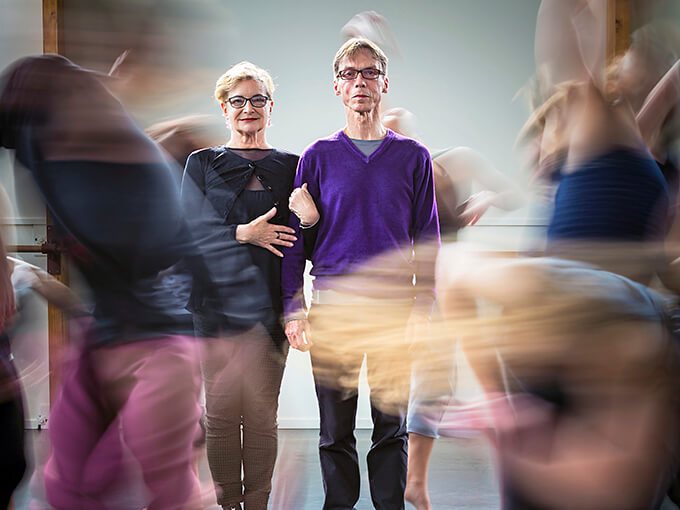 Dance exponents
"We've been standing here for half an hour and it's very boring," Douglas Wright informs me during Metro's photoshoot. I swallow any smart replies that come to mind and remind myself that he has done this kind of thing countless times.
Wright, aged 60, and Mary Jane O'Reilly, standing next to him with enviable posture for her 67 years, are legends in the New Zealand dance scene. They're former members of Limbs, arguably the country's first professional contemporary dance company and a platform that launched stellar careers. In October, as part of Tempo Dance Festival, they'll choreograph performances by young dancers of works from the Limbs repertoire, to celebrate the company's 40-year anniversary.
O'Reilly and Wright still move with the grace of dancers, although they've left the physical side behind for other pursuits, O'Reilly in choreography and Wright painting and writing. The Limbs anniversary has brought them back together with original member Mark Baldwin to present six original works.
O'Reilly will recreate three, Poi ("The bodies are the poi," she says), Talking Heads, which she says is quite sedentary in comparison, and Moth, which is set to music by Kraftwerk.
Wright brings to the bill his works Knee Dance (which has a central female figure "who is kind of majestic", he explains) and Quartet ("a sort of minuet on speed").
The pieces will be performed by dancers from the New Zealand School of Dance, the Unitec performing and screen arts programme and the University of Auckland's dance studies programme, working from videotapes of performances back in the 1980s.
Initially, Wright had no interest in reconvening for the celebrations, but O'Reilly convinced him otherwise. "I don't want to do any more dance," he says. "But I'm really happy to do this and I'm really glad Mary Jane asked me and I finally decided to do it. Because, when I saw Knee Dance come to life again, I realised it is still alive — and that's 35 years on, so that's pretty amazing to me to have made something that long ago that's still alive."
In the middle of our shoot with dancers from Unitec, Wright breaks out a mini tutorial, proving the lifelong passion is not yet dead. The rigid demeanour melts and he moves his arms and legs like an octopus on amphetamines, swishing about the stage. After 30 seconds, though, he's back to poker face, pretending nothing happened. "I like dancing at my home and in my garden, but otherwise I have very little interest in it," he assures me.
Wright began his career as a gymnast, before transitioning to dance after a wild run during the psychedelic era. "I fell out the other end in a gutter in Sydney and was picked up by a gorgeous man who became my partner and persuaded me [to dance]," he says.
O'Reilly, on the other hand, formed her roots in ballet, before eventually wanting more from dance. "I love ballet but at that time I found it really constricting and I knew I wasn't really built to be the perfect ballet dancer," she says. After taking a break overseas for a few years, she returned home and started Limbs with a group of friends. "We busted our arses and danced and danced and worked and worked." 
Navigating the contemporary dance scene 40 years later brings new challenges. "They don't have a sense of the pelvis, do they?" O'Reilly asks Wright, referring to the bodies of today's contemporary dancers. "The contemporary techniques have changed," she adds. "They're looser and not so rigorous in the core."
Wright agrees. "While the work is really intricate and fabulous to look at, I think that we've lost a certain centre of gravity."
Though styles have moved on, the Limbs dancers were pioneers for their time, boasting a non-conformity that ignited the country's contemporary dance scene. O'Reilly looks back with fondness. "The company lasted 12 years, but the reverberations, the diaspora of all the people who were in the company, are quite fantastic, really."   
Limbs@40, Q Theatre, October 5-6. tempo.co.nz
This is published in the September- October 2017 issue of Metro.