Oct 17, 2016 Theatre
Photos by Michael Smith Photography.
Auckland, be proud: the first show in the new Waterfront Theatre is a toe-tapping triumph.
This is a story of escaping a cultural backwater, valuing artistic expression, putting on a huge fundraising drive, and achieving the dream that many thought impossible. Billy Elliot is a very good stand-in for plucky Auckland Theatre Company who have finally become the last flagship company in Australasia to get their own home venue.
The question with Billy Elliot the Musical is whether ATC can rise to their incredible new space, up the quality of excellence that the company should be known for, but with especially uneven productions this year, don't always meet. This season they're up against Priscilla, "direct from the UK", playing at the opposite end of the city centre (in Billy an attempted karaoke rendition of 'I will Survive' is humorously shut down). To borrow a quip from Andrew Grainger's boxing coach, as he raffles a meat pack at the Christmas relief for striking miners, the steaks are high.
Of course, musicals have long been something Auckland Theatre Company do well. The best – I'm thinking Cabaret or Chicago –  are often when they get to put their own spin on the material. This is not the case with Billy. It's modeled off the 2005 West End production, and the recording made for the 10th anniversary has been on constant repeat as they replicate the contractually obligated choreography. It gives them a formula that's been proven to work, but the danger is a paint (dance) by numbers approach.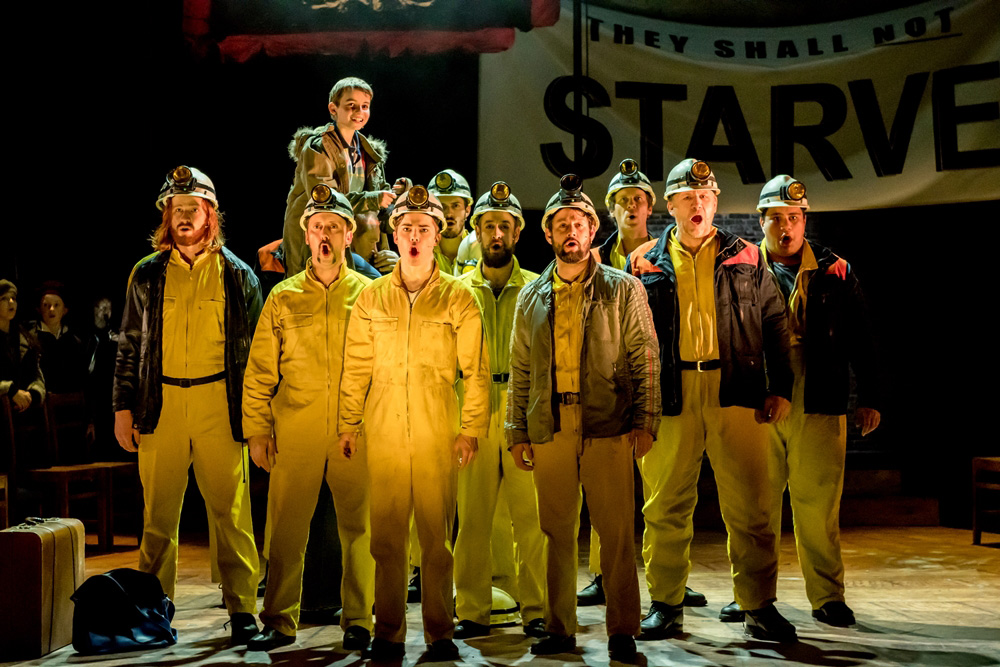 Enough suspense.  I've seen Billy Elliot in Sydney and London. While those had hydraulics that ATC can't employ, what we're getting is a very good match for those international productions, and it absolutely competes. Our Billy has something else too, an elusive quality that we'll call "heart". Partly that's down to the intimacy of the Waterfront theatre, but mostly it's because this Billy is performed by a company that have everything to prove, and they dig deep to give us something special.
Our Billy has something else, an elusive quality that we'll call "heart".
The original 2000 film was a startling picture of Thatcherite Britain and nationwide miners' strikes, viewed from the perspective of a 11-year-old boy in County Durham, who exchanges boxing classes for ballet. The soundtrack was a super cool mix-tape of retro Britannia, a sound the musical ditches entirely. Unusually, the film's screenwriter Lee Hall wrote the book and lyrics for the stage version. The lyrics are the weakest of the two, mawkish and often derivative ("give 'em the old razzle dazzle" / "we were born to boogie"), but they get the job done. Its forgivable when you've got Sir Elton John as composer, who lends his trademark camp dazzle, but also real gravel to the miners' ballads. The social realism and musical glitz occasionally make awkward dance-partners (giant dresses come out to dance in 'Expressing Yourself' to meet the spectacle quota), but mostly works, like the audacious move in 'Solidarity' to intercut an altercation between striking miners and police with a ballet lesson.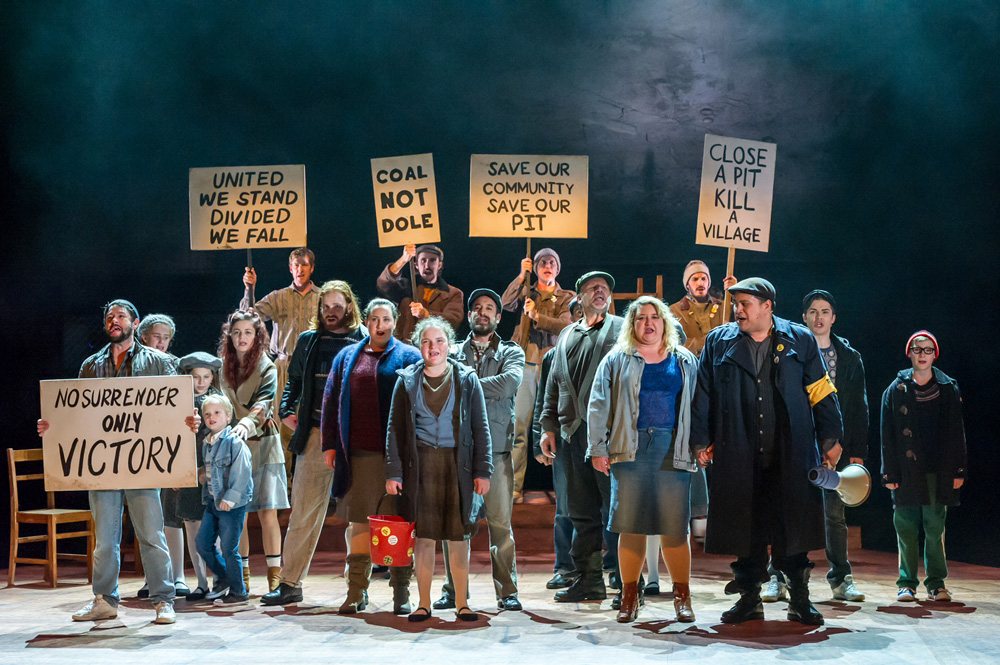 Then there are the moments when it's not enough to sing, and dance is the only viable means of expression. After being barred from ballet classes by his father, Act One finishes with Billy's angry dance. Explosive, defiant, and threatening to put dents into the brand new stage, Billy flings himself at the police riot shields. Act Two sees Billy in a transcendent duet with his future grown-up self (Daniel Cooper), and climaxes with his impromptu dance during his audition for ballet school.
The quality of ATC's production is all the more remarkable when you consider that the creators of the original musical spent five years looking for their original Billys, and then set up a Billy school to train more. For ATC's opening night it was Jaxson Cook owning the title role (he alternates with Ben Shieff and Harry Sills). An athlete for the stage, humble, but yearning for more than his lot. There are delightful performances from the other children, especially Billy's offbeat offsider Michael (Stanley Reedy) and inquisitive Debbie (Aria Ferris).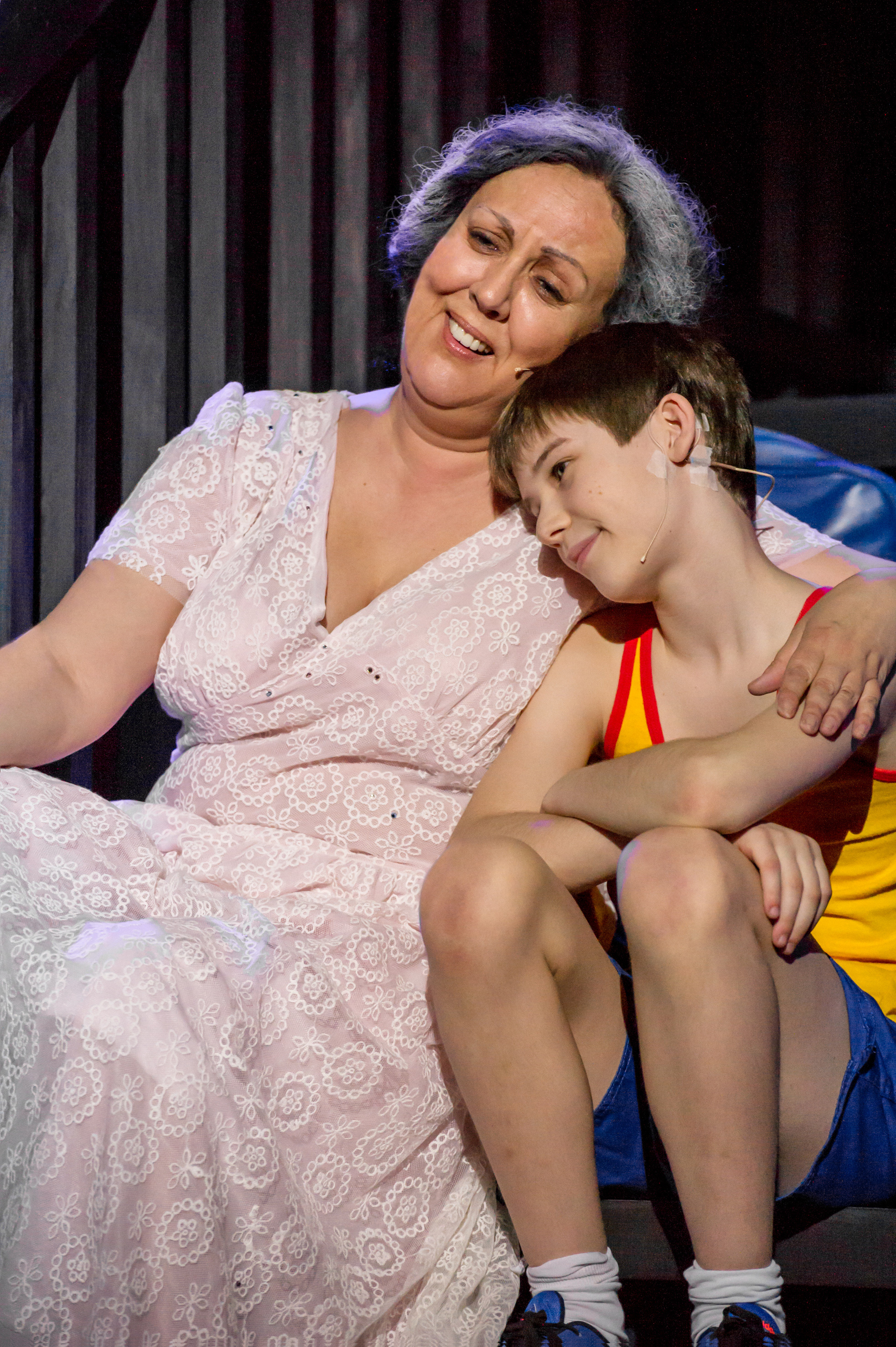 The adults are led by Stephen Lovatt as Billy's father Jackie, who appears visibly crushed by the years of toiling his life away, and Jodie Dorday's vibrant ballet teacher Mrs Wilkinson, who doesn't have it much better in middle class domesticity – her lessons are the sole chance in her week to indulge in some escapism. The comic backbones of the production are Grainger and the delightfully cheeky Rima Te Wiata (left) as Billy's dotty Grandma.
While the musical has a brilliant song putting the boot into Maggie Thatcher, politically its values are incoherent. It wants to honour the miners, nobly fighting a lost battle, but for Billy's story to work they also need to be contrasted as backward boorish relics. Billy is advised to go and never look back. There's a tension running through the lyrics between the working class refrains of "all for one, and one for all, solidarity forever" and the final curtain-call message "what we need is in-di-vid-u-a-li-ty". Yes, Billy Elliot smashed the union movement, dancing off to his neo-liberal future.
Striking for broad appeal, Colin McColl and the team have done it. Billy Elliot is a toe-tapping, underdog-triumphing good time. Aucklanders can be proud not just of the new world-class ASB Waterfront Theatre, but also of the first show playing within it.
Billy Elliot the Musical: ASB Waterfront Theatre, to November 6. www.atc.co.nz
---
Read more: