Mar 24, 2017 Theatre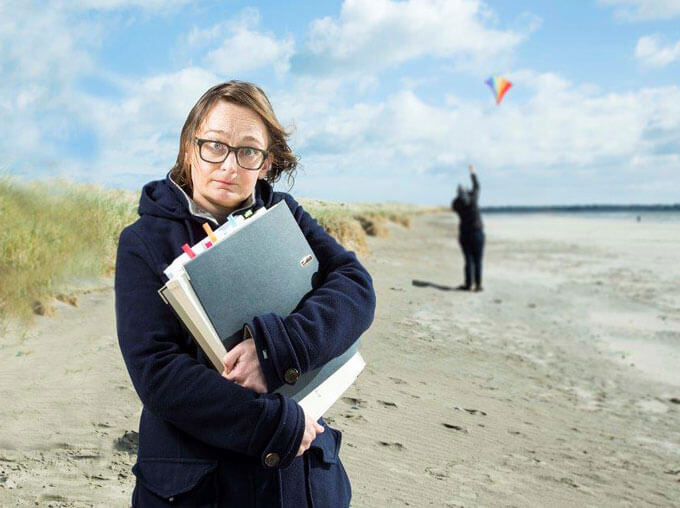 6/10
Collective head explosion
Arcane immigration policies are given a human face in this cross-hemisphere love story threatened by an Irish visa running out. 
Sonya, an actor living in Ireland, meets Kate, a stage-manager visiting from Australia while working on a play. With two weeks until Kate's deportation, they begin a showmance, revelling in their "futureless passion." Sonya tells us that if life was a movie, she'd have joined Kate on her flight back to Australia, but "life is not a movie." We are, however, watching a stage-show, and we know that there are plot developments and dramatic reversals yet to come.
Sonya has the actor's insecurity that she has wasted her life "pretending to be fake people." Through How to Keep an Alien, Sonya Kelly seems to have solved the problem by playing herself in this autobiographical show. She's a loveable performer with an easy humour and penchant for droll similes and metaphors (romance is described as a dopamine Jacuzzi with serotonin bath salts). The Auckland audience also rather enjoy her dips into the Aussie accent.
The relationship between an actor and their stage-manager is presented by having Paul Curley sit at an on-stage desk and support her from the side. Too often these interactions are distracting or cloying, and the set-up that Sonya has written some things in the script for him to do just before this particular performance is unnecessary. I'd say get rid of the role, if not for Curley's show-stealing musical solo.
Soon enough Kate wangles her way back to Ireland on a holiday visa, and they decide to try to make things more permanent. This brings them to the Irish immigration service, and they are told that one qualification for a de-facto visa is that they need to show that they have spent two years together, yet the rules were preventing them from doing exactly that. I'm pretty sure all our heads collectively exploded at that point.
The request to quantify their relationship for the immigration service has a number of possibilities for dramatic soul searching. How do we prove a feeling? Why do we love each other? Do we love each other? These aren't fully exploited. True, there are some prickly moments, as Sonya asks, "how do people go through all this and not want to kill each other?", but Kate remains safely perched on a pedestal for the most part.
There's an acknowledgement that not all immigration or asylum experiences end happily, but there's never much doubt how this one will go (especially once they figure out exactly what is involved to gain that de-facto visa). This show provides the feels, right down to the final "real-life" movie-montage. Is it hot in here, or is my heart feeling warm?
How to Keep an Alien, Q Loft, until March 26.
Auckland Arts Festival 2017
---

---