Mar 22, 2017 Theatre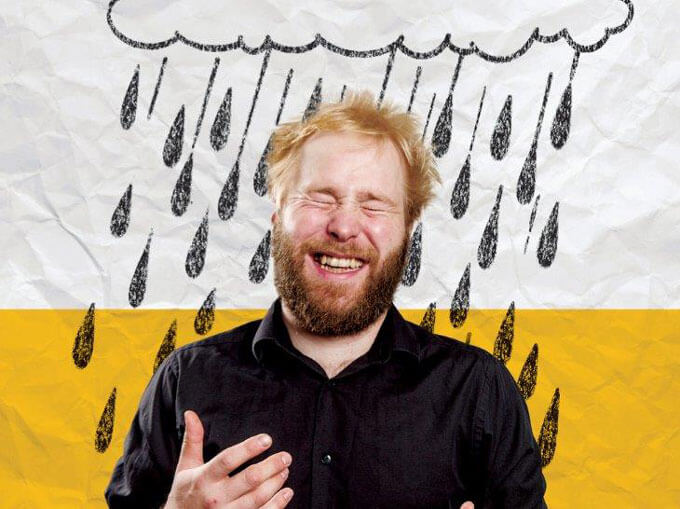 8/10
Reasons to be cheerful
Wait, come back, I haven't even mentioned suicide yet. Duncan MacMillan's play Every Brilliant Thing is a tough sell on the face of it: a one-man show in which actor/narrator James Rowland enlists the audience to help act out the experience of growing up with a clinically depressed mother, and dealing with her repeated suicide attempts.
But as you might infer from the play's international success — rave reviews in its native UK, an off-Broadway run, an HBO adaptation, multiple touring productions now circling the globe — this is one of those times when darkness has inspired someone to create light. A funnier, warmer, more effective show you would go a long way to find.
The play is also an instance of less-is-more theatre, managing to create a whole world with a non-existent set and an absolute minimum of props. It starts a little earlier than it seems to, because as you take your seats, a casually dressed, bearded, slightly shaggy guy is wandering around the Q Rangatira theatre chatting to people. He has a sheaf of papers. Every so often he gives one to someone. He happened to give one to my date, so I heard him explain the drill: the paper had a number on it, and during the play he — because of course this was James Rowland — was going to call out the number, and then he wanted her to read what was on the paper in a loud, clear voice. It read, "314. The way Ray Charles sings the word "You"".
"314"? Were there 313 other papers in that sheaf? It certainly did take him a long time to hand out all the papers, long enough that the show proper started 15 minutes late, which for a one hour early evening show was not great. (We were among the audience members who were relying on getting out on time so that we could make it to something else.) But eventually the music faded down and Rowland stood in the middle of the stage and started chatting to us about his childhood, and his mother, and the time when he was seven and his father came to get him from school and explained that she "had done something stupid". That night, he started making his list: a seven-year-old boy's list of all the reasons not to kill yourself.
This could so, so easily be a maudlin show, or a glib one. Opportunities for false steps loom on every side. Partly because Rowland has such a winning stage presence, and partly because the writing is insightful and clever, the show walks you securely through the woods. Random audience members are tapped to play major and minor characters — the man asked to portray Rowland's father was so good, especially when required to improvise a wedding speech, that he could almost have been a plant — and the mild sense of peril this induces gives the show a useful additional edge.
The subject could hardly be a more difficult one, and people with close personal experience of it would be well advised to approach with caution. MacMillan incorporates a passionate plea for responsible reporting of suicide into the show, and his own writing is entirely scrupulous in how it approaches depression and the desire to die. But inevitably, there will be moments where the story acts as a painful trigger for some people in the audience.
That said, I should add that this was one of the best surprises of my festival. I went in with no idea what to expect. I came out at once smiling and deeply moved.
Auckland Arts Festival 2017
Every Brilliant Thing, Q Rangatira, March 22 – 26
---


---