May 9, 2016 Theatre
If Auckland Theatre Company had waited a few more years they might have been able to do Aaron Sorkin's
To Kill a Mockingbird
. I can imagine it already: spit-fire dialogue from seven-year-old Scout, witty banter from Dill, impassioned and indignant speeches from Atticus Finch on the broken American criminal justice system. From the writer of
The West Wing
and
The Social Network
, you can bet this would be poignant.
Sorkin's version will debut on Broadway in 2017-18. But Mockingbird is relevant right now. Go Set a Watchman, Harper Lee's first go of the Mockingbird story was controversially released last year (it included the revelation that white knight Atticus was more than a little bit racist). The death of Lee in February has also focussed attention back on Mockingbird, which won the Pulitzer Prize in 1961, has sold over 40 million copies, was ranked by British librarians ahead of the Bible as a book "every adult should read before they die", and has been a beloved and highly teachable staple of English curriculums.
There's another reason why Mockingbird might still be relevant for today's climate, and it's not a good one. As a starting point, how about the #BlackLivesMatter campaign, and the appearance of the mothers of Mike Brown and Trayvon Martin holding photographs to honour their deceased sons in Beyonce's LEMONADE, as a window into the social and institutional racism festering in the dying days of Obama's America?
The timing is right for ATC, it's just a shame the script isn't. The play comes from jobbing-adapter Christopher Sergel, whose first version dates from 1970. It's performed annually as a sort of pageant in Harper Lee's hometown of Monroeville, and is popular with amateur and school groups. It's the bare basics version of the story, lacking the spark that a more talented playwright might be able to bring to it.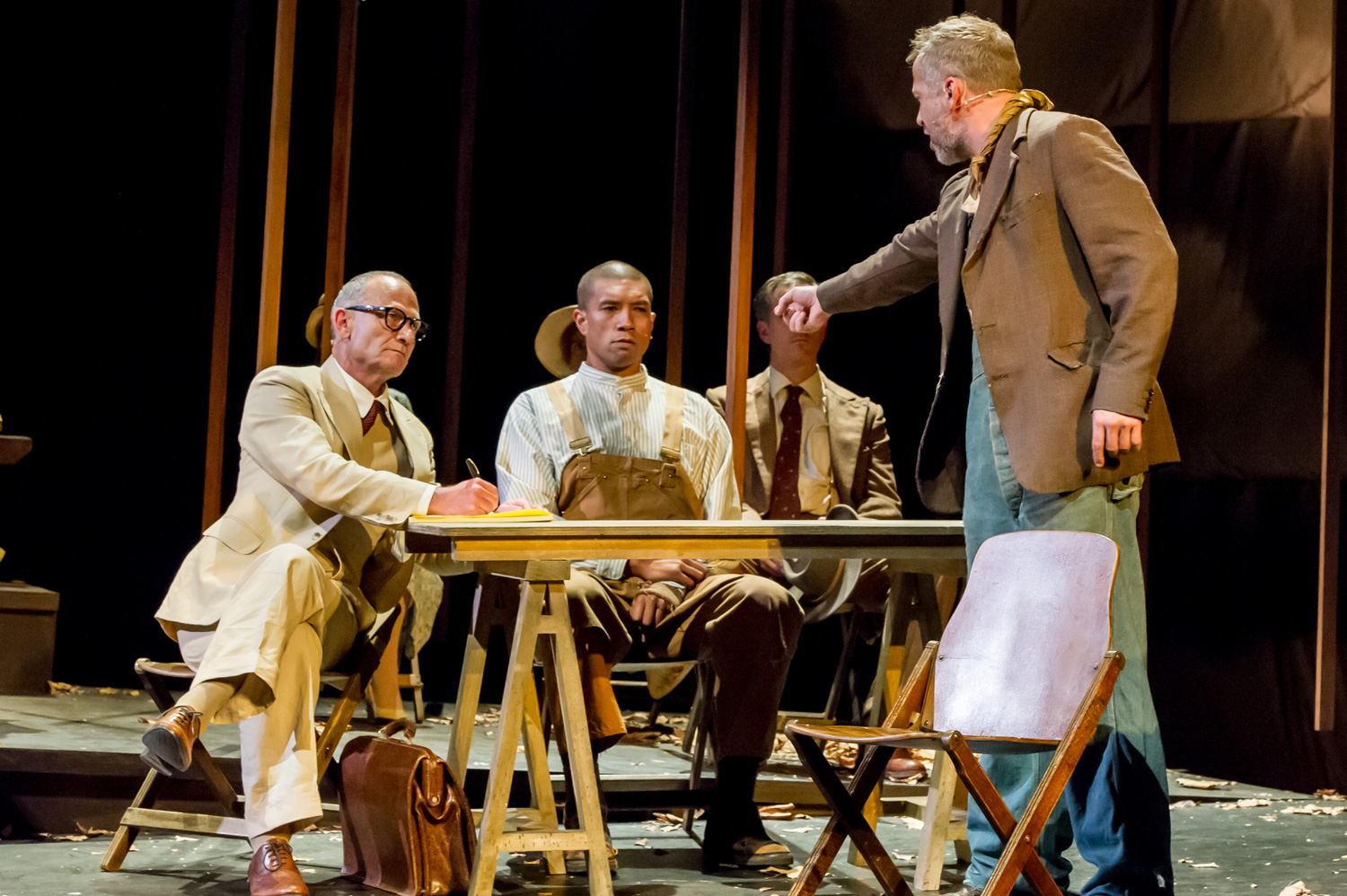 When it was performed at London's Barbican theatre last year (with Dr Wilson from TV's House as Atticus), the company clutched battered editions of Harper Lee's novel which they read from to cover the inadequacies of Sergel's version. ATC doesn't have the luxury of this fallback. From the novel we lose the narrative voice's wonderful mix of childhood innocence and mature hindsight, and don't gain anything to compensate.
Whereas Harper Lee's novel takes place over a number of years in Maycomb, Alabama, Sergel condenses the action to 1935. It's an easy dramatic choice, but it means we lose an awful lot along the way (late night adventures at the Radley house, the fire, Aunt Alexandra). Scout is often side-lined and doesn't get to grow up nearly as much as she needs.
For a story whose message is the importance of climbing into another's skin and seeing things from their point of view, we are provided few opportunities to do so.
The focus of the story is narrowed to become a courtroom drama. Boo Radley's an afterthought. We zip along with a running time of less than two hours (including interval). For a story whose message is the importance of climbing into another's skin and seeing things from their point of view, we are provided few opportunities to do so.
Director Colin McColl and his team do good work with what they're given though, balancing the intimacy of the Finch family with the occasional epic Gone with the Wind sweep for The Civic.
The designers go straight to the darkness that lies behind Americana. We see no sun-baked Southern Idyll; just as the trial looms large from the beginning of the play, so too do the billowing storm clouds at the back of Andrew Foster's set. A forest of wooden poles hang from the sky, beautiful and ominous, vibrating between light and shadow as they dance within Bryan Caldwell's painterly lighting design. There's an impression of facades being stripped to their bones, and also flashes of other Tom Robinsons, the victims of lynchings and hate.
John Gibson's composition matches the gloom, even his banjo sounds depressed. Against this backdrop, Atticus Finch's clean cream suit by Nic Smillie, evocative of Gregory Peck's, shines like a beacon.
Simon Prast has had a career resurgence playing the villain, but he's well-matched to the crusading lawyer. Though he retains a prickly air, he gives his voice a comforting warmth, and has an excellent rapport with the children even while scolding them in lawyer mode. His Atticus is a realist rather than an optimist, and carries the knowledge that he's licked even as he starts to build towards the climax of his oratory in the trial. He's given a strange moment at the end of the play as he hurls a roar of rage at the audience, like Lear into the storm, suggesting that weather might be a reflection of a troubled interior world.
Three sets of children share their roles over the season, and on opening the "blue team" were superb. Billie McKessar captures Scout's tomboyish confidence, Liam Farrell's Jem has a world-weariness to match his father's, and Flynn Steward as Dill, who boasts of his reading ability, is suitably precocious.
While there is a surprising lack of tension in the courtroom scenes, there are many standout character moments. Ian Mune's sassy judge. Holly Hudson's cornered Mayella Ewell, and Scott Wills as her spit-hocking and menacing father Bob . The insidious way Peter Daube's prosecutor switches to "boy" to address the accused. The dignity in the face of futility that James Maeva brings out in Tom Robinson.
Like Scout we learn the lesson of Mockingbird, but it rather feels like a high school teacher rushing through the text because the exam's next week – we've got the SparkNotes but little of the heart. I just hope it encourages any newbies to commit to reading Harper Lee's novel before they die, rather than simply turning them off.
To Kill a Mockingbird, to May 22, Civic Theatre, atc.co.nz
Photos by Michael Smith.