Dec 13, 2016 Theatre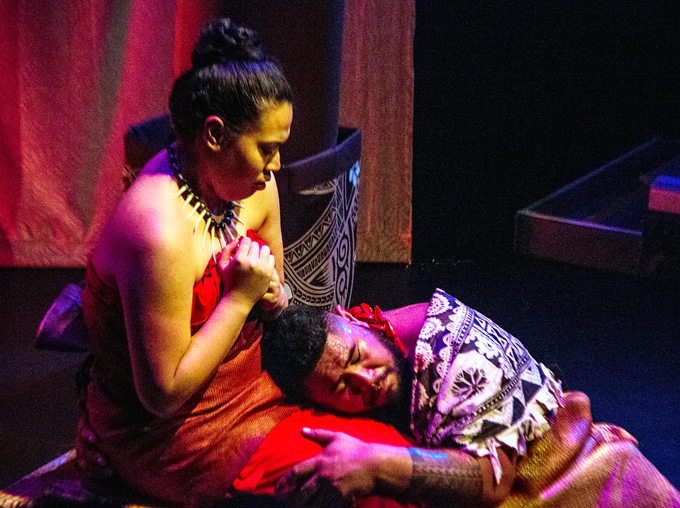 Shakespeare with a Pacific touch in our own Polynesian backyard.
"Sorry for the delay, talk to the person next to you while you wait. Chances are, you're related." As I looked across the Mangere Arts Centre, the voice that had just come over the speaker was right — opposite were two of my aunties.
A few seats down were my parents. Sitting next to us was a guy my cousin had gone to school with. My cousin Lauie Tofa was the lead in the play we were there to see.
It was the closing night of Macbeth, presented by South Auckland theatre company the Black Friars. The show was sold out, but they still let my aunties in. It's possible I would have gone regardless of being related to the lead — two people at work told me I needed to see the play, and rave reviews popped up on my Facebook timeline.
But despite my good intentions about seeing previous local theatre productions, this was the first time I'd followed through. It was the setting of Black Friars' Macbeth that intrigued me, a pan-Polynesian Hawaiki, which meant fine mats and tapa cloth as the costumes rather than Elizabethan lace and men's hose.
Ula fala draped around the neck and an orator's staff to demonstrate royalty and nobility, or in the Samoan context, high chiefs and orators. A kava ceremony as the setting for meetings between the characters, cultural performances and siva to welcome King Duncan and his family into the Macbeth home. There were different Pacific languages spoken, dances representing different parts of Polynesia — Samoan, Hawaiian, Maori, Tongan — all these cultural cues aiding me to better follow the story, when I couldn't keep up with Shakespeare's dialogue.
The musical director, Siosaia Folau, created a soundscape just as compelling and impressive as the main characters by fusing his own compositions with traditional Polynesian melodies. After the first song, during which the three witches were accompanied by live drums and a choir, my husband turned to me and whispered, "That. Was. The. Shit." After the second song he said, "I need to sample this."
The witches, all teenagers still in high school, were mesmerising, and watching Denyce Su'a's descent into madness as Lady Macbeth, and Lauie's increasing tyranny as Macbeth, gave me the distinct feeling of seeing stars in the making. The Black Friars started out 10 years ago with the goal of keeping "talented young brown people off the street and on the stage", later updating their mission statement to telling stories that matter to Polynesian people and "making existing stories relevant to us".
It was knowing that people who looked like me, and represented me and my culture, were adding their unique twist to Shakespeare that got me over the line and into the theatre. And while I watched and thought, "This is so good, it needs to be seen by a wider audience", I was also incredibly grateful. It felt so important that I got to see it in my own backyard, sitting next to people I was probably related to, in Mangere Town Centre.
This article was published in the November issue of Metro.
Follow Metro on Twitter, Facebook, Instagram and sign up to the weekly e-mail