Nov 16, 2017 Theatre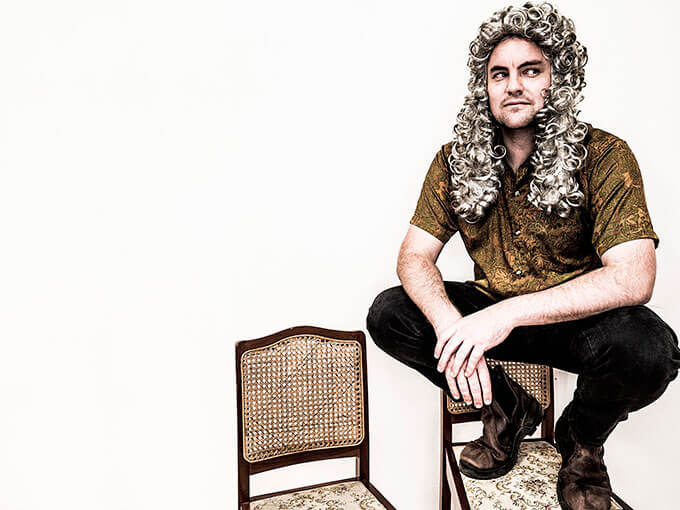 Good impressions 
They wanted three wise men. Tom Sainsbury wasn't up for it; if you went to him for help with a nativity pageant today, he could play all three wise men simultaneously and do Mary and Joseph for dessert, but back then, he was less flexible.
"I was maybe seven. The teacher came round and asked who in our class would like to be one of the wise men, and I was far too cool, so I said no, and one of my friends put his hand up. And what I remember is sitting in the audience — the deep disappointment of having to sit in that audience and not be the kid on stage." A year or so later, someone asked him what he wanted to do when he grew up. "I said, I'm going to be an actor."
Sainsbury is a decade and a half into a life on stage, and he has won a good-sized handful of awards as a theatre and TV writer. This election year saw him emerge in a new medium and reach a new level of prominence.
Like many of the best career moves, it was not intended as a career move at all. He just thought it might be fun to do a few political impressions and throw them up on his Facebook page.
"I guess I did the first video maybe 13 months ago. It was strictly for friends and family; I don't think I even had it set so you could share it. I did three or four with Paula Bennett; people seemed to like those… Then I did John Key. He was easy; I got him down perfectly, and I had the greatest face for him, too, and then he went and resigned."
The videos were short, Sainsbury's digitally assisted impressions were lethal, and the satire was blunt: politicians blithely asserting their preferred versions of reality while inconvenient facts loomed large in the subtext. Requests came in: Do Peter Dunne! Do more Paula!
The result was Kiwis of Snapchat, a viral video series which ran weekly on The Spinoff from April and several times a week during the campaign. By the election, Sainsbury was doing voices and faces for every point on the political spectrum, with a good scattering of average Kiwi bystanders thrown in.
"I actually find mimicry and accents quite hard; I'm not the best at it. And some voices I just couldn't get — Jacinda's I found impossible, and the same with Maggie Barry. I was worried about Mike Hosking, but listening to him over and over and then listening to Jeremy Wells do him, I assembled a passable voice, I think.
"It's all about listening. A voice is easier to do when it's really strong — or if there's a tension in their voice or the way they hold their face. Paula's quite good because she's often smiling. Bill English's smile is more around the eyes than the mouth, and he's very staccato. Every… word… has… weight. So that gives you an in. Once I understood that, his voice came quite easily."
The series is continuing post-election. Meanwhile, Sainsbury has a one-night gig narrating Silo's Peter and the Wolf. "Silo have done a few of these productions now where they get a different actor to perform every night, and I've really enjoyed them."
Says director Sophie Roberts: "There's a real warmth to Tom. He's got a real ease with an audience, and he's got so much range as a storyteller."
The production reimagines Prokofiev's original story, which was set in the Russian forests of last century: now, it takes place in Auckland, where a young boy has recently moved from Russia to stay with his granddad.
"He meets another recent immigrant, a wolf who's come to Auckland Zoo and escaped. Peter sets off to be a hero and catch it; he embarks on this wild trip across Auckland," says Roberts.
"We go to Western Springs, the motorway, of course, K' Rd, all over the place. It's very much an Auckland story."
Sainsbury doesn't have voices for it yet. "I'll be thinking on my feet, but believe me there'll be a lot of different voices. Not Kiwi accents. I'll probably try my hand at something Russian."    
Peter and the wolf,
Silo Theatre, November 9 to December 9,
silotheatre.co.nz
This is published in the Novemeber- December 2017 issue of Metro.