Dec 14, 2015 Music
Fresh from winning the Best Alternative Album gong at the Vodafone NZ Music Awards, musician-on-the-edge Ruban Nielson is taking his band Unknown Mortal Orchestra on tour.
This article was first published in the December 2015 issue of Metro. Photos: Neil Krug.
Some people live for their art, in the sense that the purpose they've given their life is to make art. Others take it further: they live the way they do in order to provide the material for their art. Ruban Nielson does that.
The 35-year-old creative force behind psychedelic pop band Unknown Mortal Orchestra seems to live by creative instinct. He pushes the limits of his relationships and his physical and mental health, fuelling his work with the extreme experiences that provides. He says yes and makes music from the fallout.
"Things in my life that are easy and happy don't usually find their way into my music, whereas all the more painful and crazy things that happen to me do," Nielson tells me over the phone from his home in Portland, Oregon. "It's just the nature of my life — it's always quite turbulent. I like the way those things play themselves out in music; that's the way I like life to be right now."
UMO began in mystery, an anonymous post on a Bandcamp page. But after the success of their self-titled debut, Nielson began experimenting with a radical emotional transparency.
In publicity for the band's second album, II, Nielson spoke openly about his life on tour, his rampant drug use, his loneliness and his infidelity.
While promoting UMO's kaleidoscopic third album, Multi-Love — which was released in May and won the Best Alternative Album gong at last month's Vodafone New Zealand Music Awards — he talked extensively about the polyamorous relationship that forms the basis of the record.
He met a woman while on tour. Soon Nielson's wife, Jenny, and the woman started writing to each other and, within months, she'd moved from Australia to live with them and their two children.
When the woman's visa ran out twice, the relationship began to unravel. After speaking about all this to online music magazine Pitchfork, Nielson told the Guardian that the woman had stopped talking to him because of his candour.
"This is my identity now," he says. "It's not something just to amuse myself, so I feel a responsibility to explain myself. I only talk about personal stuff because it feels relevant to the music, like it will explain or enrich the music. I just want people to know who I am.
"Everybody has all the dirt on me already, they already know everything that's wrong with me. That's what this band is partly about, trying to communicate with people and become a part of the world because, before the band, I was in the process of becoming a hermit almost."
Nielson grew up on the Hibiscus Coast. His parents, both musicians, met on tour with John Rowles in the 70s. Nielson was more interested in visual arts than music but as he neared the end of high school, his father, who was fighting addictions to drugs and alcohol, bought him a guitar as step nine (making amends) of his recovery programme. Nielson used that guitar to start the Mint Chicks, a bratty, brilliant, art-punk band, in 2001.
For the better part of the following decade, the Mint Chicks were the most exciting thing in New Zealand music, going from parties in former car yards to dominating the 2007 New Zealand Music Awards.
They were said to be on the edge of "making it" overseas, but their uncompromising aesthetic and self-destructive tendencies sabotaged any attempts to turn local acclaim into a sustainable career.
On Nielson's 30th birthday, the band played Wellington's Homegrown festival. After the set, Nielson took an ill-considered combination of drugs he'd been given to celebrate. He was arrested later that night, hallucinating and running into traffic.
When he regained rational thought, he was in hospital with tubes coming out of his arms, his hands numb from the handcuffs the police had used to restrain him.
The hallucinations had cut deep. He needed to end the band. He needed to be a better father to his firstborn. He needed to leave the Mint Chicks. He needed to leave Auckland.
Nielson and Jenny moved to Portland. He got a day job as an illustrator for a design agency, thinking it would be healthier to play music as a hobby rather than make it his life's purpose. With just a guitar, a laptop, a tape recorder and a cheap microphone, Nielson started recording songs in his basement while his family slept upstairs.
Feeling alienated from contemporary music after the demise of the Mint Chicks, he immersed himself in old, long-forgotten psychedelia. He wrote the songs he wanted to write without thinking about whether anyone else would like them.
On a whim, he posted the song "Ffunny Ffrends" online with no information about its provenance other than the name Unknown Mortal Orchestra. Within days, the song had spread to tastemaker blogs around the world. No one knew it was Nielson.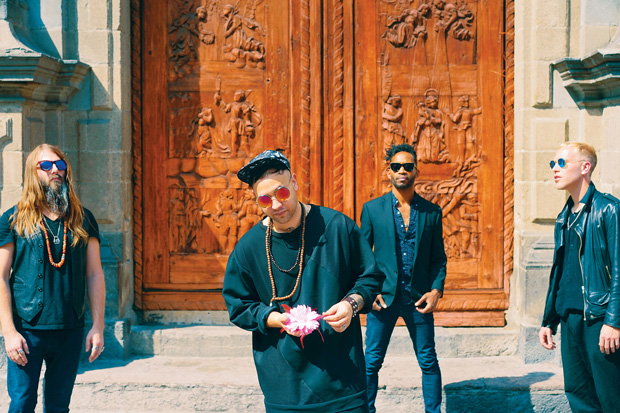 The self-titled album that followed is a hyper-catchy combination of psychedelic tropes, jazz chords and sampled breakbeats, all united by a DIY punk attitude. The album bustles with short, brisk songs, his distorted falsetto buried beneath a barrage of reverb. It's as much fun to listen to as you hope it was to make.
The second album, II, which chronicles Nielson's life on the road, is the opposite. It starts: "Isolation can put a gun in your hand/It can put a gun in your hand/It can put a gun in your hand." Who knew that touring an unexpectedly acclaimed indie record would be so depressing?
On II, the Zappa-meets-Hendrix guitar lines are swapped for a dexterously finger-picked acoustic, which breaks into late-period Beatles bounce.
Multi-Love, the band's third album, widens the palette of the first two beyond 60s loner-psych and Motown funk to afrobeat, space disco, tropicália, lounge jazz, dance punk, proto-metal and easy listening. The songs have  melodies that crawl into your brain and stay there, running on a continuous loop.
Nielson's greatest skill as a songwriter is taking standard pop arrangements and disrupting them with a stray note, a surprising chord or an off-kilter beat. His songs have a familiarity that makes them instantly enjoyable and enough weirdness to keep you pressing "play" so you can figure out what they're doing to you.
Multi-Love is panoramic, stereoscopic, technicolour. It uses similar tools to the first two records — a laptop and a tape machine — but it is crisper and brighter, what Nielson calls "super-fi" rather than lo-fi.
The sampled breakbeats and the spiky, Ringo-esque timekeeping of the first two records are melded into a staccato funk provided by his brother Kody (who co-wrote and co-produced half of the album), the undulating reverb guitars buried under layers of celestial synths.
"On the first two albums I was very happy to know exactly what I wanted to do and just produce these albums that seemed like lost gems, something that I would want to find in a record store," Nielson says. "With Multi-Love it was a little bit more like the feeling I had in the Mint Chicks, which was just moving forward blindly and hoping that you arrived somewhere."
After the two records he made by himself (except for some drum contributions on II), Multi-Love has a brighter, wilder sound. It's the product of something he hasn't experimented with for years — collaboration. For the first time since the Mint Chicks, he wrote music with his brother without the pair getting at each other's throats. His father played the horn arrangements, most prominently on "Necessary Evil".
Having Kody around changed the way Ruban approached his music. It wasn't just him, alone on his laptop for hours on end, recording all night and sleeping all day. To write the title track — which won this year's Silver Scroll, New Zealand's most prestigious songwriting award — Kody played the chord progression on a piano while Ruban paced around the room, improvising melodies.
"I had enough time and enough money to do what I wanted to do," he says, "and there was enough water under the bridge that I invited Kody to be an integral part of the process without it being weird or having to relate to the Mint Chicks, just get back to me and my brother working together."
Making music with his brother also reinforced his ties to New Zealand. Despite spending most of the past decade in the US, he doesn't feel assimilated into American culture.
"I still consider myself to be some weird product of Flying Nun Records and the Helen Clark government — the class of K' Rd 2003," he says. "I still think that I'm some product of Chris Knox's view of record-making. That stays as something that I'm tying all these influences to.
"I still can't get away from this DIY concept, and the No 8 wire, making my own equipment and doing everything myself. My idea of collaboration is working with my dad and my brother and one of my bandmates, and that for me is really getting outside of my basement."