Jan 17, 2019 Music
Hollie Fullbrook, aka Tiny Ruins, releases a music video of the fourth single from her new album Olympic Girls, ahead of its February release.
It must be a hard thing to live down, this queen of New Zealand's folk revival tag. And how to follow up a record as great as Brightly Painted One? That 2014 album was near-perfect in its lustrous reinvention of a style made famous by doomed English minstrel Nick Drake — a haunted gothic folk that entranced and beguiled.
It's taken four long years but Hollie Fullbrook has found a way to navigate her way forward without simply repeating herself, yet without losing what made her music so compelling in the first place.
<!– –>
There's been an awful lot of touring and international attention and a few intriguing if flawed diversions, like the rather aimless EP recorded with The Clean's Hamish Kilgour in New York. But from the first beautiful cross-picked acoustic guitar figure on the opening song — the title track, no less — of Olympic Girls, it's clear that this is going to be special.
Rather than outright rejecting the singular signature sound of Brightly Painted One, Fullbrook has simply expanded her musical palette with at times more ornate arrangements and instrumentation. Her voice is still perfectly plain, and all the more effective for it. In a line traced from Nico through Leonard Cohen to Nick Drake, the Cowboy Junkies and Mazzy Starr, her vocal control is a great riposte to all those awful over-emoters currently ruling the airwaves.
While occasionally her perfect poise is disturbed by electric guitars and loud drums and she suddenly sounds a little drowned out by it all, for the most part the extra layers here are carefully thought through and executed. The base is always acoustic, but the songs often taken flight during their journey, with prototypically 60s-style psychedelic guitar and even Mellotron for that faux-orchestral effect. At times this makes it sound a bit retro, but there's never the stink of pastiche.
Like Brightly Painted One, Olympic Girls was produced in Auckland by guitarist Tom Healy and features her touring rhythm section of Cass Basil (bass) and Alexander Freer (drums). Perhaps that's what kept it grounded and a solid progression rather than a complete break from the past. It's a beautiful thing and there's a lot more to absorb musically than before, if lyrically she stays true to puzzle-like words.
With Nadia Reid and Aldous Harding joining Tiny Ruins/Hollie Fullbrook in bolstering New Zealand's female folk renaissance by winning awards and wowing both punters and critics on the international stage, there's reason to be cheerful.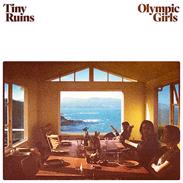 4/5
Olympic Girls (Ursa Minor) is released February 1.
This article was first published in the January – February 2019 issue of Metro.
Follow Metro on Twitter, Facebook, Instagram and sign up to the weekly email for more music news.