May 23, 2014 Music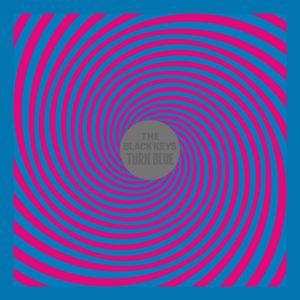 It turns out that the dizzy psychedelic graphic that adorns the cover – and pullout poster – of the Ohio group's follow-up to the unbeatable El Camino is just a bit of eye candy. Sure, Turn Blue finds room for a cameo appearance by that most anachronistic of "spooky" electronic instruments, the Theremin, but this record is really all about groove.
So those big, loping grooves are integral to the duo's sound. We know that. What's new? Well, it seems guitarist/vocalist Dan Auerbach broke up with his wife, so there's caustic wordplay, and plenty of excoriating, rusty-nail, molten-emotion guitar flailing in the spirit of Neil Young. Except it's not boring like Neil Young.
What's really great about Turn Blue, however, is what's been great about The Black Keys from the start, the meaning of which continues to aggregate over time. It's the way their music, while being tuned into 21st Century receptors, intuitively sucks up everything that's great about rock, rhythm and blues, funk, the lot, and spews it out into a sound that's more than the sum of its parts. Auerbach and Patrick Carney know their roots without thinking about them, and it means that their gumbo sounds totally natural, not forged in a think-tank. Compare this to the way both Kody and Ruban Neilson (for instance) cleverly but soullessly shave the stylistic tics from history, only to end up with plastic pastiche.
In a sense, The Black Keys are simply in the great fusion spirit of a group like Funkadelic/Parliament, or Prince at his outrageous best, and Turn Blue is clever like that, secreting a 1940s jazz lick or an unexpected time-change so smoothly and convincingly that no one is alienated.
But the album is really an exposition of three guys at the top of their game – hired hand/co-producer Brian "Danger Mouse" Burton, and Auerbach and Carney, both of whom have become go-to producers in their own right. It makes for a high level of studio proficiency and creativity, but they resist the temptation to fiddle until it all stops making sense. One of the great things about Turn Blue is that there's still space in it, and it's to their credit that the duo sometimes reduce and reduce some more until it's really just guitar and drums in the mix.
There seems to be a minor trend towards squeaky, frail male falsettos, and Auerbach (like both Neil and Liam Finn on their respective recent ventures) uses his a lot. It works, because the voice is never pushed out front and left to fend for itself, but integrated into the texture of the sound.
Texture. Grooves. Good songs. And caterwauling guitar that should get tiring really quickly but doesn't. That's Turn Blue. It's a bit of everything without being Frankenstein's monster. That has to be good.