Mar 31, 2015 Music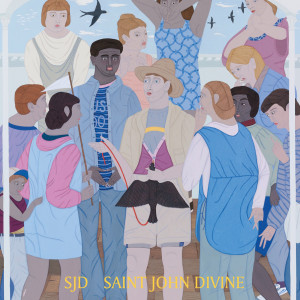 Sean James Donnelly (SJD) has carved his niche as a kind of Antipodean Beck; an electronically enhanced songwriter who over six albums has consistently wooed the critics, if never troubling the pop charts.
For album number seven, his first since winning the big prize at the Taite Awards in 2013, Donnelly finally eschews the electronic elements so important to his earlier work in favour of an organic backing band, including frequent collaborator Neil Finn.
Perhaps just a bit mournful to plug into the collective zeitgeist, many of these songs are begging for radio play with their classic 70s-style AOR melodies.
Donnelly appears to have divined the spirit of both Big Star's Sister Lovers (whose delicate aching shimmer he has down pat) and David Gates' Bread, whose wet but wonderful "If" floated the same kind of heart-breaking minor-key boat.
But SJD is no 70s-obsessed sap. On Saint John Divine, it's the lyrics that more often than not poke out with forensically observed moments, pulling apart his own dreams/nightmares like the wings off flies, soaking in the disasters of his friends ("everyone I know is breaking into pieces big and small") and, on 95bFM favourite "Helensville", detailing the darkness on the edge of town.
And then there's "Invisible Man", where he rues the fact that he's "played bass guitar in 16 bands" and still no one remembers his name.
It's not all great. There's a wilful jauntiness to "Change the Channel", his diatribe against broadcast TV, and "Catseyes" sounds like the mating of half a great song with a very poor one. Still, the good is very, very good.